Automobile
2022 Honda Ridgeline Starts under $37k; No TrailSport | Kelley Blue Book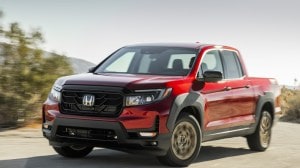 The 2022 Honda Ridgeline is the 2021 Honda Ridgeline, plus a tiny price bump. What's news here is the lack of major changes. Honda hasn't messed with a formula that works. The Ridgeline has interesting new competition but doubling down on what it does well could keep it in a sweet spot for many car shoppers.
That price bump is just $400 at every trim level. The Ridgeline now starts at $36,890, plus a $1,225 destination charge. That price gets you a well-balanced truck with Honda's famous build quality and a lockable storage area under the bed.
Comfortable and Competent

The Ridgeline has a unique place in the American truck market. It has long claimed the best on-road manners of any truck currently for sale.
Honda can make this claim because the Ridgeline is built more like a car than like a traditional truck. It uses the same unibody construction style as most sedans and crossovers. It still manages a 1,580-pound payload capacity that lets it work like other midsize trucks. But it does it all with a more comfortable on-road ride. It also sacrifices some off-road capability to get there.
No Longer Unique
Until recently, it was the only truck on the market built that way. But it has new competition. The 2022 Hyundai Santa Cruz uses the same unibody trick to get similar results. It's smaller – a true compact truck for easy parking – but boasts a higher maximum payload capacity at up to 1,748 pounds. The 2022 Ford Maverick is also built crossover-style, and also smaller. It claims a payload capacity of just 1,500 pounds, but an immensely flexible bed with power outlets and 2×4-shaped notches that let owners construct their own bed compartments.
Both trucks also carry lower starting prices.
Will buyers still be interested in the slightly larger Ridgeline with those new options available? Its additional living space might keep it in a sweet spot for many buyers, as the most comfortable midsize truck on the market. But some buyers who might otherwise have found themselves in a Honda dealership might find the smaller trucks more compelling.
No TrailSport …Yet
We expected Honda to differentiate the Ridgeline slightly with a new, off-road-centered TrailSport trim. The company recently announced that it will launch a new sub-brand of TrailSport trucks and SUVs. Its first, the 2022 Passport TrailSport SUV, appeared last week. The Ridgeline seemed to be the next logical step. But Honda's 2022 Ridgeline announcement didn't mention it. We've reached out to Honda to ask whether we can expect to see a mid-year update with a TrailSport model.
2022 Ridgeline Prices:
Ridgeline Sport: $36,890
Ridgeline RTL: $39,870
Ridgeline RTL-E: $42,820
Ridgeline Black Edition: $44,320
Class of 2022: All the New and Redesigned Cars, Trucks, and SUVs
Most Related Links :
Business News
Governmental News
Finance News