Automobile
2022 Porsche Taycan vs. 2022 Audi e-tron GT Comparison | Kelley Blue Book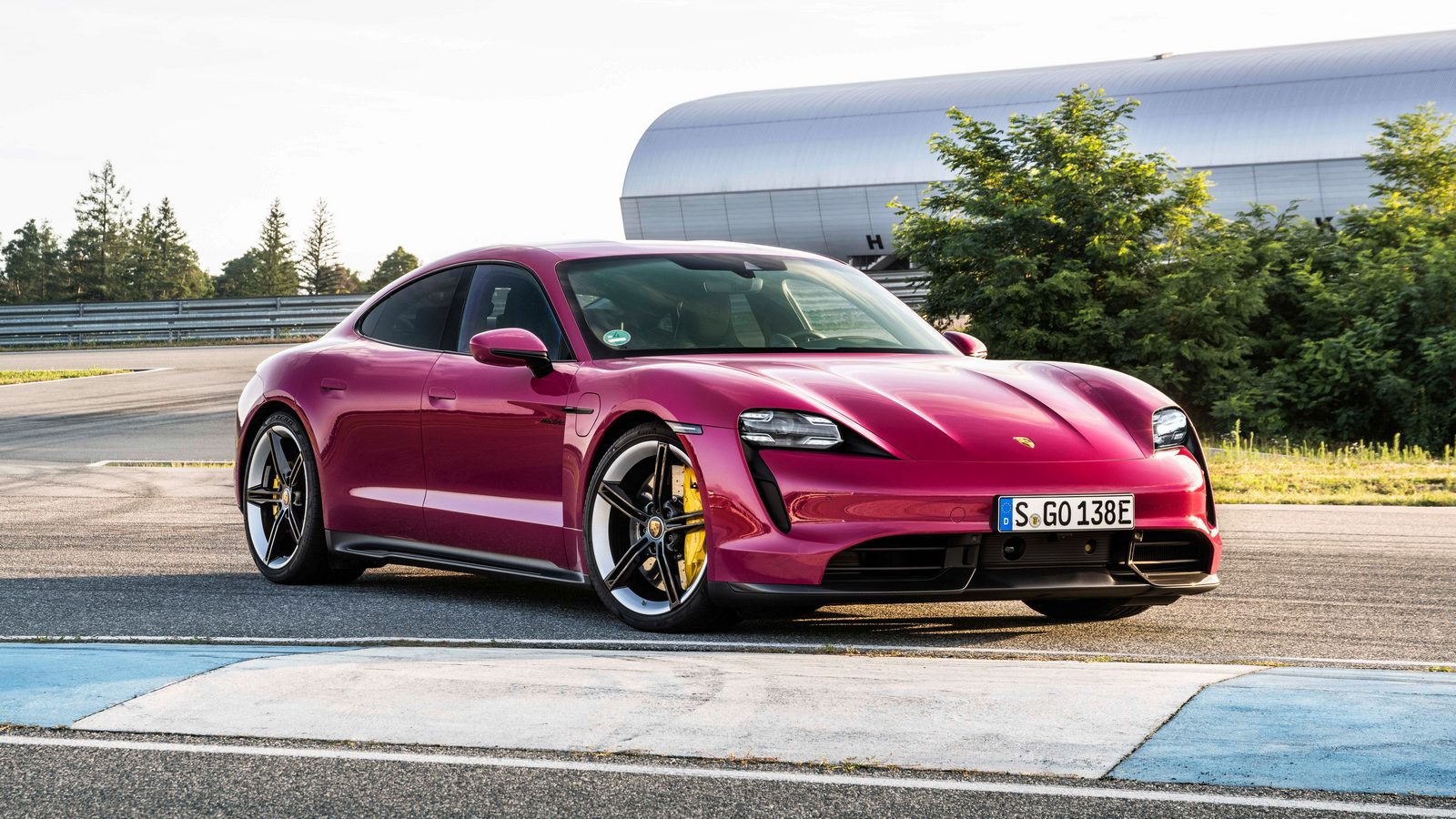 The 2022 Porsche Taycan EV goes up against the brand-new 2022 Audi e-tron GT. Though they share the same platform, there are some differences. Here's how they compare.
2022 Porsche Taycan
2022 Porsche Taycan Starting Price: $82,700 | Price yours or View listings near you
Above Average: Sharp driving manners; very quick; eligible for the federal tax credit.
Below Average: Very expensive for top trims; silly "Turbo" moniker; range lags some competitors; best for four passengers.
Consensus: The company's first all-electric sedan, the Porsche Taycan has the exceptional driving manners and build quality expected of the German marque. But performance comes at the cost of range, and prices can climb very quickly with options.
2022 Audi e-tron GT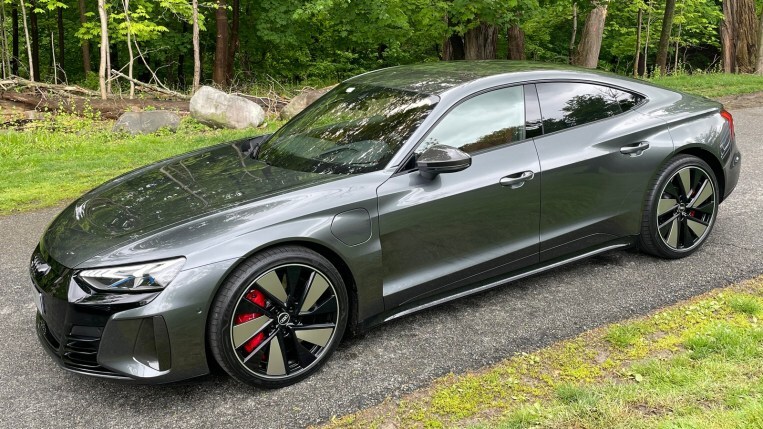 Starting Price: $99,900 | Price yours or View listings near you
Above Average: Great looks; very quick; fast-charging system; standard all-wheel drive; three years of free charging via Electrify America network.
Below Average: Very expensive; 238 miles of range; second row is best for two; sloping roof limits rear headroom.
Consensus: The newest Audi EV, the e-tron GT is wildly quick and very sleek, with a ride that can also be supremely comfortable. As with the Taycan, range takes a backseat to performance.
Taycan vs. e-tron GT: High Performance, High Prices
Porsche Taycan
While the top models have such absurd names as Turbo and Turbo S, the 2022 Porsche Taycan in all its forms is electric. Given the badge on the front, you know what you can expect. The focus of the Taycan is performance, with horsepower ranging as high as 750 in the top model.
By emphasizing athleticism over range, the farthest a model goes is an estimated 225 miles between charges using the extra-cost 93.4 kWh Performance Battery Plus. Most models barely top 200 miles with the standard 79.2 kWh battery pack.
The entry-level rear-drive Taycan starts at $82,700, although all other Taycans are all-wheel drive. But prices escalate quickly over $100,000. The top Turbo S starts around $186,000 before options. When fully loaded, the Taycan's sticker passes $200K. Porsche also offers the Cross Turismo wagon version, which costs $10,000 more in base form with the premium sliding to as little as about $2,500 in top trims.
The interior is very modern, with a number of digital screens and most functions accessed via touchscreens. The front seats are well-bolstered, with 8-way power adjustment and 18-way sport seats available as an option. There's an optional small middle seat in the back, but the Taycan is best for four passengers total. The trunk has a usable 14.3 cubic feet, and since there is no engine in front, there are an extra 2.8 cubes available in the "frunk."
Standard features include navigation and Apple CarPlay. Android Auto also arrives as one of the updates for the 2022 model. Standard safety features include lane-keeping assistance, forward collision warning with automatic emergency braking, and front and rear parking sensors. There are loads of options, but they cause the price to rise very quickly.
Audi e-tron GT
Sleek and sexy, the 2022 Audi e-tron GT is the newest among Audi's rapidly expanding EV fleet, and it's quite impressive. Stunning to look at, the e-tron GT is also shockingly quick, with even the base model (if you can call a six-figure car a base model) pumping out 522 horsepower. If that's not enough, the RS makes 637 and 612 lb-ft of neck-snapping torque.
Sharing a platform with the Porsche Taycan, the GT sits low to the ground and corners flat, with an adaptive rear suspension and all-wheel drive keeping it tight through fast corners. As with the Taycan, however, the e-tron GT makes sacrifices on the altar of performance, with an estimated 238 miles of range. That's perfectly adequate for day-to-day driving, and a fast charger can bring it back to 80% in about 20 minutes, but it's bested by several much less expensive EVs.
Inside, the e-tron GT is very comfortable, with such details as walnut inlays, heated front seats, and both a digital display and a touchscreen for infotainment. There is a rather silly middle position for a very small passenger, but the e-tron GT is really best for two rear passengers.
Other standard features include a panoramic glass roof, tri-zone climate control, wireless phone charging, and wireless Apple CarPlay, although Android Auto still requires a cord. Safety features include automatic emergency braking, forward collision warning, blind-spot monitoring, a rearview camera, and lane-departure warning.
Options include ventilated front seats, Nappa leather upholstery, and other goodies. The higher-performance RS includes a more powerful motor and more carbon fiber, although prices start close to $140,000.
Similarities
Range; better suited for four passengers than five; performance; basic architecture; warranty.
2022 Porsche Taycan Advantages
Lower price entry-level model; 750-hp Turbo S; more performance options.
2022 Audi e-tron GT Advantages
Less expensive at the high end; standard all-wheel drive.
Which One is Right for Me?
With the company's reputation for performance, it's no surprise that Porsche's 2022 Taycan is exhilarating. The range is a weakness, but if you love the feel of a Porsche and must have its exceptional power, the Taycan is a great performance EV.
Built on the same platform, the 2022 Audi e-tron GT is a bit more well-rounded, with not only exceptional performance but also more comfort. There's no entry-level model, but the highest-performance RS is wildly quick and costs thousands less than the top Taycan.
Ready to buy a Porsche Taycan or Audi e-tron GT? Shop for one on sale now near you.
| | | |
| --- | --- | --- |
| | 2022 Porsche Taycan | 2022 Audi e-tron GT |
| Popular Powertrains | | |
| Electric Motor | 240 kW AC synchronous | 390 kW synchronous |
| Horsepower | 402 hp | 522 hp |
| Torque | 254 lb-ft | 472 lb-ft |
| EPA Driving Range | 200 miles | 238 miles |
| EPA Fuel Economy | 79 city/80 hwy MPGe | 81 city/83 hwy/ MPGe |
| Level 2 Charging Time | 9.5 hours | 10.5 hours |
| Battery pack | 79.2 kWh Li-ion; 336 cells | 93.4 kWh Li-ion; 396 cells |
| Specs | | |
| Warranty | 4 years/50,000 miles | 4 years/50,000 miles |
| Battery warranty | 8 years/100,000 miles | 8 years/100,000 miles |
| NHTSA Safety Rating | n/a | n/a |
| Max Seating Capacity | 5 | 5 |
| Wheelbase | 114.2 inches | 114.1 inches |
| Overall Length | 195.4 inches | 196.4 inches |
| Width | 77.5 inches | 77.3 inches |
| Height | 54.9 inches | 55.6 inches |
| Turning Diameter | 38.4 feet | 38.1 feet |
| Headroom, Front | 38.1 inches | 39.4 inches |
| Headroom, Rear | 36.7 inches | 36.5 inches |
| Legroom, Front | 41.8 inches | 41.9 inches |
| Legroom, Rear | 32.3 inches | 32.2 inches |
| Shoulder Room, Front | 56.3 inches | 56.4 inches |
| Shoulder Room, Rear | 53.2 inches | 53.8 inches |
| EPA Passenger Volume | 108 cubic feet | n/a |
| Cargo Volume | 17.2 cubic feet | 14.3 cubic feet |
Most Related Links :
Business News
Governmental News
Finance News