Automobile
2022 Toyota Tundra (and its Grille) Revealed After Leaks | Kelley Blue Book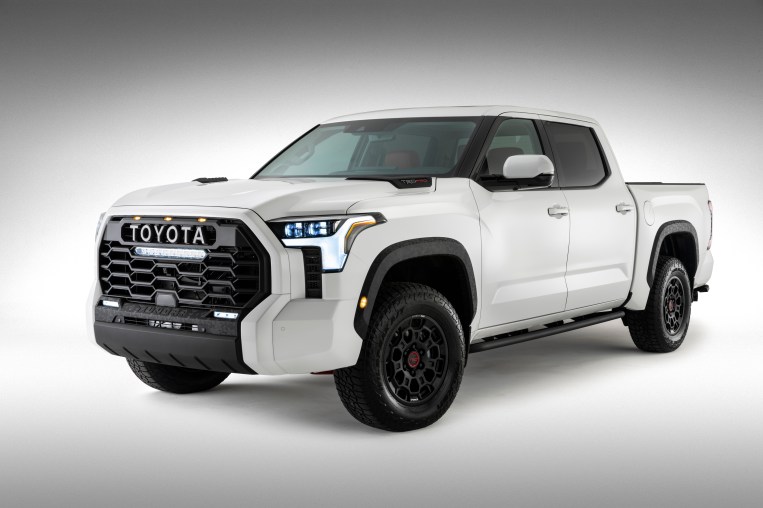 The 2022 Toyota Tundra is a brazen-looking thing, with a grille so huge it's almost disrespectful. But you can hardly blame it. It's likely angry that it didn't get to make its public debut on its own terms.
The existing Tundra has been in showrooms since 2007 (with a 2014 styling refresh), so the truck is overdue for a redesign. Accordingly, this Tundra is all-new from the ground up. Price is unknown, though the 2021 model starts at $34,025, plus a $1,325 destination charge.
Toyota published the first photo of its redesigned full-size truck late Friday after unofficial images began appearing in Tundra-focused online forums. We expect a full, official reveal of the truck, complete with mechanical details, any day now. But for now, we have this – one low-angle view of the truck in its toughest, TRD Pro guise.
The redesign is bold. The grille is enormous, purely vertical, with a thick, body-color frame that only emphasizes its very large size. There are three LED lighting elements within the grille, which is outsized and aggressive. Blue-tinged headlights surround the truck's dominating feature, a big, black grille. But the eye is drawn to the grille. Also, there's a lot of grille here.
There's what appears to be a black and dark gray pixelated camo pattern on the top half of the bumper and body cladding over the wheel wells. The model pictured wears black webbed wheels with red TRD logos and a short box.
Toyota earlier released a teaser showing the Tundra's lights and one of an engine cover labeled "iForce Max." Toyota uses the iForce name for the 5.7-liter V8 that powers the 2021 Tundra, but some observers believe the iForce Max monicker may refer to a turbocharged V6 with a hybrid power boost. We'll bring more information on that when Toyota reveals it.
Most Related Links :
Business News
Governmental News
Finance News