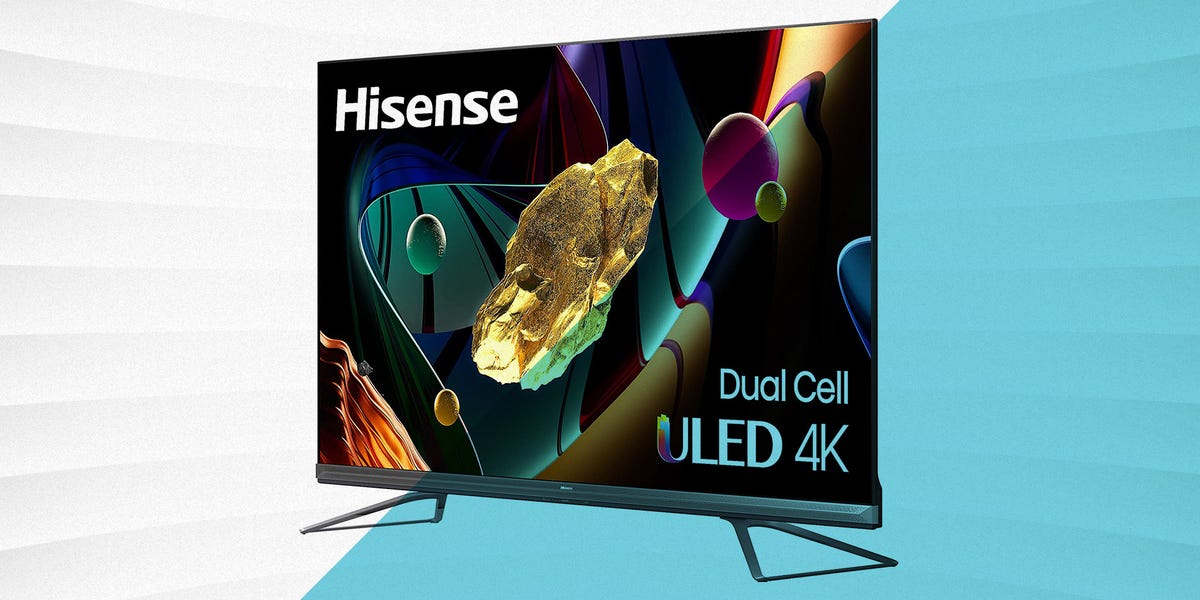 Staff, Courtesy of Hisense
From first-run Hollywood films to binge-worthy series, there's lots of great stuff to watch at home. Each time you dive into an exciting movie or show, you tell yourself it's time for a bigger, more immersive home theater TV—as long as it doesn't cost too much. As you scour stores and sites for the best big-screen TV bargains from all the well-known brands, you may have stumbled across inexpensive models from this unfamiliar company: Hisense. Chances are you probably thought…um, Hi-who? If Hisense isn't on your radar, if the name seems a bit too…generic, or if the prices seem too impossibly low for a quality TV, I'm able to set your mind at ease. Hisense TVs are the real deal.
The Expert: Back in 2016 when Hisense was first attempting to bring its TVs to the U.S. market, I got a chance to tour its impressive design centers, factories, and product testing centers in Qingdao, China, and have subsequently covered Hisense's TV offerings extensively. I'm also the unofficial historian for CTA (Consumer Technology Association), the trade group that produces the Consumer Electronics Show (CES), which I've been attending and covering since 1984.
It's a Brand That's Been Around
Hisense, the best-selling TV brand in its home county of China for nearly 20 years, is a top five TV brand in the rest of the world. More impressively, its TVs rate highly among skeptical reviewers who are often happily surprised by their high quality for such a low price. Founded back in 1969 as a radio manufacturer, Hisense today produces a wide variety of cutting-edge commercial, industrial and consumer technologies—in addition to TVs—like washing machines, refrigerators and mobile phones.
They Have Proprietary ULED Technology
Yes, it may come across like a budget-brand, but Hisense doesn't scrimp on technology. If you see the unfamiliar acronym "ULED," Ultra Light Emitting Diode, prominently displayed on its TVs, this is Hisense's proprietary Full Array Local Dimming (FALD) LED backlighting technology. ULED ensures the precise contrast necessary between light and dark sections of a scene, as it creates both a brighter and more colorful-than-usual picture, plus gives you the tools to reduce motion blur.
Depending on the Hisense model, you'll also find High Dynamic Range (HDR) for brighter highlights, quantum dot color enhancement (more accurate colors), IMAX Enhanced picture (an immersive theater experience right at home), Dolby Atmos (surround sound), and either Roku or Android streaming TV functionality. Many Hisense sets are WiSA-Ready (Wireless Speaker & Audio), which means you can connect a surround home speaker system minus the cords.
More TVs to Consider: Best LG TVs, Best Samsung TVs, Best Sony TVs, Best TVs to Buy Right Now
Something For Everyone
Not only is the technology cutting edge, but the company offers a diverse range of products in its lineup. Its fast-response 120Hz flat screen TVs are perfect for sports fans and especially for gamers. Hisense sells among the lowest-priced next-generation 8K TVs, offering four times the resolution of current 4K models—which are great for early adopters. Its well-regarded "short throw" laser projection TVs—the projector sits just a couple of feet in front of the projection screen or wall instead of inconveniently across the room—are ideal for cinephiles with limited space.
How We Evaluated
I've been writing about and reporting on the consumer technology industry for nearly 40 years, including the ever-changing TV/HDTV/4K TV scene. These are the Hisense TVs that I recommend based on price, specs, size, style, and, of course, value.
Best Value Full-Featured Big Screen TV
Hisense ULED 65-Inch U8G Quantum Dot Android 4K Smart TV
Hisense
amazon.com
$999.99
Key Specs
Screen Size: 65 in.
Display Technology: Full array local dimming LED/LCD
Other Screen Sizes: 55 in.
This Hisense TV packs more cutting-edge tech behind its 65-inch screen than any other TV you can buy for under $1,000. Included are technologies that enhance contrast, mimic the giant IMAX screen experience, adjust your TV settings to achieve the director's image vision, and bring out details in both light and dark scenes. Aesthetically, you get a newly designed anti-glare, anti-reflection screen while its floating glass display gives the set a more stylish look.
Brilliant colors
Sharp contrast
Voice control
Built-in sound is good, not great
Best Big Screen TV
Hisense L9G Series TriChroma Laser Smart 4K TV
Hisense
amazon.com
$5,499.00
Key Specs
Screen Size: 120 in.
Display Technology: Laser projection
Other Screen Sizes: 100 in.
For those who prefer a projector, Hisense's laser short-throw model sits less than 15 inches from the wall eliminating the need for an obstructive table in the middle of your room or the hassle of hanging it from the ceiling. It's big, extra bright picture is produced by one of the first projectors with three lasers (red, green and blue), capable of producing more colors than most projectors—or any TV—at this price.
Bright picture, even in a brightly lit room
Price includes screen
Android streaming TV
40-watt sound
Expensive
More complicated setup than flat screen TV
Best Value Big Screen TV
Hisense ULED 4K 55U6G Quantum Dot QLED Android Smart TV
Hisense
amazon.com
$449.00
Key Specs
Screen Size: 55 in.
Display Technology: Full-array local-dimming LED/LCD
Other Available Sizes: 50, 55, 75 in.
An outstanding buy: A full-featured 55-inch smart quantum dot 4K TV for less than $500. It offers six zones of full-array local dimming backlighting for better light- and dark-scene detail while most 55-inch models at this price offer far less precise types of backlighting. Also included are full HDR compatibility for higher contrast and FilmMaker Mode that adjusts your TV (colors and frame rates) so the picture hews to the filmmaker's vision.
Full-array local dimming
High-contrast picture
Wall-mount kit included
Average sound
Below-average off-angle viewing
Best 4K TV
Hisense ULED Dual-Cell 75U9DG Quantum Dot QLED Android Smart TV
Hisense
amazon.com
$2,799.99
Key Specs
Screen Size: 75 in.
Display Technology: Full array local dimming LED/LCD
Other Screen Sizes: None
Compared to more expensive OLED models, this Hisense 75-inch model produces enough brightness to cut through even the most sun-drenched rooms yet delivers top-level color and black levels. Hisense achieves its near-OLED picture thanks to proprietary Dual-Cell technology (a second layer behind the main LCD panel that better manages grayscale and color), 120Hz refresh rate to reduce motion blur, and 2 million local dimming zones so you see more detail in brighter and darker scenes.
High contrast
Excellent color
Low reflectivity
Not available in smaller sizes
Best Value 8K TV
Hisense ULED 8K 75U800GR Roku Smart TV
Hisense
amazon.com
$2,699.99
Key Specs
Screen Size: 75 in.
Display Technology: Full array local dimming LED/LCD
Other Available Sizes: None
Yes, this Roku-powered 75-inch next-generation 8K TV is cheaper than Hisense's best 75-inch 4K TV. It lacks the contrast and color upgrades of the 4K U9DG's Dual Cell technology but gains pure resolution—four times the number of pixels than a 4K model—to produce the sharpest picture possible. This quantum dot-enabled 8K ULED set produces more than a billion colors and offers 120Hz native resolution to reduce motion blur from fast-moving objects.
8K resolution
Native 120Hz
Best for Gaming
Hisense ULED 65-Inch U7G Android 4K Smart TV
Hisense
amazon.com
$1,099.99
$898.90 (18% off)
Key Specs
Screen Size: 65 in.
Display Technology: Full array local dimming LED/LCD
Other Available Sizes: 55, 75 in.
Watching TV and playing video games require slightly different TV settings and attributes, but you can enjoyably do both with the Hisense U7G. The Native 120Hz refresh rate produces smoother video, especially during game play, with less blur so images stay sharp. Display settings for gaming sequences are automatically optimized to produce the best-looking images while a variety of Hisense technologies combine to deliver low-lag, quick response PS5 and Xbox game play.
Gaming-specific technologies and settings
Low lag time
High contrast
Below average sound
Below-average off-angle viewing
Best Second Room TV
Hisense 43A6G 4K Android Smart TV
Hisense
amazon.com
$299.99
Key Specs
Screen Size: 43 in.
Display Technology: Full array local dimming LED/LCD
Other Available Sizes: 50, 55, 65, 75 in.
Looking for a second TV for a bedroom, home office, or kitchen? You're unlikely to find such a feature-packed model for this low a price. Full array local dimming and top-of-the-line technology, on a set with this cost, is rare. The TV also boasts the latest HDR technologies that enhance contrast levels, Hisense's low latency gaming technologies, Android streaming TV, and Google voice control—all for under $300.
High quality 4K picture, features for low price
Viewable from wide angles
Low latency technology for gaming
Lacks ULED technology
Lower brightness
This content is created and maintained by a third party, and imported onto this page to help users provide their email addresses. You may be able to find more information about this and similar content at piano.io
Most Related Links :
Business News
Governmental News
Finance News