Automobile
A Porsche Taycan Cross Turismo Takes on Colorado's Ophir Pass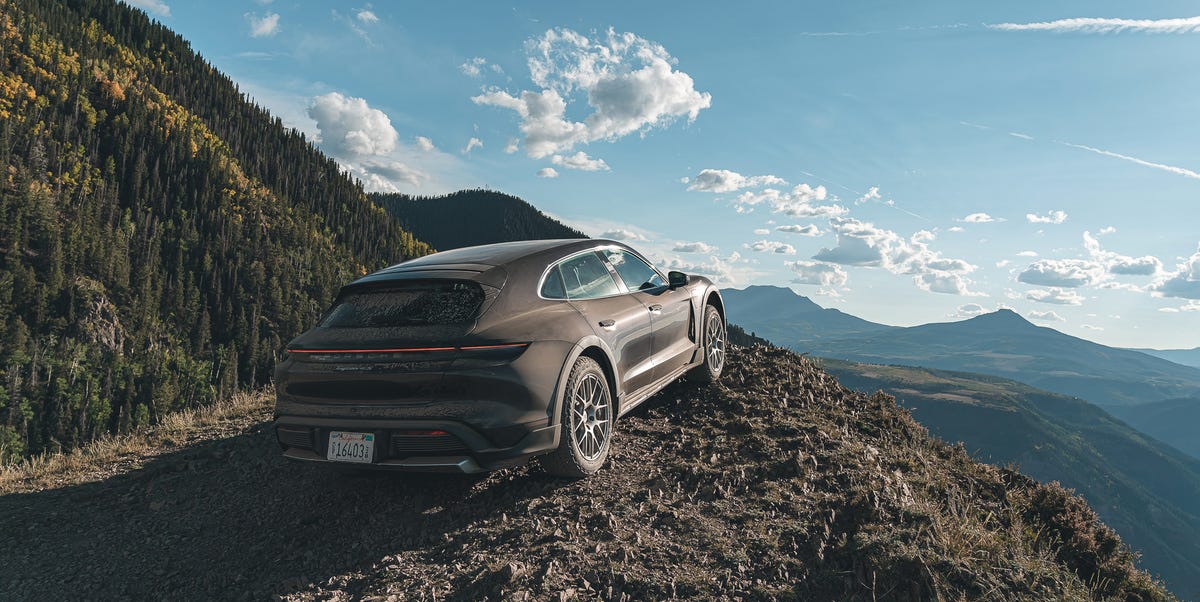 It's easy to take too many pictures when you're traveling, but that never stops anyone from taking one more—especially when your trip is through Colorado's alpine backcountry. The gravel road to the summit of Ophir Pass had just emerged from tree cover, revealing a sweeping view of a vast bowl that was only a winter storm away from being transformed into an epic heli-skiing location. An inviting wide spot fit within the scene perfectly, so I motioned my comrades to pull over, positioned the Porsche Taycan Cross Turismo just so, and grabbed my phone.
A Subaru Outback that had been trailing behind squeezed past as we lingered to take in the view. I was frankly glad because the Subie would be our canary in a coal mine. The other 4×4 drivers we'd met thus far seemed to fall into two camps: those who grimaced and thought we were just plain stupid, others who probably also thought we were nuts but grinned and said it was the coolest thing they ever saw. To be honest, I might have held both views simultaneously. What was I doing out here in a $132,760 Taycan Cross Turismo 4S on a narrow, rock-strewn trail where, at various spots, the wrong move could send us into a 2000-foot death plunge on the driver's side?
On the one hand, I could understand what the folks in the trickle of Toyota 4Runner and Jeep Wrangler drivers were probably thinking. They were coming from the direction I was going, and they weren't at all sure I'd make it where they'd been. Not without damage. Not without potentially creating a hopeless bottleneck on the side of a cliff while awaiting rescue from a very expensive recovery truck whose driver would see the word Porsche emblazoned on my rig and elevate the price accordingly.
But I knew a few things they probably didn't. My Porsche was powered by dual electric motors, which amounts to full-time four-wheel drive. The question of whether or not I had low-range torque was immaterial, because electric motors offer instant torque. EVs are also impervious to thin air, so the Taycan would not suffer the kind of high-altitude power loss they'd likely experienced. The Taycan Cross Turismo starts sitting 0.8 inch higher than the standard Taycan, and I'm sure they didn't know that my height adjustable air suspension had a Gravel mode that raised the ride height 0.4 inch. The final ace up my sleeve was a set of Falken WildPeak AT tires on 19-inch rims fit for a Cayenne and, as it turns out, a Taycan Cross Turismo that lacks the massive rotors of the Turbo or the 10-piston calipers of the Turbo S.
I selected Gravel mode soon after we got back underway because of the ever-increasing number of sharp, grapefruit-sized rocks littering the uneven road. The air suspension soaked up the lumpy terrain far better than expected, delivering more smoothness and none of the rattling or abrupt top-out banging I'd heard in a Jaguar I-Pace I'd tried on a less aggressive dirt road back home. Still, clearance was going to be the issue. It was necessary to pay close attention to the cobbled surface, be mindful of the Taycan's Leno-esque chin spoiler and sculpted side skirts, and adjust the line accordingly.
The Subaru that had passed came back our way, having seemingly given up and turned around, which was ominous. But the final climb didn't turn out to be particularly difficult, with the trail retaining the same rocky character all the way to the sticker-covered metal sign proclaiming we'd reached the 11,789-foot summit. It was easy to imagine how impassable the Ophir Pass could become when snow arrives, but wasn't at the moment. Why had the Subaru turned around?
We found out shortly after we began our descent down the western side. A Toyota 4Runner laboring up toward us abruptly stopped, and the driver leaned over her companion to say something out the passenger side window. "There's a drop-off up ahead. I don't think you're going to get through."
I looked forward, saw nothing of interest, then asked, "How far down the trail is it?"
I peered ahead again. There was a right-hand switchback, but a slight rise in the road masked anything specific. I thanked her and carefully eased forward. It took all of 10 seconds to see what she'd been talking about. I hit Lift mode for maximum height.
There was a steep shelf just before the switchback, with a drop-off on the right side you wouldn't choose unless there was no alternative, even in a Jeep. To the left it became more of a deep bowl, dug out where uphill traffic had spun lots of wheels. A big rock at the extreme left edge represented an end stop past which no one could proceed. My right-side tires would have to dive into the bowl while I kept the left-front corner clear of the rock.
The Taycan's low driving position and broad fenders blocked my view, so a friend acting as tail gunner in his Lexus LX570 trotted forward. I hugged as close to the rock as I dared and cringed as I eased the right-front tire into the bowl. The left-rear hiked perhaps a foot into the air; my spotter wasn't sure the chin spoiler wouldn't auger in. He laid a traction board into the hole under my right-front to keep teetering to a minimum, and with that the Taycan was able to ease through without a scrape or scratch.
We regrouped after the switchback to let a trailing Jeep pass and watched as it spent the next five minutes bouncing and lurching across the narrow, one-lane scree slope we'd heard about. This exposed, 3000-foot traverse was too narrow for two vehicles side by side, so we had to wait again as another 4×4 started the climb after the Jeep reached the bottom. After it passed, I eased off the brake, began my descent, and immediately wondered if I'd found the Taycan's limit.
The trail was nothing but sharp angular blocks of rock that moved unnervingly under the tires. Traffic had shifted the stones into twin ruts deeper than the Taycan's available ground clearance. I was forced to cheat my line leftward so my right tires rode on the high central crown and my left tires were on the outer berm—the one with the 2000-foot death slide just outside my window. I slowly made my way down, both tires and trail conspiring to make the kind of comical tumbling-brick noises you get when superheroes crawl from a building's rubble.
After what seemed like an eternity, I got to the bottom—without a scratch. The trail soon reentered the trees and began to meander through the forest. There were one or two water crossings and a couple of "water bar" cross-trail berms that got the Taycan into a slight three-wheel posture, but it all felt pretty tame.
We eventually rolled up to our hotel in Ouray with 109 miles and 48 percent battery remaining after covering 85.9 miles. That amounts to 195 miles of total range, which seemed pretty impressive considering what we'd just done, especially since we'd started with an indicated 200 miles at the outset. The Porsche Taycan Cross Turismo 4S had returned in one piece—dusty as hell, but with no scratches in the paint or gouges in its underbelly.
The Cross Turismo's height-adjustable suspension provided just enough clearance, but the trip wouldn't have been near as easy without suitable tires—a truism no matter what off-road vehicle we're talking about. But the bigger takeaway was the pleasantness of the EV off-road experience. Things like gearing, traction and high-altitude power aren't issues. The only items of concern came down to ground clearance and the Taycan's approach/departure/break-over angles. An electric off-roader with more of each could be a lot of fun.
This content is created and maintained by a third party, and imported onto this page to help users provide their email addresses. You may be able to find more information about this and similar content at piano.io
Most Related Links :
Business News
Governmental News
Finance News