Automobile
Audio Road Test: McIntosh Meets Jeep Grand Cherokee L | Kelley Blue Book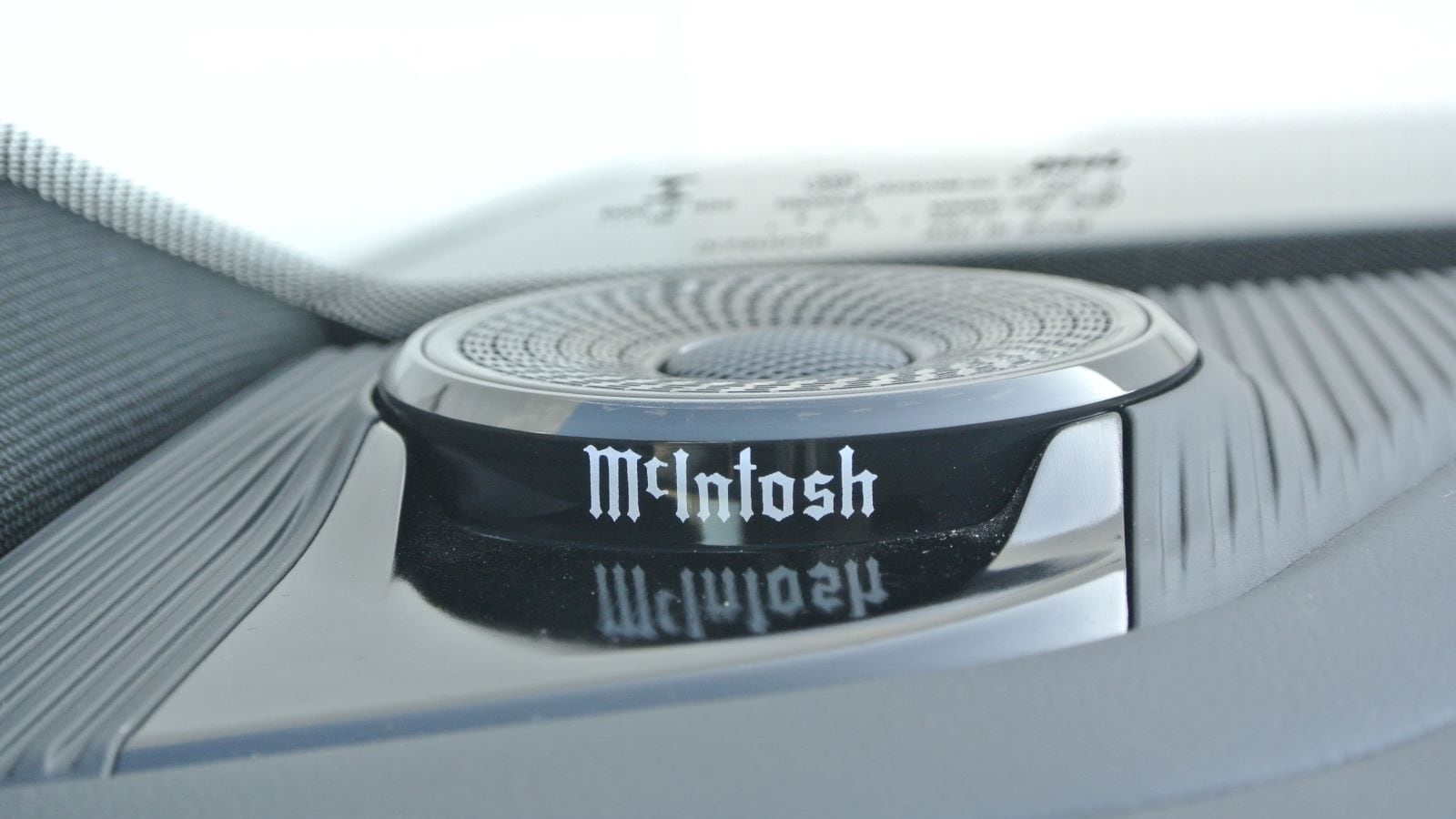 If you want evidence of just how serious Jeep is about the luxury direction of its new Grand Cherokee L and Grand Wagoneer models, you only need a glimpse of its speakers for all the proof you need. And one listen might just leave you floored.
That's because Jeep's all-new 3-row SUVs are currently the only vehicles in the world available with McIntosh audio, and these systems are truly world-class.
What is McIntosh?
You'll be forgiven if you've never heard of McIntosh, or perhaps confuse its name with the maker of your phone. Different spellings, and very different products.
McIntosh makes some of the finest home audio systems money can buy. And it usually takes a lot of it to buy their components. McIntosh's current line of amplifiers and CD players starts at around $5,000. Each.
Prices on other components zoom up from there, with some costing as much as an economy car.
American-Made
This is a serious audio company for serious audio lovers. It's also proudly American, and still hand-crafts its products in Binghamton, New York. That aspect is a plus for Jeep, which also builds its premier SUVs in America.
Among the very niche group of audiophiles like myself, a McIntosh system is among the holy grails of audio.
Now, for the first time in a long time, you can get a McIntosh audio system in a vehicle. While McIntosh has been around some seven decades, it's been about 20 years since you could get one of their systems in a car.
Its first was in 1996, with an AM/FM/CD head unit that could be installed like others of the time. Later, McIntosh would collaborate with automakers themselves. The first was Subaru and its Legacy, then the 100th Anniversary Ford GT in 2002. McIntosh also partnered with, of all brands, Harley-Davidson, for a motorcycle radio.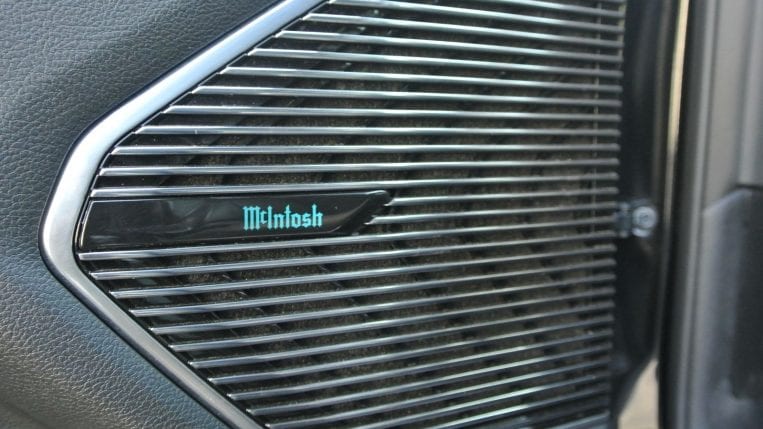 Flash-forward two decades later, and McIntosh's collaboration with Jeep appears to be its most ambitious foray into the automotive realm yet. The brand's new era of automotive audio systems will launch in the all-new 2021 Jeep Grand Cherokee L (Jeep's first 3-row Grand Cherokee), and the luxurious 2022 Wagoneer and Grand Wagoneer models.
I recently tested the McIntosh audio system in a Jeep Grand Cherokee L. It's a 19-speaker system driven by a 17-channel amplifier that produces a total of 950 watts. It's optional on Overland and Summit models, and standard with the Summit Reserve Package. As a standalone option, it lists for $1,495. That's a bargain for a McIntosh system.
How Does the Jeep McIntosh System Sound?
In a word: Amazing. I've reviewed and tested some of the best high-end car audio systems available, from the Bowers & Wilkins system in BMWs to Bang & Olufsen in Audis, Burmester in Mercedes-Benz models, and even the superb ELS system in Acuras. This new McIntosh in the Jeep ranks right up there with the best I've heard.
This McIntosh audio system replicates instruments, vocals, and even the very feel of the music itself in a way I've rarely – if ever – experienced in a car. And I'm not overstating that word. When playing back some high-quality audio – in this case, high-res FLAC files I had loaded onto a USB stick – you don't just hear the music in this McIntosh system; you experience it.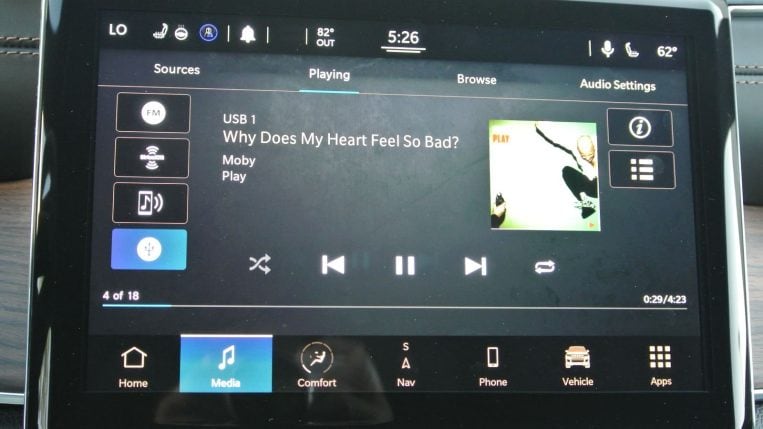 The guitar licks and vocals in "Bad" by U2 are so clear, so lifelike, that it feels like Bono and the boys are part of my carpool. The thunderous lows and somber piano notes of Moby's groundbreaking album "Play" resonated beautifully, while Taylor Swift's fantastically produced "Lover" is absolute candy for the ears.
I ended up spending several days in the Jeep Grand Cherokee L, and the McIntosh audio system was on for every mile. I listened to album after album, and the system kept surprising me by revealing details I'd never heard before despite listening to songs I'd heard countless times before.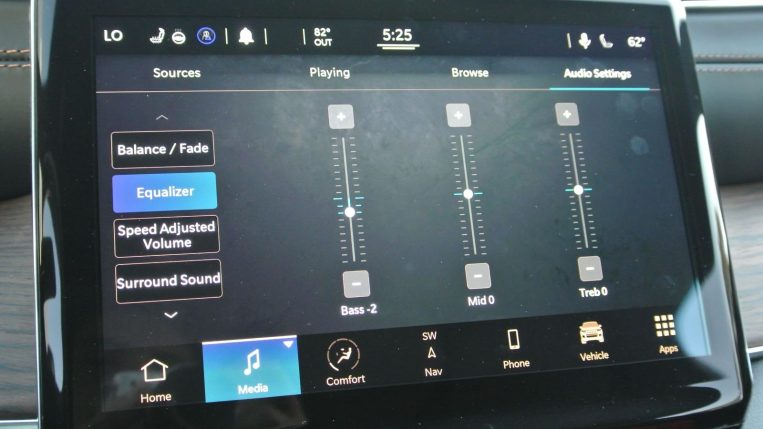 All tunes were conveyed with clarity and liveliness I've rarely experienced. Music on the McIntosh just sounds more, "real." I equate it to the difference between a meal at a fast-food joint and one from a Michelin-starred restaurant. Both will satiate hunger, but the quality and experience of the latter are markedly better than the former.
Boomy Bass
The only nit I found was that McIntosh's bass was a tad heavy and boomy for my liking on the default setting. That was quickly resolved by adjusting the built-in EQ to turn down the bass a couple of notches.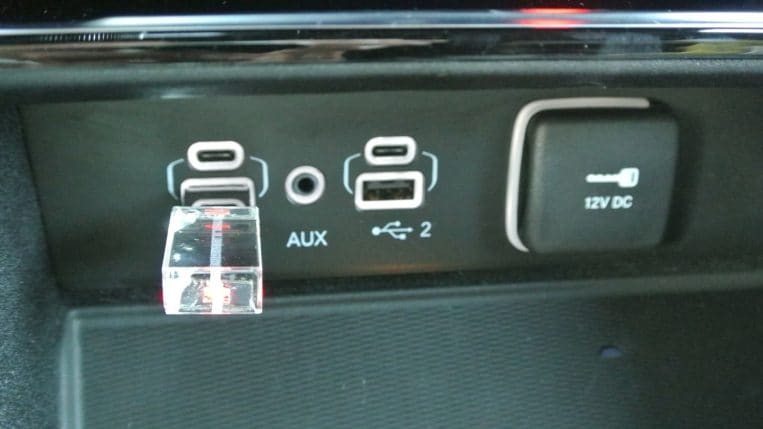 Even lower-resolution and lower-quality audio, such as that from the radio or satellite, still sounded great on this system. Like almost every new vehicle, the Jeep Grand Cherokee L doesn't have a CD player, but it features the aforementioned USB port, Bluetooth, and smartphone integration. Interestingly, it also features an aux port, so if you really want, you can plug in a portable CD player or other digital media device.
Regardless of the source, wherever you lie on the music spectrum – from an eager but mostly casual listener of whatever is on, to a dedicated audio nut who has spent way too much money on gear – this McIntosh system should be an absolute delight.
I highly recommend this very special system. And for just under $1,500, it could be the best deal on a McIntosh you'll ever find.
Most Related Links :
Business News
Governmental News
Finance News