Automobile
Every New 2022 Minivan Ranked from Worst to Best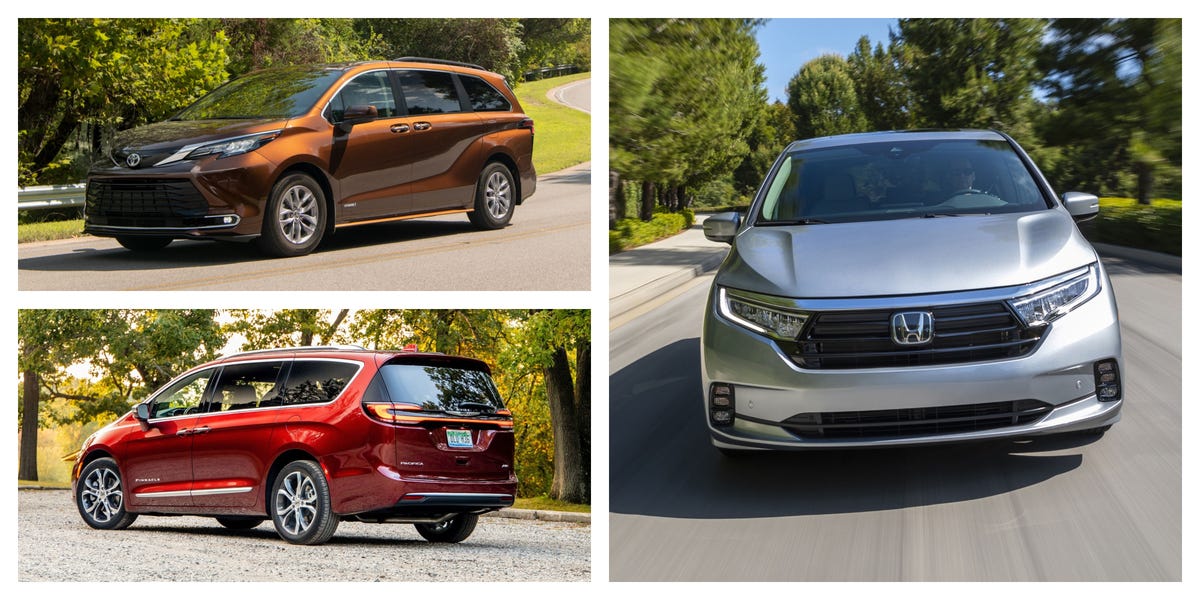 There are fewer entries in the minivan segment than there are seats in the Toyota Sienna. Models such as the Nissan Quest, the Ford Windstar, and most recently the Dodge Grand Caravan are parked in the discontinued lot. It's unfortunate, but it's the inevitable impact of the popularity of stylish three-row crossovers and SUVs. That isn't to say that the newest vans aren't trying. Minivans have evolved by becoming the Swiss cheese of charging ports, with extra space for snacks and built-in vacuums to clean up the aftermath of those snacks. When you're in a minivan full of other people, you could be sharing something good or bad. It's like stuffing into the corner booth at a Coney Island restaurant—most people inside it can't move until someone else does, and it probably smells like hot dogs. No matter, their sliding doors and super-sized cargo area make minivans an easy choice for those with a lot to do. Here's how the competitive minivan segment ranks from worst to best.
Advertisement – Continue Reading Below
4. Toyota Sienna
The new Toyota Sienna is a minivan focused on fuel efficiency and substance. A 243-hp hybrid is the only powertrain, giving it an EPA-estimated 36 mpg combined with front-wheel drive, an improvement of more than 14 mpg from last year's gas-only model. It's now the second most efficient on the list, behind the Chrysler Pacifica Hybrid, and its additional wheelbase over the previous generation has improved its ride. It's also stuffed with standard driver-assistance features such as automated emergency braking, lane-departure warning, lane-keeping assist, and adaptive cruise control. There's plenty of space to seat seven (or even eight with the center seat stowed), but unfortunately the second-row seats aren't stowable or removable. An all-wheel-drive Sienna Limited recently joined our long-term test fleet, quickly accumulating miles without any hiccups.
Base Price: $35,775
EPA Fuel Economy combined/city/highway: 36/36/36 mpg (FWD)
Rear Cargo Space (behind third row): 34 cubic feet
All-Wheel Drive: optional
Towing Capacity: 3500 lb
3. Honda Odyssey
The Honda Odyssey has been good for a long time, and some things never change. Powered by a 280-hp V-6, the Odyssey is easily the top driver's choice. Its driving characteristics and shifter paddles are unexpected for a minivan, and its excellent suspension tuning makes it ride like it's meant to haul a little ass instead of the kids. The Odyssey can seat eight on all models above the base LX trim. In our real-world highway testing, the Odyssey outperformed its EPA estimate, delivering 30 mpg. We wish we could stow the second-row seats somewhere, because removing the 68-pound chairs can be a serious workout. Standard safety equipment includes automated emergency braking with pedestrian detection, lane-departure warning with lane-keeping assist, and adaptive cruise control. The Odyssey received much praise during our 40,000-mile long-term test.
Base Price: $33,515
EPA Fuel Economy combined/city/highway: 22/19/28 mpg
Rear Cargo Space (behind third row): 32 cubic feet
All-Wheel Drive: not available
Towing Capacity: 3500 lb
2. Kia Carnival
A replacement for the Kia Sedona is here, and it looks way too cool to be dropping kids off at school. The only powertrain for the Carnival is a 290-hp V-6 with an eight-speed automatic transmission and every Carnival is front-wheel drive. The top SX Prestige trim has heated and cooled reclining second-row captain's chairs with an ottoman for your feet. It's a little bit of a party trick, as they fill some of the cargo space and are heavy to move around. Less fancy captain's chairs or an eight-passenger setup with a third seat for the second row are also offered. An 8.0-inch infotainment screen is standard, but a huge 12.3-inch display is available on EX, SX, and SX Prestige trims. During our testing, the Carnival had more grip and stopped shorter than Toyota Sienna, Chrysler Pacifica, and Honda Odyssey but fell behind the Sienna in overall storage space. Although there isn't a hybrid version, the Carnival's EPA-estimated fuel economy matches its gas-powered rivals.
Base Price: $33,275
EPA Fuel Economy combined/city/highway: 22/19/26 mpg
Rear Cargo Space (behind third row): 40 cubic feet
All-Wheel Drive: not available
Towing Capacity: 3500 lb
1. Chrysler Pacifica
The Chrysler Pacifica uses everything it has learned from the past to make it the best eight-seater minivan you can buy today. The patented Stow 'N Go second-row seating is a blessing both while folded into the floor and when not in use for extra storage capacity. Every Pacifica is powered by a 287-hp V-6 with a nine-speed automatic. The one we tested on our 200-mile highway fuel-economy test returned an impressive 31 mpg, making it the most efficient non-hybrid in the segment. The Pacifica plug-in hybrid adds to that efficiency with an EPA-estimated 82 MPGe combined. The 2021 and newer models have optional all-wheel drive, a 10.1-inch touchscreen, and updated headlights and taillights. Want to know what it's like living with one? Check out our long-term Chrysler Pacifica and long-term Chrysler Pacifica Hybrid tests.
Base Price: $38,590
EPA Fuel Economy combined/city/highway: 22/19/28 mpg (FWD non-hybrid)
Rear Cargo Space (behind third row): 32 cubic feet
All-Wheel Drive: optional
Towing Capacity: 3600 lb
Every 2022 Three-Row SUV Ranked
This content is created and maintained by a third party, and imported onto this page to help users provide their email addresses. You may be able to find more information about this and similar content at piano.io
Advertisement – Continue Reading Below
Most Related Links :
Business News
Governmental News
Finance News