Automobile
GM Tells Some Chevy Bolt Owners: Park 50 feet from Other Cars | Kelley Blue Book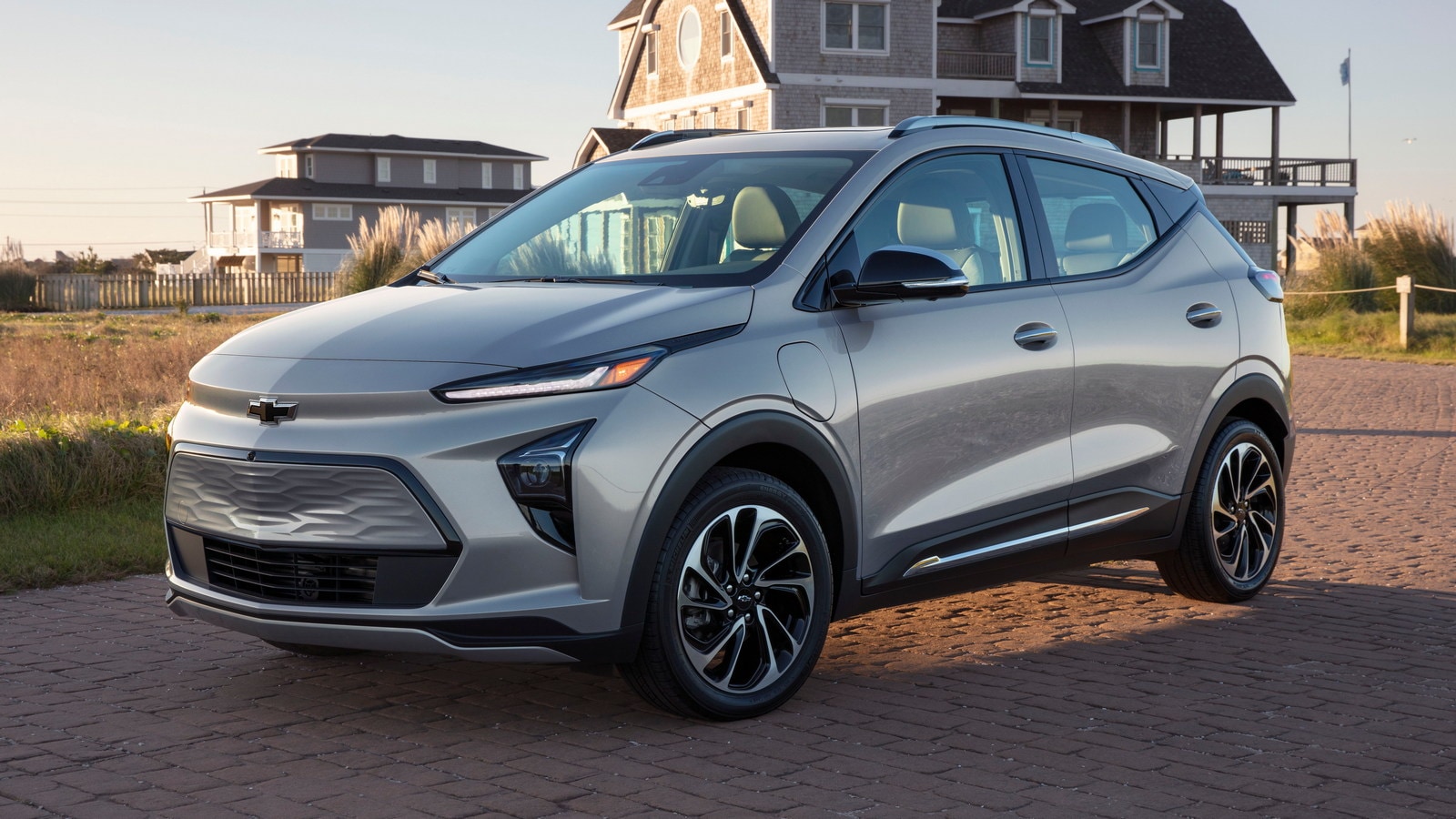 General Motors has advised some Chevy Bolt EV and Bolt EUV owners to park their cars at least 50 feet away from other vehicles and park only on the top floor of parking garages.
Bloomberg reports that the new instructions are being given verbally to Chevrolet Bolt owners who call GM with questions about safe parking for their Bolts.
An Evolving Recall Campaign
The new advice comes amid a massive and evolving recall campaign due to fire risk.
GM has recalled more than 140,000 Bolt EV and Bolt EUV electric cars due to the risk of a battery fire. Fire marshals have blamed Bolts for at least 12 fires in the U.S. The most recent occurred in Georgia earlier this week.
The Chevrolet Bolt EV is a small electric hatchback introduced for the 2017 model year. It was updated with new styling and cabin tech for 2022. The Bolt EUV is all-new for 2022. It's a larger vehicle sharing most of the same parts and has added room for rear-seat passengers.
Chevrolet has issued an escalating series of recalls to address the fire risk. The company initially believed the problem existed only in 2017-2019 Bolts. It recalled those cars to install software that would limit the battery's charge level while the company sought a more permanent fix. It later brought the same vehicles back to inspect the batteries and replace some cells deemed at risk.
Two Fires Reported
After at least two reports of fires in Bolts that had been through both recalls, Chevrolet expanded the recall to include every Bolt EV and Bolt EUV ever built and announced a plan to replace battery modules in all of them. Chevy said it had identified a pair of rare manufacturing defects that, if present together, left a battery at risk of combusting.
But last month, GM paused that plan, saying it wasn't yet confident that battery supplier LG Chem could produce new batteries that didn't replicate those defects. A special Bolt recall page set up by the automaker now indicates that "GM will be conducting a recall of Bolt EVs (2017-2022) and Bolt EUVs (2022)," but gives no timetable for that next step.
Safety Steps for Bolt Owners
In the meantime, the company issued a set of safety instructions to Bolt owners. The company asks Bolt owners to:
Set their vehicle to a 90% state of charge limitation using Target Charge Level mode. Instructions on how to do this are available on chevrolet.com/boltevrecall. If customers are unable to successfully make these changes or do not feel comfortable making these changes, GM is asking them to visit their dealer to have these adjustments completed.
Charge their vehicle more frequently and avoid depleting their battery below approximately 70 miles (113 km) of remaining range, where possible.
Continue to park their vehicles outside immediately after charging and not leave their vehicles charging indoors overnight.
A report earlier this month indicated that up to 30% of Bolt owners may not be following the instructions.
Reports of Buybacks
Frustrated Bolt owners have taken to several internet message boards to share their stories. Some users have reported that GM bought back their vehicle. Reached for comment, a Chevy spokesperson told us "buybacks are determined on a case-by-case basis" and provided no further clarification. The deciding factor may well be lemon laws, which can vary from state to state.
Other GM EVs Use Different Battery Tech
General Motors has announced a plan to sell a mostly electric lineup by 2035. The heart of that plan is a new battery architecture it calls Ultium. While LG Chem also builds the Ultium battery, it uses different chemistry than the batteries found in the Bolt brothers. The Ultium platform will be the basis of many new EVs, including the soon-to-be-released Cadillac Lyriq and GMC Hummer.
Most Related Links :
Business News
Governmental News
Finance News