Automobile
View Photos of the 2022 Volkswagen Tiguan SEL R-Line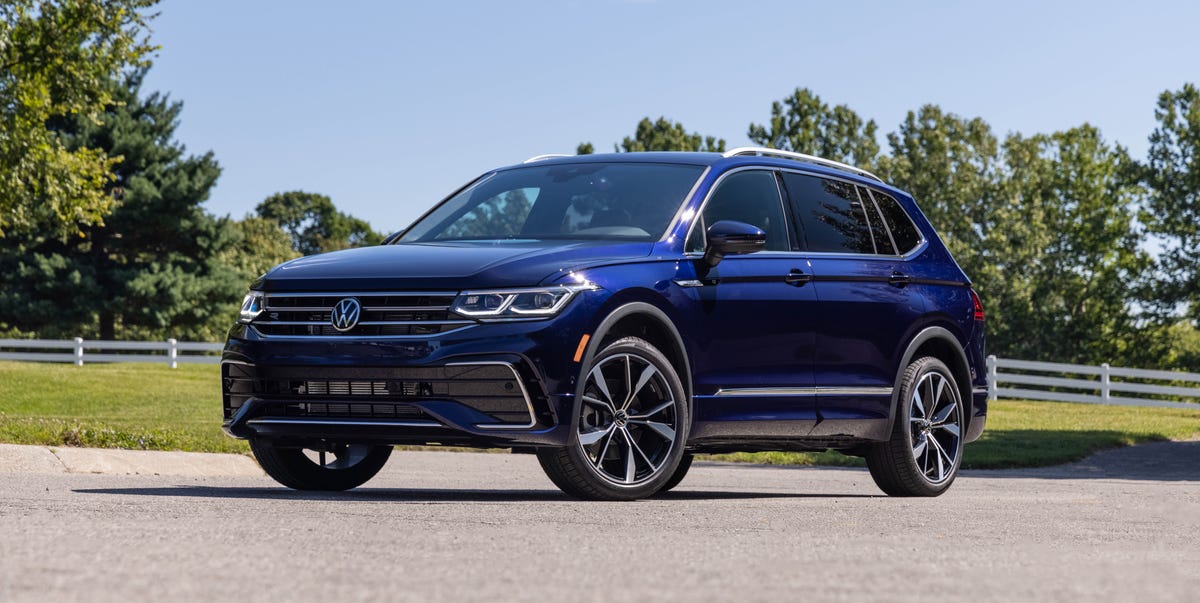 Andi HendrickCar and Driver
A mid-cycle facelift readies the Tiguan for battle in the competitive compact SUV marketplace, and its handsome new look should draw the attention of consumers.
1 of 29
Exterior styling is where the majority of the changes have been made on the Tiguan.
2 of 29
Updated front and rear bumpers, a reworked grille, updated wheel designs, and two new colors—Oryx White and Kings Red—give the SUV a more upscale appearance.
3 of 29
Exterior lighting elements are also updated and feature standard LED lights and an illuminated strip that runs the length of the grille.
4 of 29
Unchanged is the Tiguan's powertrain—the same 184-hp turbocharged 2.0-liter from the 2021 model carries over with only minor tuning changes to help improve fuel economy.
5 of 29
The Tiguan's chassis, suspension, and steering also carry over unchanged from last year's model.
6 of 29
Volkswagen has bundled its advanced driver-assistance tech into a suite called IQ.Drive, which includes adaptive cruise control, lane-keeping assist, and other features.
7 of 29
The IQ.Drive safety package is optional on the base S for $895 and standard on all other trims.
8 of 29
Inside, the Tiguan benefits from several new tech features, including a newly standard 8.0-inch digital gauge display which can be upgraded to a 10.0-inch unit as an option.
9 of 29
A new steering wheel has been added; it includes touch-sensitive controls for the infotainment system.
10 of 29
More touch-sensitive buttons have been added on the climate control panel, which loses last year's rotary knobs for changing the temperature in favor of touch sliders.
11 of 29
2022 Volkswagen Tiguan SEL R-Line
12 of 29
2022 Volkswagen Tiguan SEL R-Line
13 of 29
2022 Volkswagen Tiguan SEL R-Line
14 of 29
2022 Volkswagen Tiguan SEL R-Line
15 of 29
2022 Volkswagen Tiguan SEL R-Line
16 of 29
2022 Volkswagen Tiguan SEL R-Line
17 of 29
2022 Volkswagen Tiguan SEL R-Line
18 of 29
2022 Volkswagen Tiguan SEL R-Line
19 of 29
2022 Volkswagen Tiguan SEL R-Line
20 of 29
2022 Volkswagen Tiguan SEL R-Line
21 of 29
2022 Volkswagen Tiguan SEL R-Line
22 of 29
2022 Volkswagen Tiguan SEL R-Line
23 of 29
2022 Volkswagen Tiguan SEL R-Line
24 of 29
2022 Volkswagen Tiguan SEL R-Line
25 of 29
2022 Volkswagen Tiguan SEL R-Line
26 of 29
2022 Volkswagen Tiguan SEL R-Line
27 of 29
2022 Volkswagen Tiguan SEL R-Line
28 of 29
2022 Volkswagen Tiguan SEL R-Line
29 of 29
2022 Volkswagen Tiguan SEL R-Line
Advertisement – Continue Reading Below
This content is created and maintained by a third party, and imported onto this page to help users provide their email addresses. You may be able to find more information about this and similar content at piano.io
Most Related Links :
Business News
Governmental News
Finance News