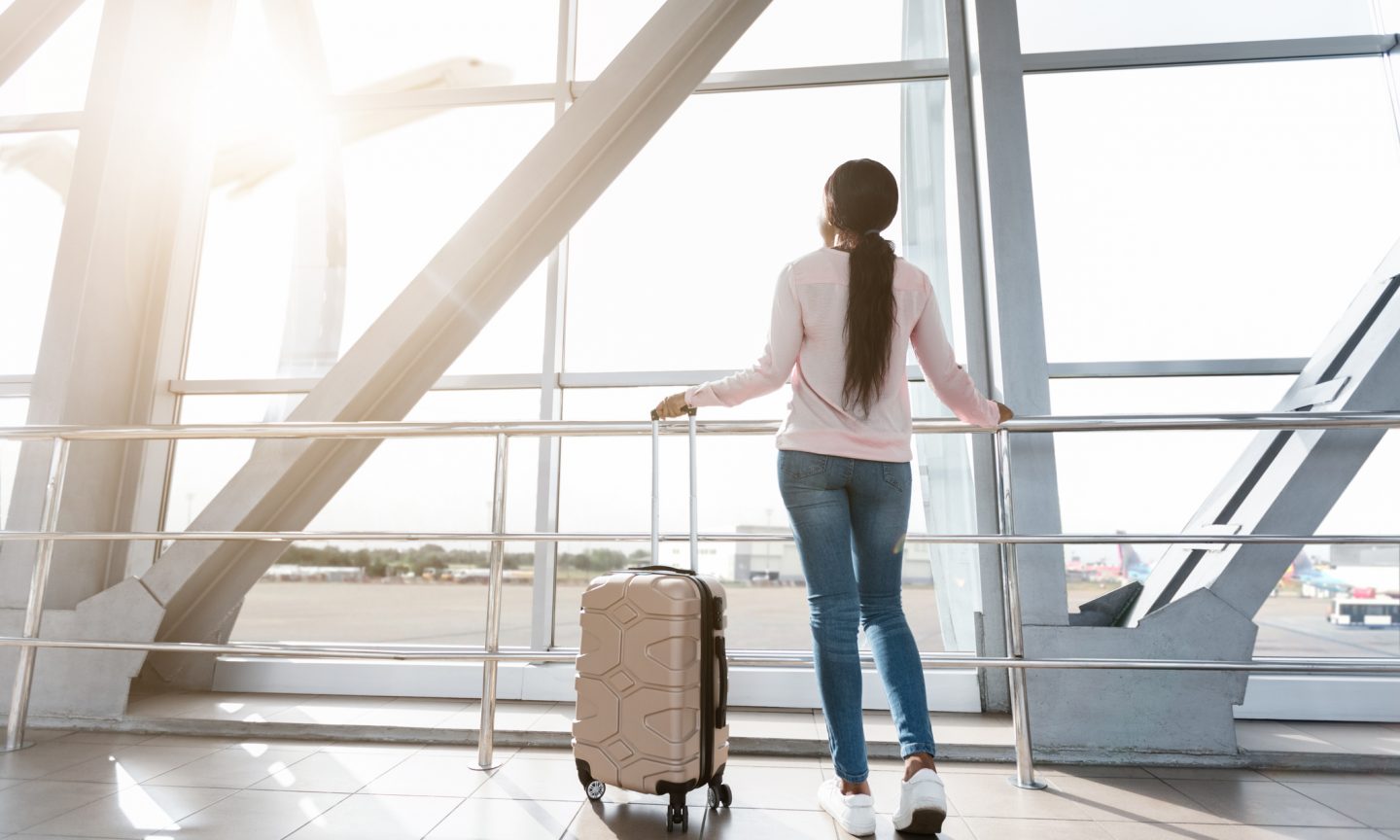 Frontier and Spirit are two of the major players in the budget airline game. And while the service and experience they provide can seem pretty similar, they have different routes, different loyalty programs and different fees.
So which airline should you fly? Here's a breakdown of the main differences between Frontier and Spirit.
Which offers better flight options?
Frontier and Spirit both fly to cities all over the U.S. and beyond, including Mexico and the Caribbean. But Frontier flies to more destinations.
Frontier destinations
Frontier serves more than 140 North American destinations that cover most of the U.S. (from Maine to California, Texas to Montana), plus Mexico, the Caribbean and a few destinations in Canada. Its most popular hub cities with the most available direct flights are:
Spirit destinations
Spirit doesn't have quite as extensive of a destination list as Frontier, flying to 70-plus locations throughout the U.S., Mexico and the Caribbean. Depending on the season, you can also find Spirit flights to South and Central America.
Spirit operates out of a few more hubs:
Winner for route availability
Frontier for domestic, Spirit for international.
Which airline has the best loyalty program?
As we continue our deep dive into Frontier versus Spirit, we want to take into account their respective rewards programs and who they're right for.
Frontier loyalty program
The Frontier Miles frequent traveler program has its pros and cons. Earning miles is straightforward: one mile flown in physical distance equals one mile earned. Plus, you can earn more miles with a handful of travel and shopping partners.
Elite status is achievable by flying 20,000 miles or 25 segments, earning you access to perks like family pooling, waived redemption fees and free seat assignment. At higher statuses, you can even enjoy a discounted or free Discount Den membership and free checked bags. Though unless you fly with Frontier multiple times a month, even the lowest status can be difficult to reach without the Frontier Airlines World Mastercard®, which boosts your chances by offering an additional 1 elite status qualifying mile for every dollar spent.
The bad news: Frontier Miles aren't worth much — just 0.7 cent, according to NerdWallet valuations. And award flights start at 10,000 miles per way, which is higher than some other airlines.
Spirit loyalty program
It's easy to redeem points with Spirit: Reward redemptions start at just 2,500 points, and members also have the option of using Free Spirit Points plus Cash, which allows you to score a partial award ticket faster or put smaller point totals to use.
Members with a Free Spirit credit card or who have achieved Gold or Silver status can also utilize points pooling with up to eight friends and family members. As for status, it can be earned through a combination of flying and spending on either of the Spirit credit cards, and Silver is achieved at just 2,000 qualifying points.
Winner for ease of miles
Which airline offers better credit cards?
Frontier credit cards
Want extra perks and benefits for flying Frontier? Frontier offers one credit card.
Frontier Airlines World Mastercard®. New cardmembers are lured with this sign-up bonus: Earn 50,000 bonus miles after spending $500 on purchases in the first 90 days. With this card, you can unlock Family Pooling, earn elite status and score a $100 flight voucher on your account anniversary, all for a reasonable annual fee: $0 intro for the first year, then $79.
As a cardmember, your miles are less likely to expire, and award redemption fees are waived.
Spirit credit cards
Spirit offers two credit cards for members of its loyalty program, Free Spirit, to earn extra rewards.
Free Spirit® Travel Mastercard®. The current new cardmember offer: Earn 10,000 Bonus Points after making at least $500 in purchases within the first 90 days of account opening. You will also receive 5,000 bonus points on your cardmember anniversary after making at least $10,000 in purchases within the prior year. You will get access to points pooling, plus their annual fee is $0 and your points won't expire as long as your account is open.

Free Spirit® Travel More Mastercard®. The annual fee is $0 intro for the first year, then $79. With it, you'll get the following sign-up offer: Earn 40,000 Bonus Points + a $100 Companion Flight Voucher​ after spending at least $1,000 on purchases in the first 90 days of account opening. Then, receive a $100 companion flight voucher on every cardmember anniversary after making at least $5,000 in purchases during the prior year. You'll also get access to points pooling, reach elite status faster and pay no award flight redemption fees, plus your points won't expire as long as you have the card.
Winner for best airline credit card
Spirit. It has more card options, including a $0-annual-fee option, plus the miles don't expire.
Which airline will charge me less in fees?
Frontier fees
Frontier is a budget airline, after all, so expect extra fees beyond your ticket price for any comfort items or upgrades. You get to bring only a personal item for free; a carry-on will cost between $39 and $60 (depending on whether you book online or at the gate). One checked bag costs between $38 and $60, and a second between $50 and $55.
You'll also pay if you want to choose your seat. Standard seats range from $17 to $55, while stretch seating runs you $35 to $70. And if you want the option to change your flight if something comes up, you'll have to purchase Flight Flexibility coverage at the same time you book travel, which costs $29.99.
Alternatively, you have the option to book a bundle called The Works, which includes a personal item, carry-on, checked bag, seat selection, priority boarding, flight flexibility and refundability. The cost will depend on where you're flying.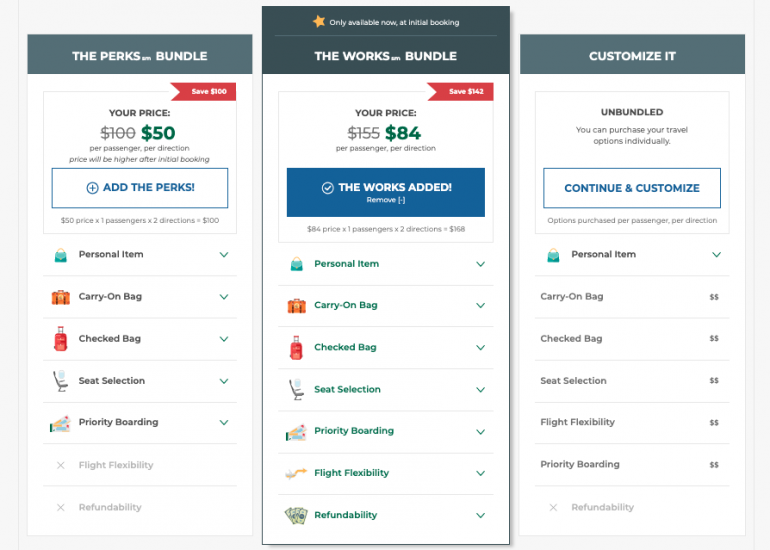 Spirit fees
Just like on Frontier, be prepared to pay for the extras if you want them on Spirit, like luggage — anything more than a personal item will cost you. Your baggage costs will depend on where you're going, but expect to pay around $30 to $65 for a carry-on (depending on whether you prepaid or are paying at the gate), $26 to $65 for your first checked bag and $35 to $60 for a second. Spirit Saver$ Club members pay less.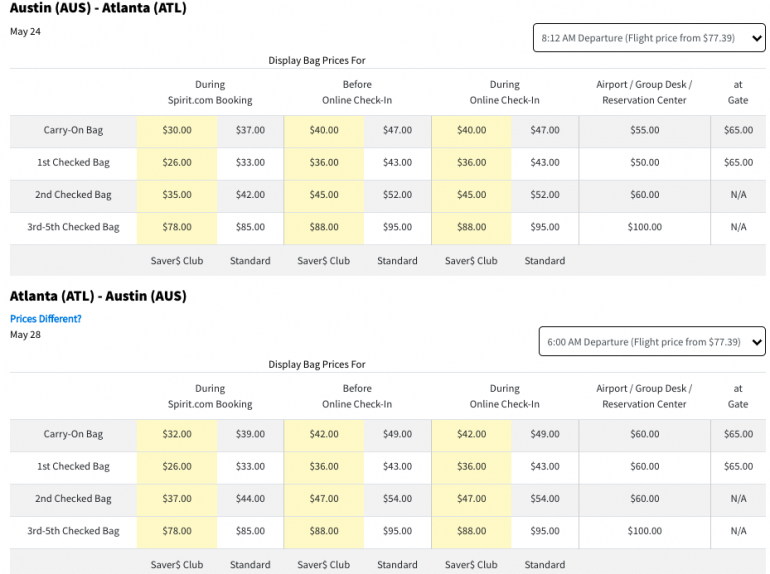 Regular seats on Spirit range from $1 to $50, and Spirit's Big Front Seats can be between $12 to $150. If you want flexibility to change your flight after booking, you'll have to opt for Flight Flex, which costs $35 to $45.
There is a Bundle It Combo that offers Spirit's most popular upgrades like a checked bag, carry-on, seat selection and Flight Flex at a discount, but the price will vary based on the route. You can purchase only at the time of booking, so plan ahead.
Winner for lowest fees
Tie. It depends on the specific flight.
Which airline offers a better in-flight experience?
Frontier service
Don't expect comfort or service when flying Frontier. The airline doesn't offer complimentary drinks or snacks, though you can buy either if you like. Seats, at 28 to 31 inches, aren't spacious — and they don't recline. Stretch Seating offers 5 to 7 more inches, plus recline.
There's no in-flight entertainment, either, so bring your own.
Spirit service
Much like with other budget airlines, there are no complimentary snacks or beverages on Spirit flights, but you can purchase them on board. As for seats, the Big Front Seats are 18.5 inches wide and have 36 inches of pitch. That's 6 inches more than the airline's standard seats, which have 30 inches of pitch.
Likewise, when Spirit finishes installing Wi-Fi capabilities on its fleet in 2021, it will also come with a fee, likely around $6.50.
Winner of the sky
Frontier vs. Spirit: Spirit wins
In a comparison of Frontier Airlines and Spirit Airlines, Spirit ekes out a minor victory. Frontier offers flights to more destinations within the U.S., so travel options will be in greater abundance, but Spirit flies to more international destinations. Both charge similar, if not varying, fees for extra luggage and seat selection.
But Spirit's points have more value than Frontier's, and Spirit's loyalty program offers slightly more benefits, with better credit card offers for frequent fliers.
In short, the battle between Frontier Airlines and Spirit is a close one, but for more easily achievable elite status, the ability to use points sooner and direct flights to South America, choose Spirit.
How to Maximize Your Rewards
Most Related Links :
Business News
Governmental News
Finance News