Entertainment
Hark: 66 Thoughtful Gifts That'll Make Your Mom Happy-Cry (and Just in Time for Mother's Day)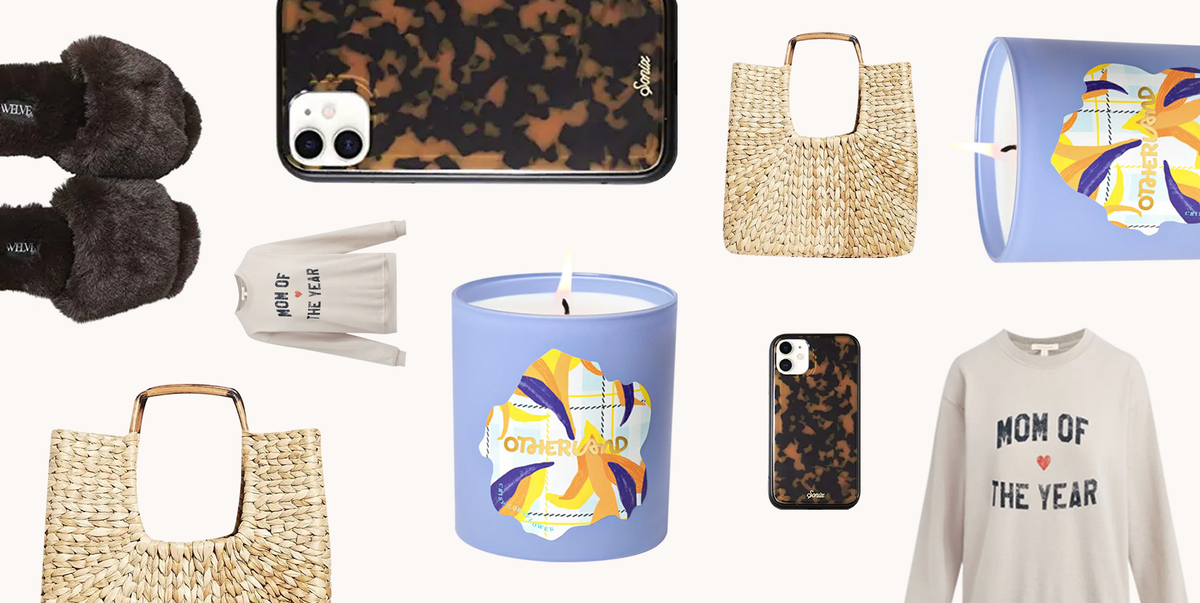 Your mom is a superhero, right? Right. So, naturally, she deserves to be showered with affection on Mother's Day (which is This! Weekend!!) and, ahem, lots and lots of it in the form of gifts. While there are plenty of presents to buy on special occasions for your besties, your teen brother, or even your boss, shopping for a special gift for Mom can be tough. She deserves the world, but if that isn't quite in the budget, let me help you out with a few gift ideas that are just as good.
Even if your mother has been dropping hints about things she wants (like jewelry or a cute handbag) or you already have a general idea of what she's interested in (like new pajamas or shoes), you might still need a little guidance. That's where I come in! From cheap gifts for moms to last-minute gift suggestions and everything in between, pretty much all the best gifts for moms are right here (and daughters, I've got your gift-giving ideas covered, too).
And if you're here because you're on the hunt for a last-minute Mother's Day gift, I've gathered some stuff that will come through with that clutch two-day Prime shipping. But, if you find something that might not get to her on time, don't fret! As long as she knows a special somethin' is on the way for her, she'll be cool. Promise!
Ahead, you'll find personalized gift ideas, lots of stylish accessories that won't stretch your budget, and all the cute and comfy shoes her aching feet will appreciate. So scroll on through to shop these 66 chic and practical options that she'll absolutely adore—and get ready for all the happy tears that are bound to follow.
Advertisement – Continue Reading Below
1
this sweet sweatshirt
Mom of the Year Willow Sweatshirt
Shop Favorite Daughter
shopfavoritedaughter.com
$68.00
She is "Mom of the Year" and that's a fact! Your mom will honestly never want to take this off once you give it to her.
2
this skincare kit
Level 1 Firming & Smoothing Discovery Kit
A gift that keeps on giving is skincare. Period. Your mom will love this kit from Tula that'll have her glowing. It comes with a cleanser, two serums, a day and night cream, and treatment pads—all for less than $100!
3
these quality no-show socks
Low-Cut No Show Sock, 4-Pack
My mom is VERY picky about her no-show socks and she was dying to get the top-notch ones from Bombas. I gave them to her for her birthday a few months ago and she hasn't stop raving about them. Sooo, need I say more??
4
this customizable cutting board
Personalized Engraved Cutting Board
Walnut Artisan Gallery
amazon.com
$33.00
Why get her a regular cutting board when you can get her one that's one-of-a-kind? Add a thoughtful touch to it by engraving the family name (or anything you think she'd love).
5
this frilly pillow
Olive Shag Pillow
Surya
jungalow.com
$59.00
No one can ever have enough pillows and I know your mom is probs constantly switching them out depending on the season or holiday. Grab her this gorge green one from Jungalow that'll look so chic on the living room couch.
6
these fluffy slippers
So Good Fluffy Slippers
Twelve AM Co.
amazon.com
$48.00
Level up her slipper game with these super fluffy luxe ones from Amazon. 
7
this eyeshadow palette
Snap Shadows Mix & Match Eyeshadow Palette
Fenty Beauty
fentybeauty.com
$25.00
Guys, this will be your mom's go-to whenever she wants to throw on some makeup. The colors are just perfect for any look and it's v compact so it's easy to travel with if she's always on her feet.
8
this straw bag
Hat Attack Cami Tote
Hat Attack
amazon.com
$115.00
Straw bags are where it's at RN and ya gotta keep mom stylish! Snag her this adorable purse that she can wear wherever and whenever.
9
this make-your-own matcha kit
At-Home Matcha Kit
Art of Tea
artoftea.com
$52.00
If your mom isn't on the matcha wave already, well, this is THE TIME to get her on board. This matcha kit has all the tools for her to make the *chef's kiss* green drink right in the comfort of her own kitchen. (Goodbye $10 lattes!)
10
this journal
Package Free x AYA PAPER CO. Intention Journal
AYA PAPER CO.
nordstrom.com
$20.00
Whether she's a big planner or just likes to jot down her thoughts, this journal will come in handy.
11
this knit cardigan
Soft Chunky Knit Sweater
MEROKEETY
amazon.com
$36.99
IMO, a comfy sweater is a must in anybody's wardrobe. And if Mom is still in need of one, this affordable design from Amazon will be a wonderful present that'll keep her chic and cozy.
12
this birth month flower kit
Birth Month Flower Grow Kit
Uncommon Goods
uncommongoods.com
$34.00
You're about to get all the "awww's" when she sees that you got her this birth month flower kit. This sentimental and symbolic gift will allow her to grow her ~special~ florals in a very calm and effortless way.
13
this truffle sauce set
Sriracha & Ranch VIP Set
Trufflin
amazon.com
$54.99
If truffle is the way to your mom's heart, all I gotta say is buy this Trufflin set STAT. It comes with both black truffle ranch and black truffle sriracha. I'm drooling!!
14
this portable foot bath massage
Foot Spa Bath Massage
Hangsun
amazon.com
$45.99
Spa day can be every day for your mom if you get her this foot bath massage from Amazon. She can literally take it anywhere around the house or on a trip and won't have to drop big bucks on a masseuse ever again.
15
this airy jumpsuit
Short Sleeve Wrap Jumpsuit
PRETTYGARDEN
amazon.com
$30.99
This jumpsuit is the epitome of a cute and trouble-free outfit. Your mom will be thanking you all the time when you buy this for her because she'll def be wearing it for any and every occasion.
16
this wall decor
Indoor Wall Planter
FabianaLoschi
etsy.com
$52.72
Pick a few flowers for your mom (just not from her garden. Moms hate that) and surprise her with these cool wooden wall planters. 
17
This phone finder
Sticker 2-Pack
If your mom is always running late because she can't find her phone/glasses case/anything, she needs these stickers that connect to Alexa to help her get out the door on time. At just over an inch big, these thin stickers are small enough to fit on all kinds of devices.
18
this sentimental game
Personalized Puzzle Custom Puzzle
If your mom loves to pass time with fun projects, a personalized puzzle that reveals a sentimental family portrait will absolutely make her Mother's Day (not to mention all the other days it takes her to complete it).
19
This posh candle
Crisp Cornflower Scented Candle
Otherland
nordstrom.com
$36.00
She can never have too many candles—especially when they're so pretty they can double as home decor. With notes like corn silk, golden husk, and water lily, this candle def smells as fresh and dreamy as it looks.
20
this classic blouse
The Washable Silk Henley
everlane
everlane.com
$110.00
This drapey buttondown might be 100 percent silk, but she can still throw it in the wash on cold, which means this is one nice blouse she'll want to wear all the time.
21
this cute wallet
Alphabet Leather Foldover Card Case
Chloé
nordstrom.com
$310.00
A fancy card case is the perfect example of a gift she'd probably never buy for herself but would absolutely love to receive.
22
this ultra comfy robe
Solstice Organic Kimono
Coyuchi
coyuchi.com
$68.00
Her home will feel like a spa every time she wraps up in this snuggly, organic cotton robe.
23
This Bidet that fits any toilet
TUSHY Classic 3.0 Bidet
Tushy
hellotushy.com
$99.00
I know this isn't exactly the, uh, *cutest* gift. But your mom will love the option to wash up after every trip to the bathroom—probably more than she thinks she will.
24
these v cute sandals
Simone Mules
STAUD
shopbop.com
$265.00
No doubt she'll be wearing these all spring and summer long. (And no doubt you'll be borrowing them if you wear the same size.)
25
This raw honey
Wildflower Honey
Zach&Zoë
amazon.com
$19.99
If your mom has a sweet tooth (or she's just a sweet lady), this wildflower honey would make the perfect gift.
26
this gorgeous jar
Swarm Glass Honey Pot
She's gonna need a pot for that new jar of honey, right? If tea time is important to her, then make sure it's extra special with a crystal container to store her honey. 
27
This swimsuit cover-up
Caswell Cover-Up Tunic
L*Space
shopbop.com
$125.00
This lightweight tunic is versatile enough for her to bring on vacation (once traveling is safer again!) or don for a quick trip to the store. 
28
This stationery set
Copper Foil Note Cards
PatrinasPaperie
etsy.com
$32.00
Gift your mom a personalized stack of notes with her name on it, and she'll love it so much she'll probably use one to write you a thank-you card.
29
This luxurious body cream
Rendezvous! Souffle Body Cream With Shea Butter + Vitamins Complex
Freya + Bailey Skincare
wolfandbadger.com
$47.00
Gift your mom an at-home spa day with this rich body cream packed with shea butter and skin-loving vitamins.
30
This statement bracelet
Capsule Link Bracelet
SOKO
nordstrom.com
$128.00
If your mom never leaves the house sans accessories, she'd love this chunky chain-link bracelet made from 24K gold-plated brass.
31
This kitchen floor mat
Vintage-Inspired Persian Vinyl Runners
Food52
food52.com
$120.00
If your mom loves the look of rugs but cooks way too much to keep one clean and free of stains, then this vinyl mat that looks like a carpet rug would make the perfect gift. Its smooth surface makes it easy to clean, and the built-in cushion makes it comfy to stand on.
32
This mini handbag
Hana Mini Stripe Bag
This woven raffia bag features a linen drawstring pouch inside to keep all of your mom's belongings safe while looking stylish.
33
This timeless sneaker
The Forever Sneaker
everlane
everlane.com
$65.00
These easy, go-with-everything white sneaks are machine washable, recyclable, and made from sustainably sourced materials. They're exactly what she needs while out running errands.
34
This PJ set
All American Pajamas
HONEYDEW INTIMATES
nordstrom.com
$48.00
For moms who love to lounge in their pajamas, only a comfy set of pants and a matching shirt will do.
35
This everyday spring scarf
Cashmere Bandana Scarf
MADEWELL
nordstrom.com
$55.00
This luxe cashmere fabric in a casual bandana design will make this scarf the most versatile accessory in your mom's closet. 
36
These gold-plated wire earrings
Rose Quartz Drop Earrings
ElleBrands
etsy.com
$34.00
She'll feel super-cool and trendy with these unique rose quartz drop earrings. They're definitely head-turning, but they're also simple enough to be worn every day.
37
This fruit-bearing house plant
Lemon and Lime Citrus Trees
The Magnolia Company
food52.com
$60.00
If your mom's got a green thumb, she'll love growing all the limes and lemons she could ever need.
38
These easy-to-store wine glasses
Stackable Wine Glasses (Set of 6)
Bormioli Rocco
food52.com
$36.01
Your mom might own plenty of wine glasses, but how many stackable ones does she have? These will make storing her glassware so much easier.
39
This gift set for moms
Best Mom Ever Gift Set
Crate and Barrel
crateandbarrel.com
$95.00
Can't be there for your mom's birthday? This care package is the next best thing. Inside she'll find shower steamers, pour-over coffee, a water monitor, and a candle—pretty much everything she needs to feel properly spoiled.
40
this designer bag
Spice Bubblegum Pink
Helejané
helejane.com
$460.00
It time to give her old purse a break. She'll actually end up forgetting it ever existed once she unwraps this geometric cutie. 
41
this fun case
Brown Tort Case for iPhone 11
Oh, so you have a cool mom who owns the latest iPhone? Make sure it's protected in style with a tortoiseshell case.
42
this silky mask
Pure Silk Adult Face Mask
SLIP
nordstrom.com
$39.00
You know mom wouldn't dare leave the house without a mask. So it doesn't hurt to have a pretty silk one with an adjustable nose and ear strap.
43
this adorable set of towels
Tea Towels – Set of 3
Bolé Road
boleroadtextiles.com
$135.00
A pretty set of towels are just what her kitchen needs. Plus, you won't have to struggle with wrapping paper, thanks to the chic box and bow it comes in.
44
these chic specs
HC8292
Coach
sunglasshut.com
$185.00
Whether she's all dressed up or wearing the same outfit two days in a row, she needs a great pair of sunglasses.
45
this skincare tool
Rose Quartz Eye Flowies
Skin Gym
standarddose.com
$45.00
No doubt she already looks amazing, but she'll finally feel like she got enough beauty sleep after using these de-puffing eye tools. 
46
this wine purifier
Wine Purifier
Ullo
williams-sonoma.com
$79.95
For the vino-lover: This handy-dandy gadget will take the sulfites out of her wine and aerate it—and we love a good two-in-one.
47
this eco-friendly kitchen choice
Reusable Pot Scrubbers
Dot and Army
food52.com
$32.00
If your mom is trying to be more environmentally-conscious, 
get her off sponges and paper towels and onto these cute, lil reusable pot scrubbers, which she can throw in the washing machine after they get dirty.
48
this decorative phone charging dock
Dock Wireless Charger
NATIVE UNION
nordstrom.com
$79.99
This sleek phone charging dock definitely looks more aesthetic than a tangled wire. Bonus: It'll hold her phone up in either portrait or landscape mode so she can watch her favorite show or read hands-free. 
49
these noise-canceling Airpods
Apple AirPods Pro
The noise-canceling technology of Airpods Pro is perfect for moms who need a temporary escape from the real world while fully enjoying their favorite tunes.
50
these helpful plant pots
Self-Watering Ceramic Planters with Glass Vase – Set of 2
Jasmine Supply
etsy.com
$39.98
Keeping a plant alive is hard! Help her take one more thing off her to-do list with these self-watering planters. 
51
this chic tote
Vince Camuto Clea Tote, Radiant White
Vince Camuto
amazon.com
$79.69
Whether she's running errands or enjoying her weekend, this spacious shopper bag will house all her essentials.
52
this sparkling water maker
SodaStream® Fizzi One-Touch Sparkling Water Maker
sodastream
bedbathandbeyond.com
$102.99
Momma into the seltzer craze? Get her this cool kitchen gadget that creates carbonated water! And yes, it comes with this sleek glass water bottle. 
53
this retro coffeemaker
smeg '50s Retro Style 10-Cup Drip Coffeemaker
SMEG
nordstrom.com
$199.95
Yes, this coffeemaker will create just the finest cups of Joe, but it'll also look so pretty in her kitchen.
54
this luxe bath set
Soft Skin Gift Set
Organic Bath Co.
organicbath.co
$49.00
If she loves decking out her bathroom with the most luxurious products, then she'll really smile when she sees this covetable body wash and butter set.
55
this travel jewelry case
'Caroline' Travel Jewelry Case
WOLF
nordstrom.com
$99.00
If your mom's typically a frequent flyer, then this travel case will help keep her valuables safe anywhere she goes—stylishly, of course.
56
These workout pants
Women's Seamless High-Waisted Legging
For the mom who loves a good sweat sesh, these high-waist compression leggings are the perfect gift.
57
This diffuser oil set
Mahogany Teakwood Reed Diffuser
Aromaology
etsy.com
$29.99
This woodsy and floral scent diffuser will help her finally wind down, breathe deeply, and relax. 
58
a necessary hydrating kit
Natural Coco Rose Luxe Hydration Trio
Herbivore Botanicals
nordstrom.com
$39.00
Pamper mom's skin with this rose and coconut trio, complete with hydrating body polish, face mist, and conditioner—she'll be glowing in no time!
59
this set of bar tools
Crystal Mixing Glass Set
If she loves a good cocktail, consider this sleek gold and silver set of tools. (And yes, it comes with its own stand.)
60
this trendy water bottle
Traveler 16oz Water Bottle
S'well
revolve.com
$35.00
Help keep her hydrated with a chic marble-patterned water bottle that she can take anywhere. This one features a wider opening for stirring drinks or adding ice.
61
this soft throw
Faux Fur Ombre Throw
West Elm
westelm.com
$90.00
Amp up her living room with this super snuggly and warm faux-fur throw.
62
this personalized plate
Personalized Recipe Plate
zehrdesignco
etsy.com
$83.00
If your mom loves sentimental gifts, then this personalized decorative plate that showcases her favorite handwritten recipe is the perfect choice.
63
this stylish bag
Mini Flap Bag – Purple Croc
If your mom likes to experiment with fun new looks, consider an adventurous purple vegan leather bag that'll score her all the compliments.
64
these super-soft socks
The CozyChic Heathered Women's Socks
Barefoot Dreams
amazon.com
$18.00
Hear me out: Fuzzy socks are on just about everyone's wishlist—and I'm sure they're on your mom's, too.
65
this two-toned basket set
Woven Seagrass Basket – Set of 3
West Elm
westelm.com
$136.00
Because moms love to store stuff, why not get her a cool woven basket set to put all her odds 'n' ends in?
66
these printed pillow covers
Set of 4 Throw Pillow Case Cushion Cover
Phantoscope
amazon.com
$18.99
If she loves some good home decor, spruce up her throw pillow collection by gifting these caramel covers that will beautifully compliment any room. 
This content is created and maintained by a third party, and imported onto this page to help users provide their email addresses. You may be able to find more information about this and similar content at piano.io
Advertisement – Continue Reading Below
Most Related Links :
Business News
Governmental News
Finance News