Health
Pollinators Could Win When the Infrastructure Bill Passes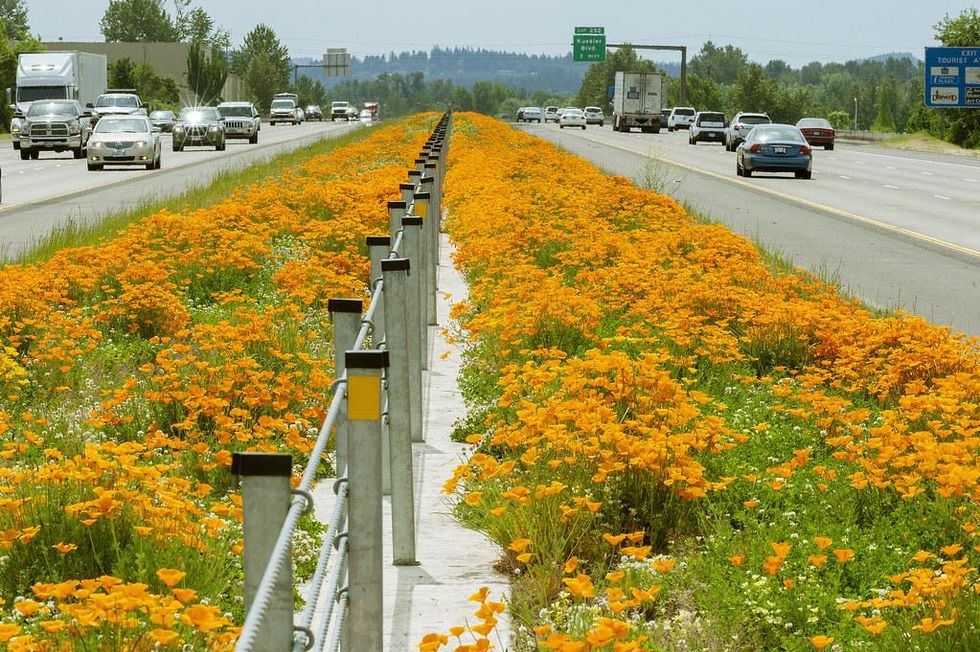 Senator Jeff Merkley (D-Oregon) is the architect and main proponent of the infrastructure bill's pollinator grant program, which was inspired by existing state programs, says Martina McLennan, a spokesperson for the senator.
Six states are part of the "Monarch Highway," which runs the length of Interstate 35 from Texas to Minnesota, approximately following the butterfly's eastern migration route.
"Senator Merkley's proposed roadside pollinator program would complement and help to expand current state-level programs to increase pollinator habitat along roadways," McLennan wrote in an email. The federal program would provide funds both to states with existing roadside habitat plans and those waiting to take the first step.
More than half of the state-level DOT websites in the U.S. list pollinator-friendly practices in their management routines. Some DOTs even have developed pollinator plans. For example, six states are part of the "Monarch Highway"—a series of habitat conservation projects along the length of Interstate 35 from Texas to Minnesota that approximately follows the butterfly's eastern migration route.
In Iowa, the DOT has planted and maintained native vegetation along roadways for more than 30 years. In 1988, the Iowa state legislature officially adopted Integrated Roadway Vegetation Management (IRVM)—a toolkit of land management techniques and "sound ecological principles"—expressly for this purpose. The goal was to control erosion, reduce the costs of mowing, and reestablish Iowa's native prairie, which had dwindled to just 0.1 percent of its original land area. The following year, the state created the Living Roadway Trust Fund (LRTF) to provide grants to counties and cities to do the same. Since then, 100,000 acres of roadsides have been planted with native vegetation, 46 of Iowa's 99 counties have adopted IRVM, and 89 counties use native seed mixes.
Bees and butterflies were not part of the original vision for either program in Iowa. But they've become more of a focus over the years, especially since 2016, when the Obama administration released its national Pollinator Partnership Action Plan, says Tara Van Waus, who coordinates both the state's LRTF and IRVM programs. Xerces Society's Hopwood found that these programs have had a positive impact and underscore the potential of a national program.
The proposed federal program could potentially fund as many as 1,000 roadside pollinator projects each year.
But how many projects could actually be funded with $2 million set aside in the infrastructure bill? Iowa's LRTF may provide a helpful reference point. For fiscal year 2021, the state awarded 36 grants totaling more than $600,000. The cost of projects can range from $2,000 to $150,000, according to Van Waus and the LRTF's funding guidelines.
The proposed federal program could offer grants of up to $150,000; if the U.S. DOT were to approve project types that are similar to the LRTF, the new program could potentially fund as many as 1,000 projects each year. The amount of funding received would depend on the number of pollinator-friendly practices used in a project. This includes planting native flowers and grasses, removing non-native vegetation, modifications to mowing schedules and equipment, and judicious use of herbicides. The LRTF similarly requires that counties and cities must have an IRVM plan on file to be eligible for funding.

Most Related Links :
Business News Governmental News Finance News