News
10 Leaf Rakes to Clean Up Your Lawn This Fall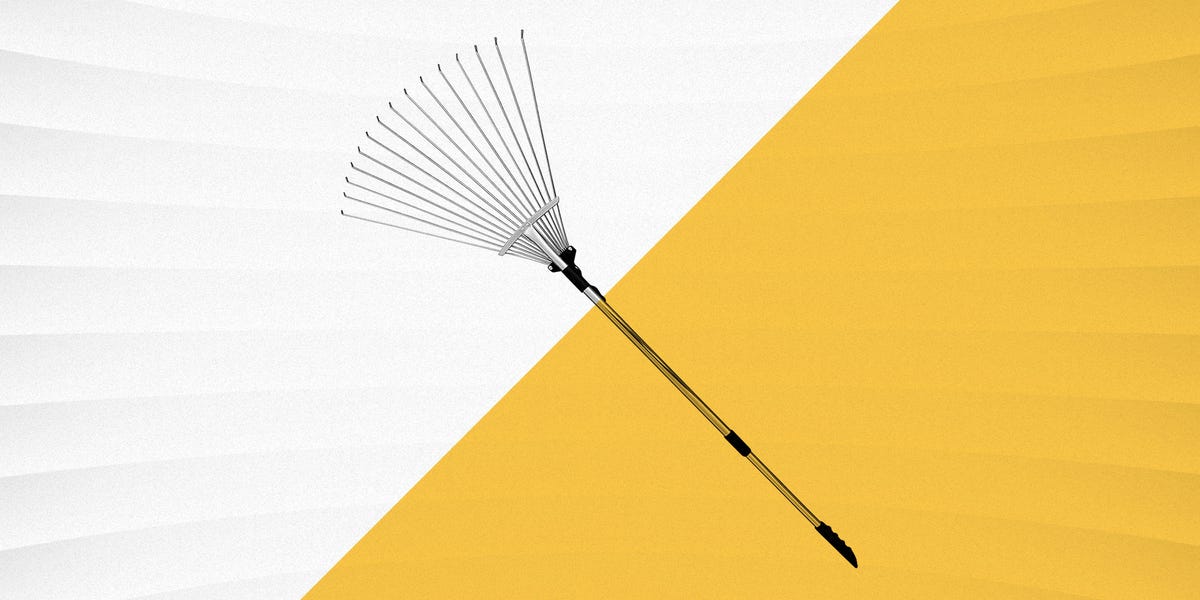 Staff, Courtesy of Tabor Tools
If you have a yard and live in an area with trees and changing seasons, leaves are an inescapable reality—which means raking is an inevitable (and often dreaded) chore. A good leaf rake can help you finish this job quickly and ideally with minimal back strain.
What to Consider
Leaf rakes typically will have a series of long, skinny tines, which are commonly constructed in a triangular or fan-shaped arrangement. In some cases, these might be lined up in a straight, consistent row resembling a comb, though rakes with this configuration are often categorized as garden rakes.
Fall Lawn Care: The Best Leaf Blowers, Tested | 7 Leaf Vacuums for a Spotless Lawn | How to Dethatch a Lawn
You will sometimes see the terms "lawn rake" and "leaf rake" used interchangeably, and some rakes are promoted as a dual-purpose combination, but a leaf rake—as the name implies—is specifically intended to gather up leaves and light materials, as opposed to branches, stones, and other yard materials.
When shopping for leaf rakes, pay attention to the materials. Rakes made from fiberglass or aluminum tend to weigh less, whereas steel models offers more long-term durability, and plastic options won't be susceptible to rust.
It's also important to consider the size of the rake, including the length of the handle and the width of the fan end of the rake, known as the head. Rakes that are longer and wider allow you to clear a bigger area faster, but these larger rakes are often heavier and require more effort to manage. Rakes with smaller heads—narrower than 10 inches or so—are ideal for clearing hard-to-access spots.
To avoid back strain, make sure the handle is long enough that you aren't stooping over to use your rake. As a good rule of thumb, the handle should reach at least chin-height, and even better if it reaches your eyebrows or forehead. Some rakes have adjustable handles that you can set at whatever height works best for you. This is especially convenient if multiple people of varying heights will be sharing the rake.
How We Selected
In evaluating a wide variety of leaf rakes, I drew upon my own personal experience. As the former owner of a maintenance business and the current owner of more than an acre of land that's home to lots of trees, I have plenty of firsthand experience using many different types of leaf rakes. I personally look for lightweight rakes with the widest heads available to help me zip through this task as quickly as possible without unnecessary aches and strains. In making these selections, I also consulted reviewers from many Amazon and Walmart customers.
Advertisement – Continue Reading Below
Efficient Curved-Tine Design
TRG The Groundskeeper II
TRG Inc.
amazon.com
$93.73
Key Specs
Material: Fiberglass handle and plastic head

Handle Length: 55 in.

Head Width: 21 in.
The tines of this rake are rounded and spring-loaded, allowing them to achieve more leverage and raking power without as much strain or effort on your part. The design and spacing of the tines make this rake great for removing leaves from below bushes or short trees because you can grab the leaves without catching limbs or branches.
Curved tines enable greater grabbing power
Weighs less than 2 pounds
Some assembly required
Expensive
Best Value
Fiskars Metal Leaf Rake
Fiskars
walmart.com
$19.82
Key Specs
Material: Fiberglass handle and steel tines

Handle Length: 63 in.

Head Width: 23 in.
At a budget-friendly price, this rake offers a good bang for your buck. Sturdy and surprisingly well-built, it can handle all of your routine raking jobs and will last even with heavy use. Walmart reviewers appreciated the lightweight feel of the handle and the strength of the metal tines.
Powder-coated steel tines offer rust resistance
Lifetime warranty
Walmart users note it's not as wide as some similar rakes
Built-in Reinforcement Features
Bully Tools 30-Inch Lawn / Leaf Rake with Fiberglass Handle
BULLY TOOLS
amazon.com
$34.99
Key Specs
Material: Fiberglass handle and plastic tines

Handle Length: 50 in.

Head Width: 30 in.
This rake is designed with several features that make it extra strong and sturdy, including a reinforced wood core inside the handle. Double-sided support ridges on the tines provide reinforced strength to prevent breakage even during strenuous tasks. Bully Tools also offers a limited lifetime warranty.
Wide head for ample coverage
Strong and durable
Slightly heavier than some other models
Wide-Coverage Convenience
Ames True Temper 30-Inch Greensweeper Poly Leaf Rake
Key Specs
Material: Hardwood handle and plastic tines

Handle Length: 50 in.

Head Width: 30 in.
With an expansive 30-inch head, the Greensweeper will help you zip through your raking chores in no time. The hardwood handle provides enhanced strength and stability. Some Amazon users noted they had to use their own screws to secure the head to the handle during assembly.
Wide head lets you cover lots of space quickly
Solid handle
Tines could be more durable
Most Versatile
Tabor Tools J16A Adjustable Telescopic Metal Rake 63-Inch
TABOR TOOLS
amazon.com
$28.99
Key Specs
Material: Steel handle and head

Handle Length: 32–63 in.

Head Width: 8–23 in.
Some spots in your yard can be challenging to access with an extra-wide rake. The head of this model can be adjusted to any width between 8 and 23 inches, making this versatile enough for all of your raking tasks. The handle is similarly adjustable so you can find the right height. And the head folds in, making the rake easier to store.
Lots of adjustment options
Rust-resistant steel tines
Maximum head width is a bit smaller than some competing models
Easy to Carry and Store
Omni Products ON888
Omni Products
amazon.com
$29.98
Key Specs
Material: Aluminum handle and head

Handle Length: 62.5 in.

Head Width: 7.5–19 in.
With its telescoping handle and adjustable head, this rake is flexible enough to adjust to whatever lawn care tasks you have on your to-do list. It weighs less than 3 pounds and folds up to a very slim profile, so it's easy to transport and store. Some Amazon reviewers noted that once the tines bend, it's more difficult to expand and close the head, though.
Lightweight aluminum construction
Great for accessing cramped spaces
Long Handle to Avoid Strains
Gardenite 63-Inch Adjustable Garden Leaf Rake
Gardenite
amazon.com
$21.95
Key Specs
Material: Zinc-coated steel handle

Handle Length: 63 in.

Head Width: 7–22 in.
This rake offers the strength and stability of steel with a zinc coating for added durability and weather resistance. Its adjustable design makes it versatile enough to handle a wide range of lawn care jobs. When the head is contracted to a narrower width, it's great for gathering grass clippings. Plus, its long handle prevents you from hunching while you work.
Long handle means no stretching or stooping
Only weighs 2.1 pounds
Won't handle thick or heavy materials
Lightweight
Jardineer 63-inch Adjustable Rake
Jardineer
amazon.com
$21.99
Key Specs
Material: Aluminum handle and steel tines

Handle Length: 32–63 in.

Head Width: 7–23 in.
Both the handle and the head of this rake can be adjusted, with the head folding out from 7 inches to a maximum width of 23 inches. The smaller end of the range is great for accessing tight spaces under shrubs or behind trees. And at less than 1.5 pounds, the rake stays comfortable in hand while clearing large areas.
Very light
Adjustable length and width
Not solid enough for heavy or thick materials
Convenient Leaf Disposal
Gardzen Leaf Rake with Dustpan Bag
Gardzen
amazon.com
$21.99
Key Specs
Material: Steel handle and plastic head

Length: 43–57 in.

Head Width: 17 in.
Considering this rake comes bundled as a kit, it's a great value for the price. The handle has several sections, which can be added or removed to adjust the length. The rake comes with a garden bag you can use like a dustpan to scoop up the leaves for easier disposal. For $11 more, purchase the bundle with a pair of plastic hand scoops for picking up leaves.
Includes garden bag and pair of gloves
Adjustable handle length
Relatively narrow head width
Best for Kids
Superio 34-Inch Green Kids Garden Rake (2-Pack)
Superio
amazon.com
$38.99
Key Specs
Material: Wood handle and plastic head

Handle Length: 34.5 in.

Head Width: 14 in.
Superio designed this rake for kids who want to help in the yard. It's obviously not intended for serious, strenuous jobs, but at 34.5 inches long and 1.4 pounds, it's the perfect size and weight for young landscaping helpers to handle. And it's durable enough to last for several raking seasons.
Soft, kid-safe materials
Easy to lift and handle
A little expensive for a child's rake
This content is created and maintained by a third party, and imported onto this page to help users provide their email addresses. You may be able to find more information about this and similar content at piano.io
Advertisement – Continue Reading Below
Most Related Links :
Business News
Governmental News
Finance News