News
16 Spectacular Outdoor Christmas Decorations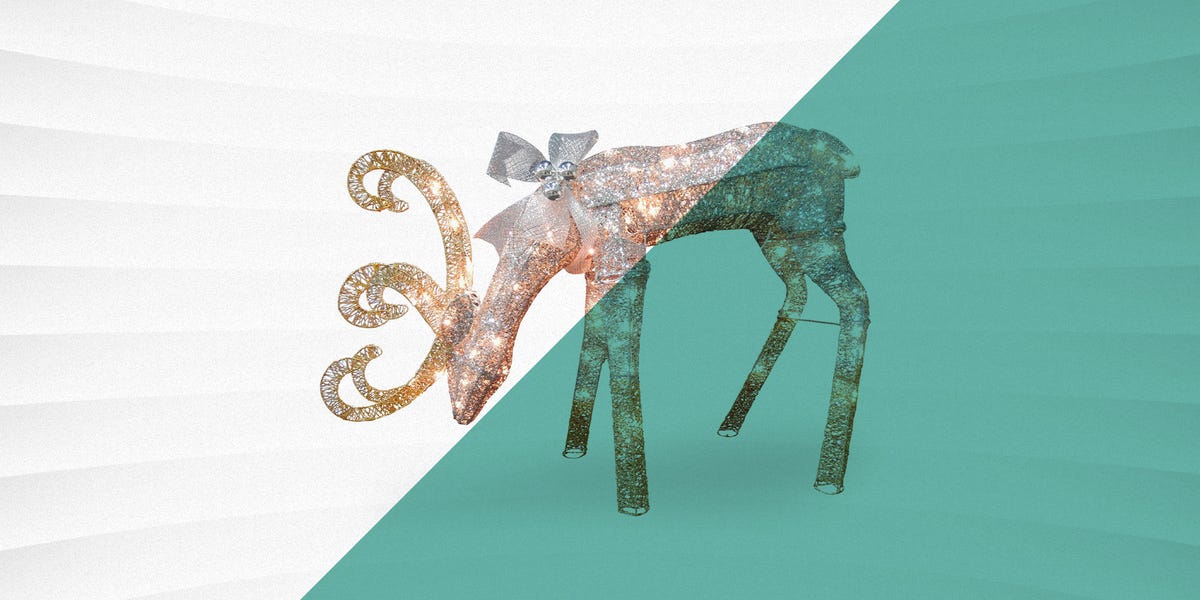 Staff, Courtesy of Mercury Row
There's an art to arranging outdoor Christmas decorations, though doing it well is easy to achieve if you make a plan and stick to it. It'll likely be guided by your budget, but the good news is that you'll often find that less is more, and you don't need to cover every inch of your porch or yard to create an eye-catching display.
Start with choosing a style, color palette, or theme, and decide if you want to focus on the front entrance or porch, or extend decorations to the yard. We get that there's a ton out there and it can be hard to decide, so we rounded up a wide range of options, from garlands and wreaths to lawn ornaments. Read on for our recommendations, plus essential advice on what to consider before you shop.
What to Consider
Outdoor decorations are water-resistant to varying degrees. Most well-made lawn ornaments won't fall apart if they get wet, while others are fine for outdoor use as long as they're under cover. As we mentioned above, having a plan in advance is the way to go, as you may run into issues that influence what you buy. For example, decorations with lights are either plug-in or battery-operated, so you'll need to make sure you can run a waterproof extension cord to Frosty on the lawn before spending a couple hundred bucks.
How We Chose
All of the selections we cover have average customer ratings of four stars or higher. We feature the most popular Christmas outdoor decorations along with a few less common ones so your house won't look like every other one on the block. The decorations span multiple price points too, from under $25 to items that cost $200 or more.
Advertisement – Continue Reading Below
1
For a Festive Welcome
Christmas Front Door Banners
These inexpensive holiday banners are a great way to dress up your front door with minimal effort. The white "Merry Christmas" pops against the traditional buffalo plaid background for a bold look. The banners are 6 feet high and just over a foot wide, and have poles at the top and bottom to keep them secure in high wind. 
"Great quality," says a five-star reviewer. "Sturdy [and] looks really nice next to my red door."
2
Lighted Deer Christmas Decoration
Mercury Row
wayfair.com
$106.99
If you want to take the holiday scene outside your house to the next level, it's well worth investing in an elegant figurine for the lawn. This gold glittery deer is accented with 70 cool white LED lights and a silver bow. 
It's constructed of metal wire and plugs in, with dimensions that are roughly 2.3 feet high by 2.7 feet wide. The freestanding deer also comes with ground stakes. 
"Love it!" says a pleased customer. "Easy assembly and so very pretty. Price was awesome as well."
3
The Traditional Wreath
Kaye Artificial Pine Lighted Wreath
The Holiday Aisle
wayfair.com
$47.00
This lovely 2-foot wreath is dressed in Christmas colors, with faux red holly berries set against a mixed variety of green pine branches for an authentic look. 
The tips are dusted with snowy white and pinecones are scattered throughout the arrangement, illuminated by 50 battery-operated warm LED lights that can be set on a timer. More than 1,100 customers give it an average 4.6 stars. 
"I am so happy with my wreath," says a buyer who gave it 5 stars. "It is absolutely gorgeous. … Very high quality and beautiful."
4
For the Kid in You
Wooden Porch Sleigh
Glitzhome
amazon.com
$66.98
This charming handmade sleigh adds an old-fashioned Christmas vibe to your front door display. It's crafted from solid wood with decorative iron blades, accented with a large burlap bow and faux green branches dotted with pinecones. The wood is unfinished, so you can personalize it with paint. It stands roughly 3 feet high. 
"Surprised at [the] quality for the price," says a five-star reviewer. "It's perfect. Lightweight, but very realistic-looking!"
5
Fun and Colorful Garland
Sequoia 9-Foot Artificial Decorated Garland
Mercury Row
wayfair.com
$209.99
If you prefer garland festooned with shiny Christmas ornaments, this lush, 9-foot option is your best bet. It comes in 10 different color combinations, from rainbow-bright to subtle gold and silver, and features 100 cool white lights. The garland is a customer favorite, with an average 4.7 stars from more than 200 reviewers. 
"Fabulous purchase and easy to fluff up," says a pleased buyer. "Looks like I hired a professional decorator. Will hate to take it down."
6
The Small Pre-Lit Tree
Artificial Lighted Christmas Tree
National Tree Company
amazon.com
$66.99
Two of these 3-foot trees flanking your front door go a long way to make your entrance festive. They have a simple, classic look just as they are, but you can also dress them up by adding ornaments and bow on top, or covering the planter with a decorative fabric. The tree is pre-lit with 100 white lights and stands 3 feet tall. 
"I was prepared to be disappointed so was totally amazed when I opened the box," says a 5-star reviewer. "… it amazes me how real this little tree actually looks. I'm impressed for the money."
7
Perfect Little Gifts
3-Piece White Thread Gift Box Lighted Display
Hashtag Home
wayfair.com
$58.99
Who can resist these gift boxes tied with glittery red bows? They're made with metal covered with white sisal fabric and the bows are structured to keep the presents looking picture-perfect. They're pre-lit with a total of 35 white lights and stand 10, 8, and 6 inches high, respectively. 
"Gorgeous on our outdoor entrance," says an enthusiastic reviewer. "Looked beautiful for the holidays and through New Year's. We have had so many compliments! LOVE THEM!!"
8
The Wintery White Wreath
Christmas Ornaments Artificial Wreath
The Holiday Aisle
wayfair.com
$88.83
This bountiful handcrafted wreath gets high marks from customers, with more than 250 reviewers giving it an average 4.8 stars. 
The 2-foot-wide wreath features a dusting of snow covering its long pine branches, and comes accented with large red or blue Christmas balls mixed with smaller white and silver ones. It's also available in a slightly larger 2.5-foot-wide option. 
"Absolutely beautiful!!" says an enthusiastic customer. "It is well-made and so pretty."
9
Seasonal Throw Pillows
Christmas Throw Pillow Covers (Set of 2)
Songtec
amazon.com
$11.99
These throw pillow covers with a vintage vibe are sure to add a seasonal touch to your porch seating or outdoor sectional—and you can't beat the price, only $12 at the time of this writing. 
The covers are weather-resistant and made of a thick, durable linen-cotton blend fabric, with  vibrant red pickup truck and old-fashioned wagon loaded with Christmas trees. The pillow covers are also available in a lumbar  size in addition to the 18-by-18 square ones shown. Nearly 700 customers give them an average 4.8 stars. 
"These pillows are for my rocking chairs on my front porch," says a 5-star reviewer. 
She continues: "The fabric is very thick and the colors are brilliant! I love that they are created for outdoor use, so I don't have to worry about rain or snow ruining the fabric. I would definitely buy these again!"
10
Traditional Garland
Pre-Lit 9-Foot Artificial Christmas Garland
National Tree Company
amazon.com
$53.99
For those who prefer traditional Christmas decor, this 9-foot bough is an excellent choice for giving your doorframe or porch columns a classic look. 
The garland is lush and pre-lit with 100 white lights, featuring 200 branch tips and decorated with red holly berries and assorted pinecones. It's also reasonably priced, considering its quality. 
One 5-star reviewer says: "We bought three of these to decorate our porch banister and front door around the holidays and they looked truly beautiful. They had a good amount of lights and looked very full."
11
The Christmas Angel
Crystal Angel Lighted Display
Three Posts
wayfair.com
$216.99
This shimmering 5-foot angel will bring the holiday spirit to your home and be a lovely focal point among your outdoor Christmas decor. 
Dressed in white, she plays a glittery golden horn, which matches her wings and halo. The angle's gauzy fabric is set on a rust-resistant frame, strung with 210 cool white lights. Power requires plug-in and ground stakes are included to secure the figure to the lawn. 
"Gorgeous!" says one enthusiastic customer. "Excellent sturdy piece. Very bright and stunning!"
12
A Bright Star
Star with Carved Figurine
The Holiday Aisle
wayfair.com
$77.99
This pretty little star has a handmade, rustic look during the day and shines brightly at night. It's a versatile piece, as you hang it on the front door, suspend it from the porch ceiling, or add to a cluster of seasonal decor. 
It's weather-resistant and illuminated with 20 warm LED lights powered by three AA batteries, plus it has an automatic timer. The star is roughly 18 inches from point to point. 
"It adds a nice touch to porch and it's exactly what I wanted," says a happy customer.
13
White Christmas Garland
Snowfall Artificial Pre-Lit 6-Foot Garland
The Holiday Aisle
wayfair.com
$72.99
Decking the halls with all-white decor is an elegant alternative to traditional green and red. The pre-lit, 6-foot-long string of garland is flocked with snow and accented with a mix of pinecones. It features 60 warm white LED lights that are battery-operated and can be set on a timer. 
Customers say it's "beautiful," "well-made" and describe it as "very full."
14
Cheer for Your Mail Carrier
Hanging Artificial Mailbox Wreath
National Tree Company
lowes.com
$38.99
Put a smile on your mail carrier's face this holiday season with this festive wreath, designed especially for a standard mailbox. Decorated with red holly berries and snow-dusted pinecones, it features 88 branch tips and 50 battery-operated warm LED lights that can be set on a timer.
"It is an eye-catcher by day with its pretty red berries and pinecones and lovely by night with its warm lights," says a 5-star reviewer. "The timer works perfectly."
15
Wrap It With a Bow
Large Front Door Christmas Bow
Holiday Living
lowes.com
$24.98
A giant red bow on your front door is inviting and adds a simple but warm touch for the holidays. This 27-inch-tall one is done in plaid with gold accents and is shaped around a flexible wire, so you can arrange it however you wish. Hang it on its own or add it to a Christmas wreath. 
"At first I was hesitant about this bow, but seeing it up on my door it looks amazing!" says a happy buyer.
16
The Happy Snowman
Crystal Snowman Christmas Decoration
The Holiday Aisle
wayfair.com
$203.99
This adorable, smiling freestanding snowman is dressed for the chilly weather, with a glittery black top hat and ribbon scarf, accented with faux sprigs and pinecones, like a corsage. His silver arms sparkle too, and comes pre-lit with 300 warm white LED lights. A gauzy polyester fabric covers a rust-resistant frame, and there are ground stakes included. 
"Love love love this guy," says a customer who gave the snowman 5 stars. "Wish I could keep him up all year."
This content is created and maintained by a third party, and imported onto this page to help users provide their email addresses. You may be able to find more information about this and similar content at piano.io
Advertisement – Continue Reading Below
Most Related Links :
Business News
Governmental News
Finance News