News
8 Best Mechanical 60 Percent Keyboards for Gaming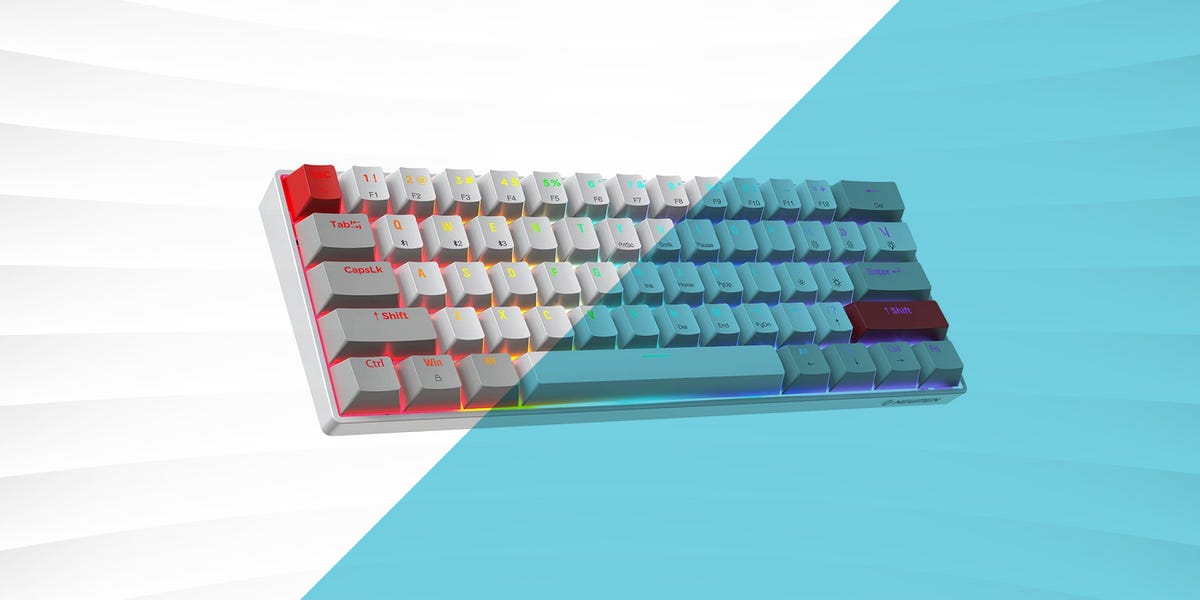 Staff, Courtesy of NEWMEN
While some typists think the bigger, the better when it comes to keyboards, there's a school of thought in favor of smaller ones, such as the 60 percent keyboard.
A 60 percent keyboard is usually mechanical and lacks a number pad, F keys, navigation key cluster, and arrow keys. For those with limited desk space, the benefits of a small form factor outweigh the lack of functionality. Some gamers prefer 60 percent keyboards because the smaller size allows the user greater freedom to adjust the position of their keyboard.
Like most gaming keyboards these days, 60 percent keyboards are often backlit with colored lights. Some models offer more lighting options than others, such as RGB lighting with the ability to choose between more than 16 million colors, as well as the ability to customize light patterns that can work in sync with games or music.
What Is a Mechanical Keyboard?
To understand the difference between a mechanical keyboard and a regular desktop or laptop keyboard, you must first understand how each works.
A regular desktop keyboard has a rubber dome inside. When you tap on the key of a regular keyboard, it hits the rubber dome and triggers a press. The rubber leads to a mushy feel. A mechanical keyboard, on the other hand, uses switches that actuate before the point of bottoming out. Since they use a switch, mechanical keyboards offer a more precise and consistent feel when you tap on the keys. Laptop keyboards often use scissor switches, which link each keycap to a plunger that depresses the rubber dome, and don't offer much travel.
However, mechanical keyboards tend to be noisy. If you work in an open office or other shared space, you may want to choose a quieter, rubber-dome keyboard.
Specs to Consider
Most 60 percent keyboards are mechanical, so it's a matter of choosing between the kind of switches you prefer. Your switch choice is a personal and subjective decision, but different types of switches provide a different feel when you type on them.
First, consider why you want a smaller keyboard. Most keyboards intended for gaming have linear switches (sometimes called "Red" switches) that are easy to push. Linear switches are helpful for gaming when speed counts, but they can be too sensitive for typing documents. Cherry MX switches, engineered in Germany, are the best and among the most expensive option for mechanical keyboards. The Cherry MX Reds are popular because they don't take much force to actuate and are silent and fast.
The vast majority of 60 percent of keyboards use a wired connection, so what you gain in space with a smaller device footprint, you lose in desktop clutter. For gaming applications, wired connections are considered faster and more reliable than wireless. But some keyboards on this list, like the Newmen GM610, offer a choice of wired or wireless connectivity, so you can go cord-free.
How We Selected
I'm a technology journalist who regularly reviews keyboards and other gadgets. In addition, I am a longtime keyboard fanatic who's always on the hunt for the latest and greatest way to get text into my computer. My work as a journalist has appeared in The New York Times, Reuters, the Los Angeles Times, and many other publications. I spent more than a dozen hours looking through user reviews and manufacturer specifications to find a variety of 60 percent keyboards that fit a range of budgets and uses.
Fastest Keyboard
Razer Huntsman Mini Gaming Keyboard
Key Specs
• Connection: Wired
• Number of keys: 61 
Razer is a storied name when it comes to gaming peripherals, and the Huntsman mini lives up to the company's reputation. This keyboard uses light-based actuation, which Razer claims registers key presses faster than other mechanical keyboards. I haven't been able to measure the speed of the keys, but I can attest that the Huntsman has satisfying clicky feedback, which lets you feel precisely when the key has activated, for greater accuracy.
Best Value Keyboard
Newmen GM610 Wireless Mechanical Gaming Keyboard
Key Specs
• Connection: Wired, wireless
• Number of keys: 61
Can't decide how you want to connect your keyboard? The GM610 has you covered with both C-USB cable and Bluetooth interfaces. You also can connect up to three different devices under wireless mode and easily switch among them. The keyboard also lets you choose among 20 different types of lighting effects. One nice touch is that this keyboard includes a backup keycap set of different colors in case you want to mix things up. 
Multiple ways to connect
Many lighting options
Best Mid-Range Keyboard
Kraken Pro 60 BRED Edition RGB Keyboard
Key Specs
• Connection: Wired
• Number of keys: 60
Kraken uses optical, mechanical switches to make its keys depress faster when you press them. I've tried the Pro 60, and it certainly flies. It comes in a bold red and black color scheme and has customizable lighting. Even though this model is made mostly of plastic, it has a durable feel that should last for years. 
Fast typing action
Bold color scheme
Best Keyboard for Blending In
RK Royal Kludge RK61 Wireless Mechanical Keyboard
RK Royal Kludge
amazon.com
$49.99
Key Specs
• Connection: Wired, wireless
• Number of keys: 61
The RK61, available with a white or black frame, offers a more subdued look than most keyboards in this category. Unlike flashier models, the RK61 has no multicolored RGB, only single LED backlighting, but you can adjust the brightness levels. When you are using this keyboard in wireless mode, you can easily swap between three different devices.  
Not too flashy
Can swap between devices
Not as sturdy-feeling as other keyboards
Single LED backlighting only
Best Keyboard With a '90s Vibe
Womier K61 Hot Swappable Mechanical Gaming Keyboard
Key Specs
• Connection: Wired
• Number of keys: 61
I love the distinctive, translucent look of the K61, which lets the colored lights inside provide a soft glow. You can also choose between 18 different lighting effects. The mechanical keys are fast and sturdy, and the keyboard is tilted slightly upward to reduce hand strain. I found in a recent test that this keyboard is among the more comfortable to type on.
Comfortable
Distinctive look
Best All-Around Budget Keyboard
Redragon K630 Dragonborn Wired RGB Gaming Keyboard
Redragon
amazon.com
$49.99
Key Specs
• Connection: Wired
• Number of keys: 61
The quiet mechanical keys on the 360 make typing or gaming a pleasure. Every press of the key registers without providing too much resistance. Enthusiasts can download software to customize the lighting effects on this keyboard. This keyboard lets you adjust the angle to find a comfortable position, and nonslip feet keep it in place during intense gaming sessions. Easy to use software lets you adjust the lighting and customize key actions.  
Quiet keys
Plenty of ways to customize
Most Colorful Keyboard
Corsair K65 RGB Mini Mechanical Gaming Keyboard
Corsair
amazon.com
$98.07
Key Specs
• Connection: Wired
• Number of keys: 62
The premium look and feel of the K65 takes some of the sting out of its high price tag. Corsair claims that it uses custom technology that allows this keyboard to register keypresses faster than competitors. Go big in the lighting department with software that lets you customize the color of every key.
Fast typing
Custom lighting options
Best Multi-Connection Keyboard With a Subdued Look
Anne Pro 2 Wired/Wireless Mechanical Keyboard
Anne Pro
amazon.com
$99.00
Key Specs
• Connection: Wired, Wireless
• Number of keys: 61
The Anne Pro 2 might be considered minimalist if your definition of that word includes colorful backlighting. Other than the flashing lights, this keyboard offers a toned-down look that wouldn't be out of place in an office setting. As a bonus, the mechanical keys are fast and provide excellent feedback. The included software lets you create macros and set up your own key layout and lighting.
Elegant Look
Great typing feedback
This content is created and maintained by a third party, and imported onto this page to help users provide their email addresses. You may be able to find more information about this and similar content at piano.io
Most Related Links :
Business News
Governmental News
Finance News