News
The 10 Best Pool Floats for Posing, Lounging, Reading and More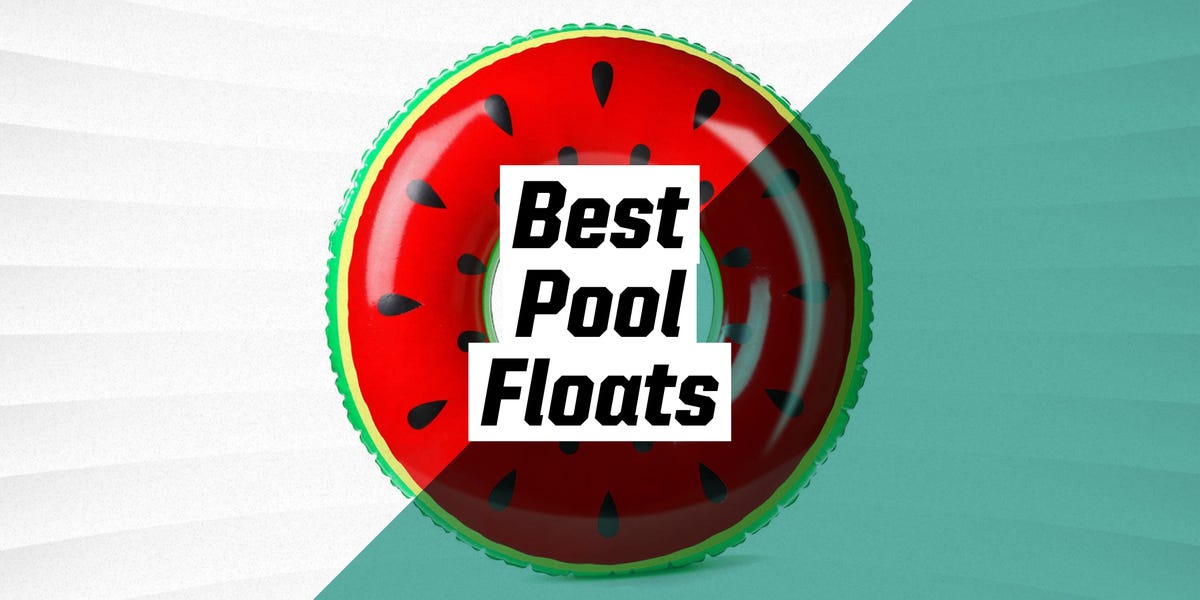 If you're lucky enough to have access to a pool this summer, there's only one thing that's guaranteed to make it even better: a pool float. A few years ago, thanks to influencers posting shots of themselves relaxing on an array of giant floatation devices on Instagram, the art and science of creating visually compelling and super comfy inflatables has reached new heights. Whether you want to ride a rainbow unicorn into the sunset or just relax with a magazine on a basic piece of floating plastic, we are in the Golden Age of pool floats, so anything you imagine can probably be found.
What to Consider
Because the options abound, think of who you want the float for: adults, kids, babies and pets can all find their place in the sun these days. You will also want to consider how large you want it to be: should it be a solo, or do you want to fit several people on it? But most importantly, when you picture yourself, do you want to be partially submerged, or fully dry and reclining? We included a variety of options with different needs in mind.
How We Selected
We looked for floats that served a range of purposes, and were highly rated for safety. We also sought out floats made by companies with excellent customer service. All of the floats we include below have been highly rated by reviewers for looks, ease of use, durability and fun.
Advertisement – Continue Reading Below
1
Best Budget Float
Intex King Kool Inflatable Lounge
This float is one of the most highly rated pool floats on Amazon, an especially impressive feat considering its bargain-basement price. The float features a transparent cover with rainbow beams shooting down the middle, and will allow users to recline, fully above water, for hours. The built-in pillow, armrests and drink holder make it ideal for floating the day away. Reviewers praised its sturdiness and durability. 
One enthusiast wrote that it's "like heaven on the water," while another says her Golden Retriever "likes to float" and "the dog has nails that can pierce thinner plastic, but these hold up."
2
Best for Babies
SwimWays Baby Spring Float Activity Center
SwimWays
amazon.com
$27.49
Concerned caregivers will love this float designed to keep babies safe and help everyone relax and have fun in the water. The float features safety valves, dual air chambers and a patented inner spring for additional stability. A removable canopy with mesh sides offers 50+ UPF sun protection. 
The float also offers toys babies can touch and activate, including a squeaker, rattle, stacking rings, giant octopus and a soft star. The float measures 34 x 30 inches, and is best for babies 9 months to two years.
3
Best for Big Families
KIDPAR Multi-Pack Pool Floats (6-Pack)
KD KIDPAR
amazon.com
$16.99
This super pack of tube floats will deliver loads of fun for big families. The six-pack includes four fruit-themed (kiwi, orange, lemon, watermelon) swim rings and two inflatable cup holders. The tubes come with repair packs and leakage protection. The inner diameter is 13.4 inches and the other diameter is 33 inches. 
Reviewers say the tubes are "big enough for smaller adults" and small enough for a "tiny six-year-old to swim and float in it." 
Several parents weighed in enthusing that "they survived a lot of use this summer" from kids who "would put them around their waist and jump in. No holes or breaks!"
4
Best for Reading
Intex Floating Recliner Inflatable Lounge
This is basically a recliner designed as a flotation device, and yes, it is fabulous. The 53-inch-long lounger comes with armrests, and is designed like a roomy easy chair for maximum comfort. It features two cup holders so refreshment is within reach. 
While users praised its sturdiness and perfect support for reading, some advise would-be buyers to cover the seat with a towel, as the darker color attracts the sun and heats up considerably over time.
5
Best Imaginary Animal Float
Jasonwell Giant Inflatable Unicorn Pool Float
Jasonwell
amazon.com
$33.99
The giant unicorn float became an instant classic for a reason. Yes, it's self-evidently ridiculous, but also insanely fun and (still) completely Instagram-ready. This float is 114 x 55 inches, fully inflated, and is designed to fit two adults, but reviewers say it can fit two plus a small child, or four children. 
The inflating mechanism has been upgraded, so that it's five times faster to pump up, using a hair dryer or a small pump. Reviewers gave high marks to the float's design and customer service, dubbing it the "star of the pool!"
6
Best for Pets
SwimWays Paddle Paws Dog Raft
SwimWays
amazon.com
$34.99
If you have a dog who wants to join the pool party, this reinforced claw friendly floater is a great option. The floater is designed for dogs up to 65 pounds, and comes with a patented inner spring design around the outside edge that provides comfort and stability to floating pups. 
It's also very portable and easy to carry, making it super for travel. One user says she and her dog love it so much they use it to tube "down the Salt River near Phoenix, AZ. I have done this trip twice by myself and [with] my sweet dog without any issues."
7
Best for Parties
Swimline Inflatable Pizza Slice (8-Pack)
Swimline
amazon.com
$279.99
Attention pizza party enthusiasts! This set of eight individual slices of floating pizza can do their own thing or be connected for the ultimate picture-perfect pool party. Each slice measures 72 x 60 inches. The full pie is about 12 feet across. 
Reviewers recommend it for big events and parties, calling it "THE HIT of all my pool parties," and "super comfortable and durable." It is certainly unforgettable.
8
Best Multipurpose
Aqua LEISURE Four-in-One Inflatable Pool Float
Aqua LEISURE
amazon.com
$27.43
This inflatable hammock-style pool float also converts to a lounge chair. It's great for one or two people, and features cool-weave fabric that contours to your body, plus there's an inflatable pillow and foot rest. Dubbing it "dangerously comfortable," reviewers also loved that it is easily transportable, packs up "fairly small" and is "lightweight."
9
Best Food Floatie
Jasonwell Avocado Pool Floatie
Jasonwell
amazon.com
$22.99
This giant avocado floatie measures 65 x 49 inches, and comes with an inflatable brown ball. Reviewers loved its novel look, with many skipping the pool and using as "party decoration" instead. 
One person enthused that its medium size and easy inflatability made it ideal: "This is by far the most popular float in our pool thus far! It is a decent size so it will hold an adult, and was easy to inflate thanks to the multiple option/large inflate tube that other floats don't have!"
10
Best Foam Float
TRC Recreation Floating Sunsation
TRC Recreation
amazon.com
$101.69
If you love the idea of coasting on the water, but don't want to bother with inflating, this is your floater. The floater is 70 x 26 inches and is made of smooth foam and coated in vinyl. 
It's water-resistant and rolls up easily, making it easily transportable at just 9 pounds. The float also has a full-roll pillow, adding extra buoyancy on the water. Reviewers love that it "allows you to slightly be in the water without feeling like you're sinking. Very comfortable."
This content is created and maintained by a third party, and imported onto this page to help users provide their email addresses. You may be able to find more information about this and similar content at piano.io
Advertisement – Continue Reading Below
Most Related Links :
Business News
Governmental News
Finance News