News
The 8 Best Plastic Sheds for Storing All Your Outdoor Stuff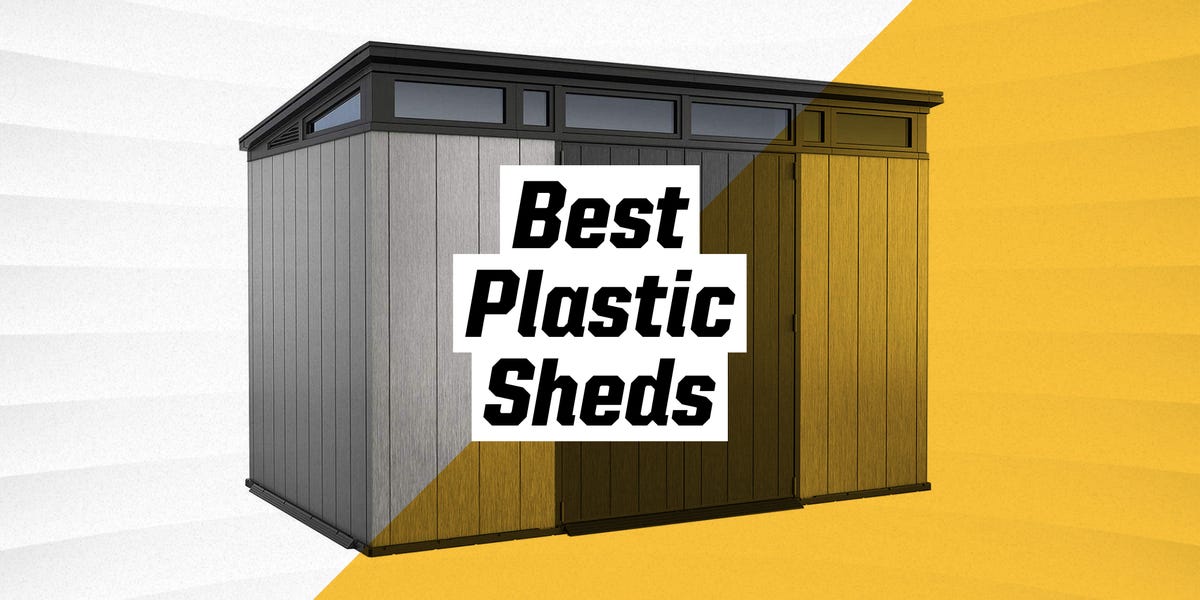 Everyone can do with extra outdoor storage space, particularly if the garage is already packed to the brim. The obvious solution is a shed, those handy house-like structures set in the backyard that keep everything from your power tools and lawn equipment to bicycles secure and under cover. Perhaps you already have a shed—you know, the wood one that came with the house you bought 25 years ago—and it's showing its age.
If you have the time and inclination to build a new one—and maintain it—more power to you. Otherwise, your best bet is to opt for a plastic shed, designed to hold up to the elements and requires almost zero effort to keep looking brand new.
What to Consider
First you'll want to nail down the shed's dimensions and capacity. There are models small enough to store a lawn mower and a few gardening supplies and tools, but not much more. The largest plastic sheds can have two sets of double doors and are spacious enough to accommodate, say, a set of patio furniture and a cantilever umbrella, plus act as spillover for whatever doesn't fit in your garage. Almost all plastic sheds are made of weather-resistant, high-density polyethylene resin and have ventilation to prevent mildew and odor buildup from any chemicals stored inside. Also, the vast majority of sheds have a latch or notch for a padlock. Beyond that, it's all about aesthetics and extra features, such as windows, skylights, and built-in shelving systems.
How We Chose
Our selection includes plastic sheds in major styles and sizes with ratings of at least four stars, plus we chose options across multiple price points, from budget to high-end. There are a range of features and boxes you'll want to check when shopping, and we've highlighted the most notable for every shed we cover.
Advertisement – Continue Reading Below
1
Our Value Pick
Keter Manor Plastic Shed
Keter
wayfair.com
$875.31
This contemporary dove gray plastic shed from popular brand Keter has an attractive gable-style roof and white trim. It's made of durable, all-weather resin that's reinforced with steel and offers roughly 264 cubic feet of storage capacity. It features wide, double-panel doors that lock, a window and a skylight, plus a sturdy floor panel. 
There's a small vent above the front doors to prevent moisture and chemical odors from building up inside, and it's designed to withstand 65-mile-per-hour winds. 
2
A Step Up
Keter Factor Plastic Shed
Keter
wayfair.com
$961.95
If you have more to spend and need a bit more storage space, this polypropylene resin shed, also from Keter, is an excellent value. It has a 285-cubic-foot capacity, plus there's shelving inside to organize items you want at eye level. 
Features include high-arched double doors that lock, a rugged floor panel, and a window and skylight. There's also a wide vent near the roof to keep airflow circulating and, like the shed above, this shed is made to handle winds up to 65 miles per hour.
3
The Modern Shed
Keter Artisan Plastic Shed
Keter
amazon.com
$2,597.95
It isn't easy to find a shed that's more urban than country, but this one fits the bill. With its sleek modernist style, the weather-resistant shed is made of polypropylene resin, reinforced with steel. It features faux-wood paneling in contrasting shades of gray, an angled roof with a stylish row of windows, and double-latched doors that lock. The shed is 11 feet wide and 7 feet high at its tallest point. 
4
The Faux-Wood Shed
Keter Newton Plastic Shed
Keter
amazon.com
$2,249.99
This handsome shed offers nearly 400 cubic feet of storage capacity, with paneled double doors that feature charming clear paned windows. The steel-reinforced, polypropylene resin shed has a skylight and a wide vent below the roof for good airflow, plus a lockable front latch and heavy-duty flooring that can withstand the weight of lawn equipment. No shelving inside may be a drawback for some.
5
The Small Shed
Rubbermaid Slide-Lid Plastic Shed
Rubbermaid
amazon.com
$896.24
For those who have a small yard or a full garage, this petite shed is the perfect size to keep the most essential lawn equipment under cover. Its most notable feature is the sliding lid, which makes everything inside easy to reach—even stuff in the back. 
The 96-cubic-foot shed is constructed of weather-resistant resin, with eight wall anchors for customizing storage and a durable floor. There's also a lockable front latch, and it's available in taupe in addition to the sandstone color that's shown.
6
The Extra-Large Shed
Lifetime Dual-Entry Plastic Shed
Lifetime
amazon.com
$2,990.99
This massive shed is 15 feet long and boasts more than 730 cubic feet of storage space, plus it offers dual-entry, with an extra set of double doors on the side. The shed is constructed of high-density polyethylene reinforced with steel, with an impressive lineup of features. 
There's a storage system with adjustable shelving, flooring with treads for added traction, and steel trusses supporting the roof, plus it comes with a 10-year limited warranty. There's also two shuttered windows, screened vents, and skylights. Keep in mind that this shed requires a foundation laid beneath it. 
7
The Vertical Shed
Rubbermaid Vertical Plastic Shed
Rubbermaid
amazon.com
$649.09
Anyone who needs a space-saving shed with decent storage will appreciate this option. Rubbermaid's large vertical shed has a 159-cubic-foot capacity, with a customizable shelving system inside that includes a pegboard for organizing small items. It's made of durable hard plastic, with double-wall construction for added stability and strength, plus the floor has treads to prevent slipping. The contemporary double front doors are lockable and feature elegant inset molding and a wide pull.
8
The Garbage Bin Shed
Homspark Plastic Shed
Homspark
amazon.com
$285.86
There's no need to keep unsightly garbage bins out in the open. This small shed is designed to store 32-gallon trash cans out of sight, constructed of high-density polyethylene panels, including a hinged lid. The two front double doors are lockable, with shingled front panels and recessed handles, plus there's a small notch at the base for hands-free opening. The side panels have a diamond pattern, a nice extra design detail. The shed is a customer favorite, with an average 4.5 stars from 785 reviewers. 
This content is created and maintained by a third party, and imported onto this page to help users provide their email addresses. You may be able to find more information about this and similar content at piano.io
Advertisement – Continue Reading Below
Most Related Links :
Business News
Governmental News
Finance News