News
The 9 Best Alexa Speakers of 2021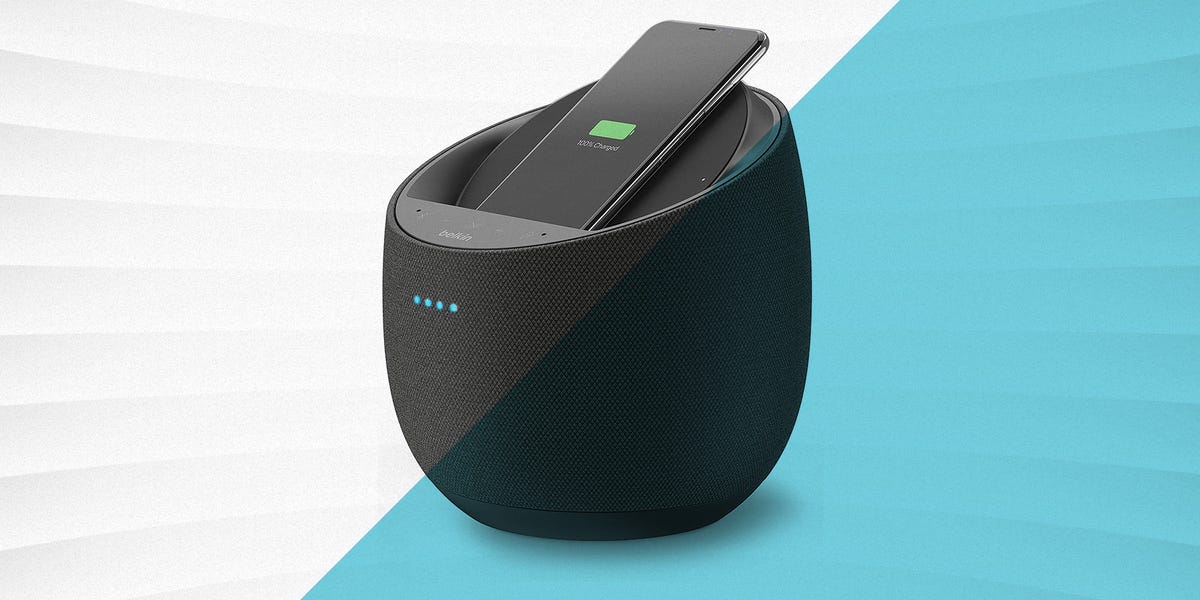 Staff, Courtesy of Belkin
Speakers have advanced so much in recent years that it seems mind-boggling to consider there was a time they didn't come with some sort of smart assistant, such as Amazon Alexa, Google Assistant, or Apple's Siri.
Alexa speakers, in particular, have a range of skills. They can not only tell you the time, the weather, or who the President was in 1965 (Lyndon B. Johnson), but they can also make phone calls, control your other smart home devices, and order that near-empty tin of coffee on Amazon with just a voice command. Plus, Alexa's multilingual mode supports English, Spanish, German, and five other languages.
Get Smart: The 7 Coolest Things Your New Voice Assistant Can Do | Amazon Echo vs. Google Nest: Which is Better? | The Best Smart Home Hubs to Control All Your Devices
Many devices also have unique features, such as additional internal speakers for high-fidelity audio, kid-friendly designs and programming for the little ones in your life, screen displays, and wireless chargers for multifunctional use.
Here's what you need to know about Amazon Alexa speakers to find the best one for your household.
What to Consider
Most Alexa speakers are fairly plug-and-play. Because most models have a power adapter, you'll need to install your speaker near an outlet. After that, turn your speaker on, connect it to a Wi-Fi network or a specific device via Bluetooth, then download the Alexa app on a Fire OS, Android, or iOS device. Wi-Fi provides the stablest connection and access to smart assistant commands, but Bluetooth allows you to travel with your speaker for streaming music and media on the go.
Many Alexa speakers, especially Amazon's own Echo branded speakers, come with a free trial of one of the company's media services, such as Amazon Music Unlimited or Amazon Kids Plus. These trials last several months or up to one year and automatically renew. You should keep track of the duration, and if or when you want to cancel, visit the settings of your Amazon account.
Elevate Your Audio: How to Make a Bluetooth Speaker | The Best Bookshelf Speakers for Next-Level Sound | 8 Sounds Bars for Compact, Powerful Audio
How We Evaluated
I've been a tech reporter for the better part of a decade, reporting on product launches and reviewing products for outlets such as Newsweek Media Group, Business Insider, Tom's Hardware, Lifewire.com, GearBrain.com, and Online-Tech-Tips.com, as well as at my own blog, TechieSupreme.com. To recommend the best Alexa speakers, I surveyed the Amazon Echo line and Alexa-enabled devices from trusted brands. I chose options across different price points and with unique features, backing up my choices with notes from Amazon customer reviews and my own testing experience over several years.
Advertisement – Continue Reading Below
Excellent Sound Quality
Amazon Echo Studio
Amazon
amazon.com
$199.99
Key Specs:
Dimensions: 6.9 x 6.9 x 8.1 in.

Available Color: Black
The Amazon Echo Studio features a total of five speakers in its casing, including three 2-inch midrange speakers, one 1-inch tweeter, and one 5.25-inch woofer with bass aperture. The design mimics a surround-sound audio experience that's ideal for playing music, listening to audiobooks, using as a TV speaker, or simply hearing Alexa's responses from across the room.
Connects to Fire TV Cube, Fire TV Stick 4K, and Fire TV
Best Alexa with a Screen
Amazon Echo Show 10 (3rd Gen)
Amazon
amazon.com
$249.99
Key Specs:
Dimensions: 9.9 x 6.7 x 9 in.

Available Colors: Gray and white
The Amazon Echo Show 10 features two 1-inch tweeters and a 3-inch woofer, but the real star of the show is the 10.1-inch HD touchscreen. The display automatically rotates as you move around the room thanks to onboard motion controls. Use the 13-megapixel camera for video calls or remote home monitoring when you're away. Privacy controls include mic and camera on/off buttons, along with a camera shutter.
10.1-inch touchscreen
Automatic-rotating display
Best Value
Amazon Echo (4th Gen)
Key Specs:
Dimensions: 5.7 x 5.7 x 5.2 in.

Available Colors: Gray, white, and blue
The Amazon Echo features a 3-inch neodymium woofer and two 0.8-inch front-firing tweeters. It's also optimized with Dolby audio, which gives it excellent overall sound for the price and makes it a great option for hands-free calls. Like some others in the Echo line, this smart speaker comes with a one-year limited warranty.
Large and heavy power adapter
Best Mini Speaker
Amazon Echo Dot (3rd gen)
Amazon
bloomingdales.com
$49.99
Key Specs:
Dimensions: 3.9 x 3.9 x 1.7 in.

Available Color: Gray 
Although its not the current model, the third generation Amazon Echo Dot remains a good option if you want a low-profile smart speaker. Don't be fooled by the small footprint, either. It houses a 1.6-inch speaker for decent audio output and has all the usual smart features, including answering questions, queuing up your favorite playlist, and helping with meal prep.
Small size that's easy to hid
Very affordable
Best Alarm Clock
Amazon Echo Dot with Clock
Key Specs:
Dimensions: 3.9 x 3.9 x 3.5 in.

Available Colors: White and blue
The Amazon Echo Dot with Clock is the perfect Alexa speaker for your nightstand. The subtle LED screen shows the time, along with any alarms and timers you set. But if you're not quite ready to start the day, tap the top of the speaker to hit snooze. You can also create morning or bedtime routines in the Alexa app to hear the forecast or turn on white noise. 
Use Alexa Routines to help start and end your day
Doubles as a sound machine
Best Portable
Bose Portable Smart Speaker
Bose
electronicexpress.com
$299.00
Key Specs:
Dimensions: 4.7 x 4.1 x 7.5 in.

Available Colors: Black and silver
The Bose Portable Smart Speaker features a 360-degree speaker and is the only Alexa speaker on this list with a built-in battery. That means you can use it at home and as a portable speaker everywhere else. In Bluetooth mode, you won't have access to Alexa (or Google Assistant, if that's your preference), but you can still play music and other audio content. With a promised battery life of up to 12 hours and a water-resistant design, its ready to go where you do.
Works with Amazon Alexa or Google Assistant
12-hour battery life
Best Design
Marshall Uxbridge Smart Speaker
Marshall
amazon.com
$189.99
Key Specs:
Dimensions: 5 x 4.8 x 6.6 in.

Available Color: Black
The well-known Marshall brand outfits its Uxbridge Smart Speaker with Amazon Alexa. Enable music-specific voice commands in the Marshall Voice app. The far-field microphone has a noise cancellation feature to enhance voice recognition. You can also tweak the volume, treble, and bass using the manual rocker buttons on the speaker's top panel.
Marshall's high-quality audio
Old-school design combines with the latest tech
Built-in Charger
Belkin SoundForm Elite Hi-Fi Smart Speaker and Wireless Charger
Belkin
amazon.com
$299.99
$199.99 (33% off)
Key Specs:
Dimensions: 9.1 x 8.8 x 8.1 in.

Available Colors: Black and white
The Belkin SoundForm Elite Hi-Fi Smart Speaker blends the Alexa voice assistant with high-quality audio and a 10-watt wireless charger for a 3-in-1 device that also has a sleek design. The speaker features special acoustics and fidelity technology by the audio brand Devialet in addition to a unique dual woofer design for optimal bass. You can also get a 90-day free trial of Amazon Music Unlimited if you haven't subscribed before.
Great sound quality and bass
10-watt Qi wireless charging
Wireless charging not compatible with all phones
Best For Kids
Amazon Echo Dot Kids (4th Gen)
Key Specs:
Dimensions: 3.9 x 3.9 x 3.5 in.

Available Colors: Tiger and panda designs
Despite sharing the same dimensions and 1.6-inch front-firing speaker as the fourth generation Echo Dot, the Amazon Echo Dot Kids has some distinct kid-friendly features. The animal-themed device comes with a one-year free trial to Amazon Kids Plus for access to age-appropriate books, games, and more. From the Parent Dashboard, you can set limits on kids' usage time and filter out content. And should anything go wrong, its covered by a two-year warranty.
Two-year warranty
Kid-friendly design and activities
Amazon Kids Plus isn't available in Spanish
This content is created and maintained by a third party, and imported onto this page to help users provide their email addresses. You may be able to find more information about this and similar content at piano.io
Advertisement – Continue Reading Below
Most Related Links :
Business News
Governmental News
Finance News