News
The 9 Best Sous Vide Machines for Precision Cooking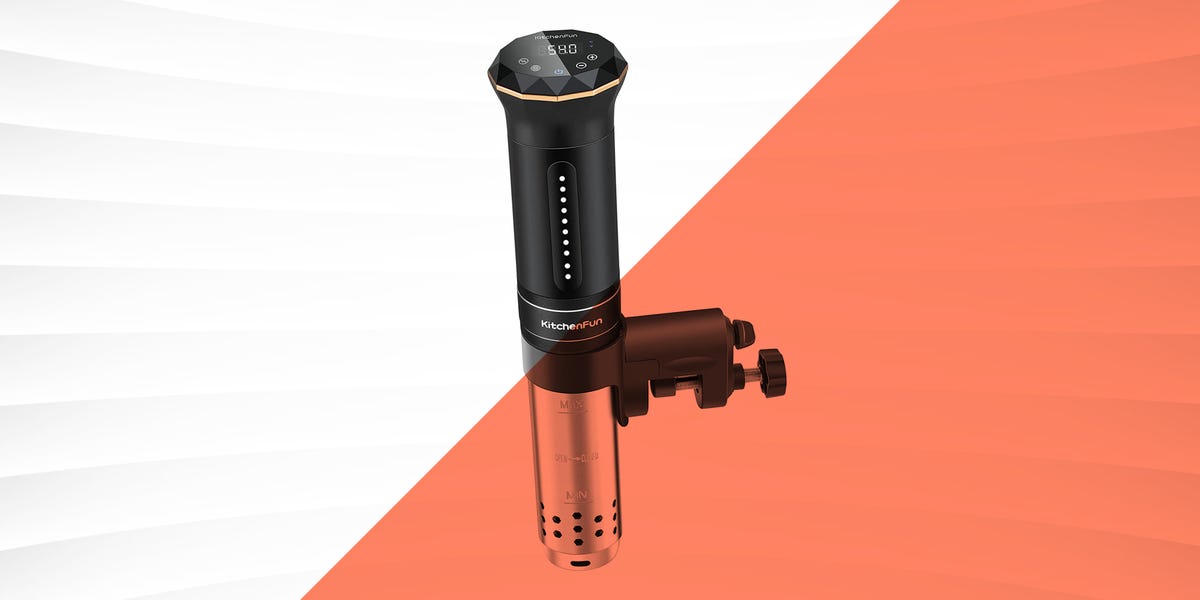 Staff, Courtesy of KitchenFun
Sous vide might sound like a futuristic cooking technique reserved for professional chefs. But this hands-off method of cooking—where you slowly cook your food in a vacuum-sealed package—is actually an accessible and easy way to cook your favorite meals at home. If your mouth waters for a perfectly medium-rare juicy steak or runny eggs with a firm white, but you always seem to over- or undercook things, you'll love the precision and ease of sous vide.
The good news: It's easier to do than you might think, and all you need is a single device. We've rounded up the top sous vide machines for cooks of all abilities so you can find the best one to up your culinary game.
How Does Sous Vide Work?
Sous vide is French for "under vacuum." When you cook sous vide, you seal food in a vacuum-sealed bag submerged in a hot-water bath. You can remove the air with a vacuum sealer, or simply lower the bag into the water bath to expel as much air as possible.
The water bath is heated by an immersion circulator, which you'll set to a very specific temperature. This way, the food is gently and slowly cooked. Instead of a hard sear on the outside with a tender center, food cooked sous vide has the same texture all the way through.
When cooking sous vide, all you need to do is set the time and temperature, then walk away. There's no need to babysit your food on the stove or in the oven. And you can rest assured that nothing will get burned or overcooked.
When the time is up, simply turn off the machine, remove the bag from the water, and reveal your perfectly cooked protein or vegetables. If you'd like a bit of color on the product, you can quickly sear your meat in a hot skillet just before serving.
What to Consider
If this is your first time buying a sous vide machine, you'll want to consider the power and how many people you plan to feed with your new appliance. Larger machines with higher wattage will heat water more efficiently and can handle a larger water bath. A 1000-watt machine is a good middle ground and can heat enough water to feed up to eight people at a time. Anything over that will be great for large cuts of meat or big-batch cooking.
Next, consider the vessel you'll use to sous vide. Most people own a large pasta pot, which will work just fine. If you plan to use a round pot, you'll want a sous vide cooker with adjustable clamps that can attach to any surface. Foldable or more rigid machines work better on a vessel with flat sides, such as a sous vide-specific container. Anova makes one with a lid and opening just the right size for your sous vide wand.
Finally, do you want a Wi-Fi-enabled device? Most newer sous vide machines are Wi-Fi and Bluetooth compatible. Many have corresponding smartphone apps that come with recipes and guides to precisely cook any ingredient. Another nice thing about an app is that it allows you to control your machine from anywhere.
How We Selected
I've loved the reliability and hands-off nature of sous vide cooking for years. As a private chef, I've found that sous vide makes it easy to cook proteins perfectly according to food safety guidelines, without having to stick a thermometer in them or babysit anything. Cooking things sous vide is also a great make-ahead trick when there's a lot of cooking to do. I'm a firm believer that more home cooks will benefit from the convenience of sous vide cooking, so the products below reflect careful product testing and research, including customer reviews.
Best All-Around Sous-Vide Machine
Anova Culinary AN500-US00 Sous Vide Precision Cooker
Anova Culinary
amazon.com
$198.75
Key Specs
• Weight: 2.79 lb.
• Dimensions: 3.1 x 5.3 x 12.8 in.
• Watts: 1,000
Anova is a leader in the world of sous vide, and this is its Goldilocks model. It's powerful enough to maintain high temperatures for hours on end, but also lightweight and easy to store. The machine is quiet and Wi-Fi-compatible, so you can step away and know that your dinner will keep on cooking—and that you can control it from wherever you are. With a flow rate of eight liters per minute, this machine heats water quickly and efficiently. It can easily cook for up to eight people at a time. 
Removable and adjustable clamps for easy cleaning and to fit on any pot
Does not come with vacuum bags or a container
Best Budget-Friendly Sous Vide Machine
KitchenFun Sous Vide Cooker Immersion Circulator
KitchenFun
amazon.com
$89.99
Key Specs
• Weight: 3.85 lb.
• Dimensions: 3.27 x 2.64 x 14.96 in.
• Watts: 1,100
This affordable sous vide wand is easy to use and exceptionally quiet. It has an impressive temperature range (104°F to 194°F) for its price and is made from durable stainless steel to last for years of use. The machine is even waterproof, which means you don't have to worry about drops or spills.
Comes with a soft storage bag and 10 vacuum sealer bags
This machine takes longer than others to heat water
Best Folding Sous Vide Cooker
Vesta Precision Imersa Elite Sous Vide Folder Cooker
Vesta Precision
amazon.com
$149.00
Key Specs
• Weight: 4.49 lb.
• Dimensions: 10.5 x 6.3 x 5.9 in.
• Watts: 900
The unique design on this foldable sous vide machine makes it easy to attach to a flat-sided vessel like a plastic bin. It has Wi-Fi compatibility and a handy smartphone app loaded with recipes that lets you control the device from anywhere. It's also easy to store, thanks to the compact, square design.
Can heat up to 20 liters of water
The machine may not easily attach to all round pots
Best Portable Sous Vide Machine
Anova Culinary Sous Vide Precision Cooker Nano
Anova Culinary
amazon.com
$128.02
Key Specs
• Weight: 3.01 lb.
• Dimensions: 4.1 x 2.2 x 12.8 in.
• Watts: 750
This small, sleek, and compact precision cooker has all the bells and whistles of an Anova machine, including Bluetooth capability, but on a smaller scale. This machine may be compact, but it can easily handle a meal to feed up to four people. Plus, it's ideal for travel.
Temperature range of 32°F to 197°F
Lower voltage than other machines means less power
Best Sous Vide for High-Volume Cooking
Anova Culinary Sous Vide Precision Cooker Pro
Anova Culinary
amazon.com
$284.90
Key Specs
• Weight: 3 lb.
• Dimensions: 13.8 x 3.5 x 2.4 in.
• Watts: 12,000
This is the most powerful sous vide Anova makes, and it's ideal for big-batch cooking. This impressive machine can run nonstop for more than 10,000 hours. In a covered container, it can heat up to 100 liters of water without a problem. Use your smartphone to control the machine from anywhere—and to access thousands of free recipes via the included Anova app.
Anova app is easy to use and full of recipes
Larger and heavier than other models
Best Sous Vide Kit
Sous Vide Art All-In-One Sous Vide Kit
Sous Vide Art
amazon.com
$94.99
Key Specs
• Weight: 4.34 lb.
• Dimensions: 6.42 x 7.4 x 4.02 in.
• Watts: 1,000
If you want to try your hand at sous vide with a one-stop-shop single purchase, this user-friendly kit has everything you need. It comes with a 1,000-watt wand, 15 heat-safe bags in three different sizes, two clips to secure the bag to your pot, a vacuum sealer, and even a sous vide recipe book.
The machine does not connect to Wi-Fi or Bluetooth
Best All-In-One Sous Vide Machine
SousVide Supreme Touch+
SousVide
sousvidesupreme.com
$449.25
Key Specs
• Capacity: 11 liters
• Dimensions: 11.42 x 14.17 x 11.42 in.
• Watts: N/A
This all-in-one sous vide machine is ideal for the regular sous vide user. It sits on your counter, and all you need to do is lower the vacuum-sealed food into the water bath under the built-in wire rack, close the lid, and use the smartphone app to program the machine. You can check on your food through the clear glass lid, but rest assured that the machine will know exactly when to turn off so you can enjoy perfectly cooked fish, meat, and vegetables.
Does not require any other accessories to work––not even a pot
More expensive than other options
Most Feature-Rich Sous Vide Machine
Breville Hydro Pro Sous Vide
Breville
williams-sonoma.com
$499.95
Key Specs
• Weight: 4.18 lb.
• Dimensions: 3.75 x 6.75 x 14.5 in.
• Watts: 1,450
This heavy-duty sous vide machine has a large touch-screen display that's like a mini tablet. Beyond being able to set the temperature, which goes up to 194°F, you can also program your favorite recipes and find the precise cooking time and temperature for any food item.
17 liters-per-minute flow rate is higher than smaller models
Includes carrying case
This machine is heavier and bulkier than competitors
Best-Looking Sous Vide Machine
Breville CS20001 Joule Sous Vide
Breville
amazon.com
$199.95
Key Specs
• Weight: 1.28 lb.
• Dimensions: 11 x 1.85 x 1.85 in.
• Watts: 1,100
This small, lightweight, and sleek sous vide wand is attractive enough to leave on your counter at all times. It even comes with a handy foot rest to stand up all on its own. Despite its small size, this machine still has 1,100 watts of power and can heat water up to 208°F.
Wi-Fi and Amazon Alexa compatible
Some users have trouble maintaining a Bluetooth connection to the device
This content is created and maintained by a third party, and imported onto this page to help users provide their email addresses. You may be able to find more information about this and similar content at piano.io
Most Related Links :
Business News
Governmental News
Finance News