News
The Best Carpet Cleaners to Keep Your Floors Immaculate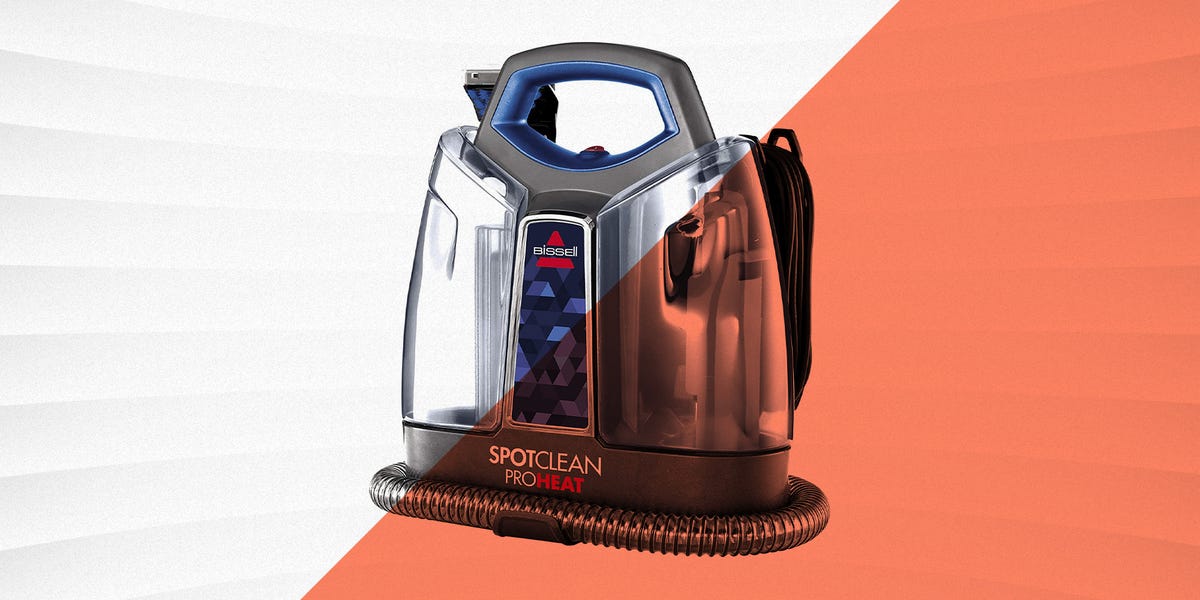 Staff, Courtesy of Bissell
Even if you use the best vacuums to clean your carpets regularly, there will still be dirt and dust that settles deep into your carpet, not to mention the stains and odors that can build up over time. To keep your floor coverings looking fresh and clean, you'll occasionally want to wash them using a carpet cleaner.
While you can typically rent these machines from home improvement stores, it's often more convenient to simply purchase an at-home model that you can use more frequently. Many of today's carpet cleaners are roughly the same size and cost as vacuums, and for homes with a lot of carpeting, they're a worthwhile addition to your cleaning arsenal.
What to Consider
There are several sizes of carpet cleaners, including commercial-grade, full-size, and portable models. Commercial-grade options are typically the models available to rent, and while they have large water reservoirs, they're very expensive and heavy. Full-size models, which look similar to upright vacuums, are a popular choice for your average home, as they're easy to use and moderately priced. Finally, if you only need to clean stairs or furniture, you might prefer a portable option, which are ideal for spot cleaning.
Other factors to look at while shopping for a carpet cleaner include water capacity and features. Models with larger water reservoirs can clean for longer without needing to be emptied and refilled, making them better suited for large rooms. Further, some models have additional features such as built-in hand tools, heated drying, stain pretreatment, and more.
How We Selected
To provide carpet cleaners that fit a variety of lifestyles, we looked for the top-rated models in each available style and at a range of price points. I've personally conducted firsthand testing on several of the most popular carpet cleaners available today, and I used my own insights to recommend the best models for different situations based on their real-life performance. Additionally, we took into account factors such as brand reputation—for instance, Hoover, BISSELL, and Rug Doctor are the three most trusted carpet cleaning manufacturers—features, weight, water reservoir capacity, and overall value.
Advertisement – Continue Reading Below
1
Best Overall
Hoover Power Scrub Deluxe Carpet Cleaner Machine
Hoover
amazon.com
$129.99
Key Specs:
Weight: 18.1 pounds
Power: Corded
Tank Capacity: 1 gallon
Included: 8-foot hose, stair tool, upholstery tool, crevice tool, and sample bottle of carpet-cleaning solution
You'll be hard-pressed to find better value and performance than the Hoover Power Scrub Deluxe Carpet Cleaner. It has a large 1-gallon capacity that lets you clean larger areas, as well as the brand's HeatForce technology, which uses hot air to dry rugs faster. 
The carpet cleaner removes dirt and stains with its 360-degree brushes, and it even comes with several additional tools to help you clean stairs, furniture, and crevices. The unit comes with a sample bottle of cleaning solution, and the brand offers several formulas for stain removal, pet odors, and more.
Great value
Easy to use
Several attachments included
Uses a lot of cleaning solution
2
Best Heavy-Duty
Rug Doctor Mighty Pro X3 Commercial Carpet Cleaner
Rug Doctor
amazon.com
$599.00
Key Specs:
Weight: 39 pounds
Power: Corded
Tank Capacity: 3.9 gallons
Included: 48-ounce cleaning solution
You'll get maximum cleaning power from the Rug Doctor Mighty Pro X3, a commercial-grade carpet cleaner. This heavy-duty model weighs 39 pounds and can hold close to 4 gallons of water, and it features triple-action vibrating brushes that remove more dirt from your rugs on each pass. There are jets that spray cleaning solution deep into carpet fibers, and the unit's powerful suction helps to remove more water for faster drying times. 
This model has a gold rating from the Carpet & Rug Institute for soil removal, but it's extremely expensive, heavy, and bulky.
Superior cleaning performance
Includes full-size cleaning solution
Expensive
Hand tool sold separately
3
Best Portable
BISSELL SpotClean ProHeat Portable Spot and Stain Carpet Cleaner
Bissell
amazon.com
$133.89
Key Specs:
Weight: 9 pounds
Power: Corded
Tank Capacity: 37 ounces
Included: 3-inch tough stain tool, deep stain tool, HydroRinse self-cleaning hose tool  
For occasional spot cleaning, the BISSELL SpotClean ProHeat Portable Carpet Cleaner is a top choice. This compact unit weighs just 9 pounds, and unlike many full-size models, it actually maintains water temperature during cleaning for more efficient stain extraction. 
It has a 3-inch hand tool that works well on stairs, upholstery, and even in cars, and the compact size is much easier to store than a full-size carpet cleaner. Plus, this model comes with a self-cleaning hose tool that helps to flush dirt, hair, and odors out of the machine after use.
Compact and lightweight
Maintains water temperature
4
Best for Pets
Bissell ProHeat 2X Revolution Max Clean Pet Pro Full-Size Carpet Cleaner
Bissell
amazon.com
$299.90
Key Specs:
Weight: 18 pounds
Power: Corded
Tank Capacity: 1 gallon 
Included: 3-inch tough stain tool and 2-in-1 pet upholstery tool
The BISSELL ProHeat 2X Revolution Pet Pro is specifically designed for households with pets, and it helps to remove even the toughest stains and odors from carpets. The full-size unit has two modes—express clean, which dries faster, and max clean, which cleans deeper into carpets—and there's a "CleanShot" pretreatment pedal that delivers a concentrated blast of cleaning solution onto stains. 
This carpet cleaner has a low-profile foot that makes it easy to maneuver around furniture, and the brush roll cover comes off, allowing you to clean the machine more thoroughly after use.
Two cleaning modes
Pretreatment feature
5
Best Lightweight
Hoover PowerDash Pet Compact Carpet Cleaner
Key Specs:
Weight: 13 pounds
Power: Corded
Tank Capacity: 0.5 gallons
Included: Hoover nozzle cleanout tool and Hoover trial-size solution
Many carpet cleaners are quite heavy, and the Hoover PowerDash is one of the lightest full-size models available, weighing just 13 pounds. The simple design has a 0.5-gallon water tank and a separate compartment for dirty water, and its antimicrobial brush roll helps lift pet hair out of rugs while protecting against odors. 
This carpet cleaner uses hot air to help rugs dry faster, and its compact design is easy to store in a closet. It even comes with a nozzle cleanout tool to make maintenance a breeze.
Lighter weight
Compact form
6
Best Cordless
BISSELL Pet Stain Eraser Cordless Portable Carpet Cleaner
Bissell
amazon.com
$97.84
Key Specs:
Weight: 4.6 pounds
Power: Cordless
Runtime: 15 minutes
Tank Capacity: Two trial-size formulas
You can clean anywhere with the BISSELL Pet Stain Eraser Portable Carpet Cleaner, which has a convenient cordless design. The battery-powered unit is compact and weighs just 4.6 pounds, and it can run for up to 15 minutes per charge. 
The handheld carpet cleaner uses a cleaning formula that can be stored inside the machine, meaning it's always ready to use, and its cord-free design is ideal for spot cleaning around your home, as well as in a car or other areas where plugs aren't available.
Cordless design
Lightweight
7
Best Budget
Resolve Pet Expert Easy Clean Carpet Cleaner
Resolve
amazon.com
$18.97
Key Specs:
Weight: 1.4 pounds
Power: Manual
Included: 22-ounce foam can
If you don't mind putting in a little elbow grease, the Resolve Pet Expert Carpet Cleaner is an inexpensive manual option that can be used to remove stains from carpets. It features a small scrub head and a can of cleaning foam, and all you have to do is pull the trigger to dispense the cleaning solution onto your floors. 
This carpet cleaner works with either Resolve Pet Expert Heavy Traffic Traffic Foam (included) or Resolve Heavy Traffic Foam, and each 22-ounce can is able to clean up to 50 square feet. Once you've scrubbed the stains out of your carpet, you simply vacuum over it to remove any residue.
Inexpensive
Lightweight and compact
Manual scrubbing
Not effective for large areas
8
Best for Furniture
Rug Doctor Pet Portable Spot Cleaner
Rug Doctor
amazon.com
$189.00
Key Specs:
Weight: 19 pounds
Power: Corded
Included: 8-ounce cleaning solution
Carpet cleaners also work well on upholstery, and the Rug Doctor Pet Portable Spot Cleaner is ideal for removing stains and odors from your furniture. This portable model features a dual-action pet tool with rubber bristles that excel at removing pet hair and dirt from upholstery, and it also features stronger suction than other similarly sized models, leaving your furniture drier after washing. 
This model is mounted on carpet-friendly wheels and has a retractable handle for easy transport, and it comes with a small bottle of cleaning solution, as well.
Dual-action power tool
Powerful suction
9
Best Steam Cleaner
McCulloch MC1375 Canister Steam Cleaner
McCULLOCH
amazon.com
$169.99
Key Specs:
Weight: 10.8 pounds
Power: Corded
Tank Capacity: 48 ounces
Included: Two extension wands, large mop head, jet and angled nozzles, scrapper, triangle brush, large brush, bristle brush, brass utility brush, two nylon utility brushes, round brush, microfiber mop mad, scrubbing mop pad, two round scrub pads, storage bag, accessory net, fill cup
You can use a steam cleaner, such as the top-rated McCulloch Canister Steam Cleaner, to sanitize carpets and remove stains without the use of chemicals. This appliance uses hot, pressurized steam to remove grease and stains from a wide range of surfaces, and it comes with a wide variety of tools that allow you to clean carpets, upholstery, and more. 
It can run for up to 90 minutes with a full tank of water, and it features a variable steam control dial that lets you adjust the flow to suit the task at hand. Plus, the steam cleaner has a 10-foot steam hose that allows you to access hard-to-reach areas.
Chemical-free cleaning
Wide range of attachments
This content is created and maintained by a third party, and imported onto this page to help users provide their email addresses. You may be able to find more information about this and similar content at piano.io
Advertisement – Continue Reading Below
Most Related Links :
Business News
Governmental News
Finance News