News
The Best Dryers, From the Basic to the Tricked-Out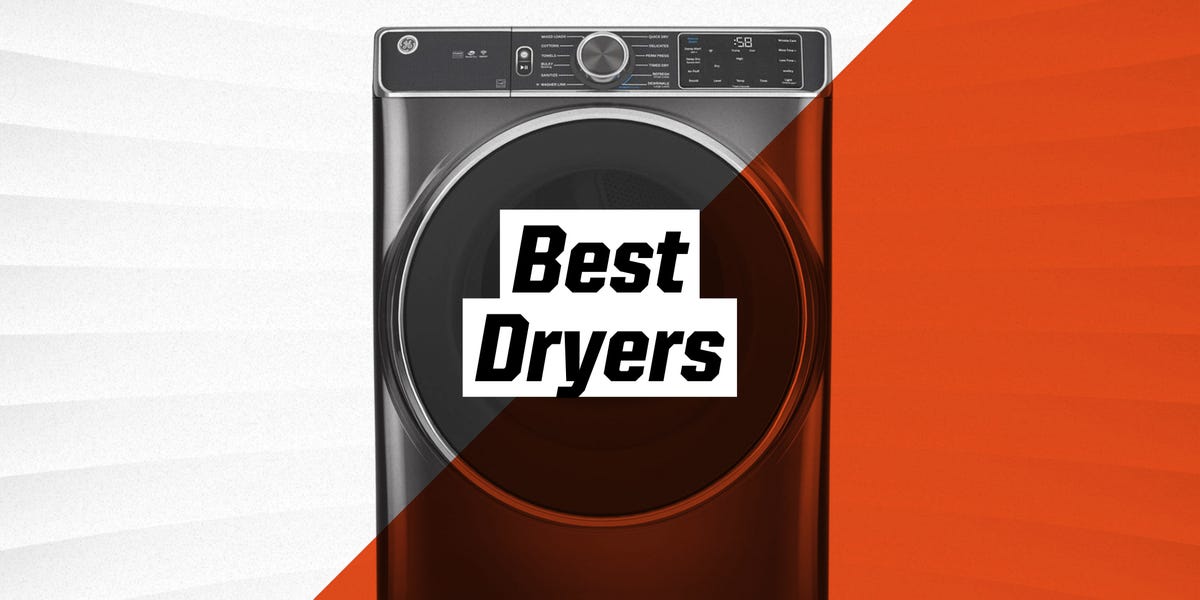 A good dryer is just as important as a washing machine when it comes to getting your clothes clean, soft, and free of wrinkles. While it may seem to be one of the more basic appliances you will purchase in your lifetime, narrowing down just what you want and need can help keep the dryer in your price range and make sure that it fits in with your daily life, whether you're looking for a compact version, smart controls, or a germ-beating steamer. Check out this list of some of the most highly rated models to help choose the clothing dryer that's right for you.
How to Choose a Dryer
The most important thing to consider when buying a new dryer is whether you want it to run on gas or electricity. Gas dryers will require a gas line hookup, naturally, and electric dryers need a 208-volt connection. If you have the choice, we suggest considering a gas model, which can be a bit more expensive up front but will save you money in the long run. Long-time Popular Mechanics Test Editor Roy Berendsohn suggests: "Shop on the heavier duty end of the spectrum (at least, if you're washing and drying clothing for more than one person). Next, simpler is better with all appliances. Fewer bells and whistles means fewer parts to break. I've never seen a garment that a basic washer can't wash or a basic dryer can't dry."
Most dryers will also require proper venting, meaning that unless it's already built into your house or apartment, the installation of a dryer may require some construction so that moisture and heat can be safely removed from the home. Should you not have proper venting, or not wish to install it, you can get a ventless dryer that collects excess water in a chamber that must be emptied after use. "Pay attention to the dryer vent," suggests Berendsohn. "Buy yourself a dryer vent cleaning kit and clean the dryer vent before moving the new dryer into position. A dryer can only dry properly if it has sufficient air to move, and it can't move that air if the vent is blocked. Also, clean the vent at regular intervals depending on how much laundry you do. I clean my dryer vent every four months."
Finally, you will want to consider energy efficiency. One of the easiest ways to boost this is with a heat pump. Heat pumps take the moist air from inside the dryer, pull out the moisture, and send the hot air back in. This helps to significantly decrease the amount of energy used because it reuses hot air rather than pushing it all out and needing to create more. If you want to see exactly how much energy your dryer will use, look to the yellow label, which will also tell you how much it will cost you to run and how it compares to others in the market before you buy.
How We Selected these Dryers
To find the best options among the many dryers out there, we used our decades of experience testing and evaluating appliances, our deep familiarity with trusted brands, and our understanding of what you should look for—and avoid—when making a purchase. We took into account their efficiency, energy use, and cost. Then we researched ten expert sources, such as The Strategist, Good Housekeeping, and The Spruce, and over 15,000 customer reviews on the retail sites of Walmart and Home Depot. Those customer reviews helped us calculate our Consumer Score, which represents the percentage of people who bought the dryers and rated them at least four out of five stars.
Maytag MEDC465HW
Consumer Score: 94% gave it 4 stars or more
Roomy, practical, and affordable, this vented Maytag is a great option for those after an electric model. It features advanced moisture-sensing technology, which makes sure that every load is fully dried without continuing to blast it with heat and wasting energy. While this model doesn't have any particularly high-tech accessories, it comes with extremely good ratings by customers who love how quietly it runs, how easy it is to use, and its energy efficiency. 
Amana NED4655EW
Consumer Score: 90% gave it 4 stars or more 
If you're looking for a more affordable option, this 6.5-cubic foot Amana is a popular choice. It certainly is not the fanciest model out there, but it is reliable and a decent size for the price—it can easily dry average loads. It has 11 different cycles so you can find the ideal setting for everything from small delicates to large, fluffy towels. The wrinkle-prevention setting mitigates the need to iron, and customers appreciated that this is a basic, affordable model where you aren't paying for bells and whistles you might not use.
GE GFD85GSPNDG
Consumer Score: 95% gave it 4 stars or more
A stackable dryer like this one can save you significant space in your home.  In addition to the small footprint, it has a sleek, futuristic design and features some high-tech functions, like cycles designed to steam out wrinkles, reduce static, and sanitize with high heat. This is also a "smart dryer," which means you can control and monitor it from your mobile device. The most exciting smart feature, however, is that you can sync it to a compatible smart washer, so that once your wash load is done, the dryer will be automatically set to the correct cycle for whatever type of garments or cloth just went through the spin cycle.
GE GTD65EBSJWS
Consumer Score: 92% gave it 4 stars or more  
It's not hard for a dryer to be the appliance that consumes the most energy in your home. But this GE model is focused on saving energy while still drying quickly and efficiently. It does this by drying clothes faster, using tech that GE appropriately calls QuickDry, and faster drying equals less energy consumption. This dryer is also a smart appliance, connecting via Wi-Fi to virtual assistants like Amazon Echo and Google Assistant, which will let you know when your load is done. To make sure you get the right dry every time, it uses a heat sensor to monitor moisture and temperature as it dries. 
GE GUD27ESSMWW
Consumer Score: 87% gave it 4 stars or more 
If the price of this GE causes you to balk, first know that it's only among the most expensive here because this is a combo washer-dryer. It features a central panel, which controls both. Despite being a stacked model, each part still has decent capacity, with more than enough room for a single person's or small family's worth of laundry. The washer has 11 different cycles to give you options for every type of load, and the dryer is basic but works quietly and efficiently. 
Samsung DVG60M9900V
Consumer Score: 82% gave it 4 stars or more 
Most of us don't have the time or energy to air-dry our delicates, but lazily tossing lingerie and sweaters into the dryer can shrink and even ruin them. This gas dryer has a special compartment for delicates at the top that keeps them separated from the rest of your laundry, preventing them from getting tumbled with everything else. It also features steam to de-wrinkle, refresh, and sanitize, plus multiple fabric, dryness, and temperature settings. Due to the unique delicate dryer, this model is not stackable, so you will want to make sure you have enough room for both washer and dryer to sit side by side.
This content is created and maintained by a third party, and imported onto this page to help users provide their email addresses. You may be able to find more information about this and similar content at piano.io
Most Related Links :
Business News
Governmental News
Finance News