News
The Best HDMI Splitters and Switches for 2021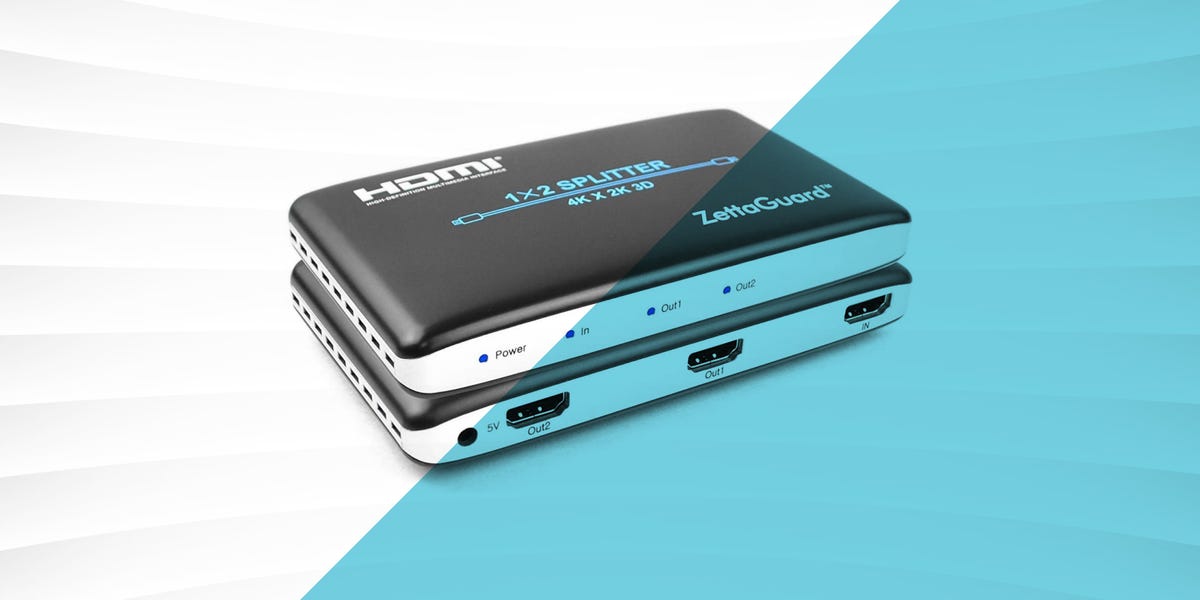 Staff, Courtesy of ZettaGuard
Like many things in life, an HDMI splitter is one of those items you never knew you needed until you get one, then you wonder how you ever lived without one. With many professional and personal applications, an HDMI splitter allows you to send one content source to multiple displays. This can be useful if you, say, run a sports bar—or if you simply want to use multiple screens for some multiplayer gaming.
A splitter is not to be confused with a switch, which although similar, does the exact opposite: it allows you to switch between multiple content sources on one display, which can be useful if your TV doesn't have enough HDMI inputs for all your devices. Whichever you are looking to purchase—a splitter or a switch—we've included a number of choices below to help you find the one that is right for you.
What to Consider
There are a number of factors that you want to think about, the first being splitter or switch. If you're going from one source to multiple displays, you want a splitter. If you are connecting multiple content sources to one display, you need a switch. Once you have that nailed down, you'll want to consider the following.
Inputs and outputs
Before you purchase your splitter or switch, be sure you know how many inputs and outputs you will need. Both splitters and switches come in numerous configurations so you should be able to easily find the one that's right for you.
Resolution
You'll want to be sure that you're not sacrificing picture quality by using a splitter or switch. Make sure your new device will support the highest resolution that you will need for your devices. Also, some devices have specific requirements of which you'll want to be aware. For example, you'll need a splitter/switch that supports 4K at 60Hz in order to use it with a Playstation 4 Pro.
Power source
While many splitters and switches don't require an external power source, others do. Be sure you'll have an available outlet if that's the case.
How We Selected
We sorted through many reviews from reputable sources such as Tom's Guide, Lifewire, Best Products, and The Strategist to find the best splitters and switches available. Taking price, specs, and uses into consideration, we devised the list below to help you pick out one that will work with your setup and content sources.
Advertisement – Continue Reading Below
1
Best Overall Splitter
Orei HDS-108 HDMI Splitter
Key Specs
Outputs x Inputs: 1×8
Resolution: 4K
If you're looking to output to a large number of displays or simply wish to futureproof your HDMI splitter purchase, the Orei HDS-108 is a solid choice. It supports several Dolby audio formats and can output 4K content at 30Hz to up to eight devices, while the lighting panel on the back will help you keep track of which ports are in use. 
It's a good option for sports bars and other businesses, as well as home enthusiasts, but if your needs are more modest, Orei also makes top-rated splitters in 1×4 and 1×2 configurations.
Supports 4K
Large number of ports
Doesn't work with cables longer than 30 feet
No remote
2
Best Budget Splitter
Zettaguard ZW120 HDMI Splitter
Zettaguard
amazon.com
$15.99
Key Specs
Outputs x Inputs: 1×2
Resolution: 4K
If you don't need to output your source content to more than two displays, then the Zettaguard ZW120 is an excellent affordable option. 
It delivers 4K and 2K content at 30Hz and 1080p content at 120Hz. It also supports most audio formats, and is equipped with built-in vents to prevent it from overheating. 
The ZW120 measures just 3 by 5.25 by 0.75 inches, so it will fit discreetly next to your displays. But its best feature is its price tag; it costs less than $20. If you need more outputs, there is a 1×4 edition for just slightly more.
3
Most versatile
Gana Bidirectional HDMI Splitter
Key Specs
Outputs x Inputs: 1×2 or 2×1
Resolution: 4K
If you're not sure whether you should get an HDMI splitter or switch, this inexpensive device from Gana gives you the best of both worlds. It is capable of outputting 1 source to two displays or the opposite, two sources to one display. 
However you use it, you'll get 4K and 2K content at 30Hz and support for most audio formats. Better yet, at about 2 inches square, it is ultra-compact. It's also very inexpensive and doesn't require an external power source. All in all, it is a great solution for those looking for some flexibility in their streaming setup.
Doesn't support 4K at 60Hz
4
Best Overall Switch
Kinivo 550BN HDMI Switch
Key Specs
Outputs x Inputs: 5×1
Resolution: 4K
A switch is a smart solution if you have numerous devices that you want to connect to your TV as it allows you to alternate between devices without having to physically swap out your HDMI connections if your TV doesn't have enough HDMI inputs to accommodate everything. 
This one from Kinivo boasts five inputs so it should be able to handle all your device demands. It is also capable of delivering 4K content at 60Hz and supports HDR and Dolby Vision so you won't give up any picture or audio quality, no matter how many sources you plug into it.
4K at 60Hz
Plenty of inputs
Auto switching
5
Best Budget Switch
Gana HDMI Switch
Key Specs
Outputs x Inputs: 3×1
Resolution: 4K
If you want an inexpensive switch that will let you alternate between input sources to your TV, the Gana HDMI Switch is a great low-cost option. It comes with an HDMI cable included and can accommodate up to 3 inputs. 
This ultra-compact switch needs no external power source and delivers 4K content at 30Hz with 12-bit color and supports most Dolby audio formats. You will have to manually push a button to switch between inputs, but at such a low price, it's a small sacrifice to make.
This content is created and maintained by a third party, and imported onto this page to help users provide their email addresses. You may be able to find more information about this and similar content at piano.io
Advertisement – Continue Reading Below
Most Related Links :
Business News
Governmental News
Finance News