News
The Best Wine Fridges for the Perfect Glass of Vino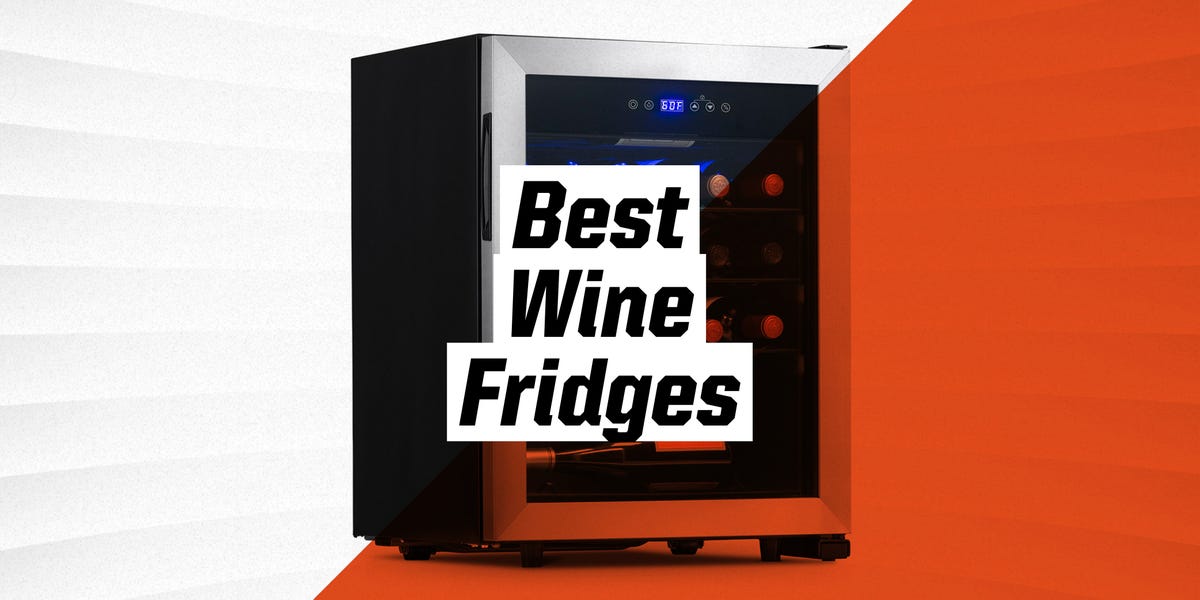 Every good wine connoisseur knows that vino is best when stored at temperatures between 45 and 65 degrees F (depending on the wine). But when you have a collection of bottles and no optimal place to store it, you may end up stashing it in places that are too cold (your fridge) or too hot (direct sunlight). Though you certainly don't need a wine fridge to indulge in the beverage, a properly chilled glass of wine amplifies the experience so you can feel like you're partaking in a tasting at your local vineyard while relaxing in the comfort of your own home. Whether you need space for five bottles or 250, we've rounded up some of the best wine fridges available to help keep your wine fresh, delicious, and ready to drink at just the right temp—because it's always happy hour somewhere.
Buying Advice

Choosing a wine fridge is really quite straightforward, but there are a few important elements you will want to pay attention to when deciding which is the best for you and your home. Consider these three things before adding to your cart and proceeding to the checkout.
Size: This is a two-part question. First, you'll want to consider how much room the wine fridge will take up in your home and if your space can accommodate it. Second, you'll want to consider the wine fridge's internal capacity, or how many bottles it can hold. Most smaller fridges can hold up to 50 standard 750ml bottles. If you're hoping to store more than that, you may have to invest in an almost full-size fridge, which will significantly increase the price.
Temperature zones: Wine fridges are typically designed with either a single temperature zone or a dual temperature zone. A single-zone wine fridge means just that. It can be set at only one temperature—meaning your chardonnays won't mingle well with your cabernets. If you're willing and able to dish out a little more dough, though, a dual-zone fridge allows you to set two separate temperatures within a single unit, so you can store your reds and whites at the proper temperatures without having to sacrifice one for the other.
In-Unit or Standalone: Some wine fridges are designed to be installed under a countertop, just like a dishwasher. If you aren't willing to give up cabinet space or don't want the fridge in your kitchen, go with a standalone unit, which can be placed anywhere there's an electrical outlet. Note that while all in-unit wine fridges can essentially work as standalones, not all standalones can work as in-unit models, so make sure you know where you plan on placing the fridge before committing.
How We Chose These Products
To find the best options among the many wine fridges out there, we used our decades of experience testing and evaluating appliances, our deep familiarity with trusted brands, and our understanding of what you should look for—and avoid—when making a purchase. We took into account their capacity, cooling features, aesthetics, and cost. Then we researched 10 expert sources, such as Business Insider, The Wirecutter, and The Spruce, and more than 3,000 customer reviews on the retail sites of Amazon and Wayfair. Those customer reviews helped us calculate our Consumer Score, which represents the percentage of people who bought these wine fridges and rated them at least four out of five stars.
---
Best Value Standalone
NutriChef PKCWC150 15-Bottle
NutriChef
amazon.com
$273.89
Consumer Score: 90% of customers gave it 4 stars or more 
Wine fridges can be expensive, but this standalone option lands on the more affordable side at under $300. It can fit up to 15 bottles, features both horizontal and standing racks, and has a single-zone temperature range of 41 to 64 degrees F. Interior LED lights let you easily see—and select—the wine of your choice. If you find yourself in a hurry to start sipping and forget to properly close the door, no worries—the airtight door seals automatically. 
Sleek, Modern Design
NewAir 29-Bottle Dual-Zone Freestanding
NewAir
wayfair.com
$599.00
Consumer Score: 94% of customers gave it 4 stars or more 
A slightly larger option than the NutriChef, this wine fridge can still fit neatly under a counter (note that it can also stand by itself). But this one can hold up to 29 bottles and has dual-zone temperature settings—from 40 to 66 degrees. The sleek design, with stainless steel exterior and adjustable wooden racks, blends well with modern kitchens.
Has a Locking Door
Frigidaire Gallery FGWC5233TS 52-Bottle
Frigidaire Gallery
homedepot.com
$602.00
Consumer Score: 84% of customers gave it 4 stars or more 
This fridge can hold up to 52 bottles yet, astonishingly, doesn't take up much more space than a typical dorm-room fridge. It can be installed under a counter or placed anywhere as a freestanding unit. It's a single temperature zone fridge—from 41 to 64 degrees F—with wooden racks that slide out for easy access. It also has a locking door, ideal for keeping nosy little fingers and wine thieves from dipping into your stash. 
Designed for Bottles and Cans
NewAir 18-Bottle and 58-Can Dual-Zone
NewAir
wayfair.com
$782.97
Consumer Score: 90% of customers gave it 4 stars or more 
No need to fight over fridge space with your craft beer-fanatic partner. This double-door unit has ample space for up to 18 wine bottles and 52 cans. It has dual-zone cooling, which allows you to have different temperatures on either side ranging from 36 to 72 degrees F. It can be installed as a built-in or standalone, and features user-friendly controls on the front for power, temperature, and LED lighting. 
For Serious Wine Collectors
Lanbo 287-Bottle Dual-Zone Freestanding
Lanbo
wayfair.com
$2,399.00
Consumer Score: 88% of customers gave it 4 stars or more 
This fridge is only excessive if you don't have enough wine to fill it. With a 287-bottle capacity, the Lanbo is a great option for serious wine collectors who want the space a wine cellar provides without the cost of building one. A wine fridge this size wouldn't make sense without dual-zone temperature control—this one ranges from 41 to 64 degrees F. It also has tempered glass to keep UV rays from interfering with the quality of the vino. 
For Narrow Spaces
NewAir 7-Bottle Single-Zone
NewAir
wayfair.com
$368.50
Consumer Score: 92% of customers gave it 4 stars or more 
Just because you have a tiny home doesn't mean you have to sacrifice perfectly chilled wine. This slimmed-down, in-unit fridge takes up only six inches of space in width. It can hold seven bottles that are stored horizontally on shelves that roll out. It's a single-zone temperature unit, so pick your poison and store it anywhere between 41 and 65 degrees. 
Small Enough to Sit on a Countertop
NewAir 23-Bottle Single-Zone Freestanding
NewAir
wayfair.com
$246.30
Consumer Score: 88% of customers gave it 4 stars or more 
Another mini option, this fridge can sit on a counter or table, and thanks to its sleek, stainless steel exterior, you won't mind leaving it out in the open. At just under $250, it's an affordable option, and despite being relatively small, it can hold up to 23 bottles. As to be expected of a fridge this small, it has one temperature zone. It also runs very quietly, so keeping it within arm's reach in the living room won't disturb movie night.  
Best Budget Option
Koolatron WC20 20-Bottle
Koolatron
amazon.com
$229.95
$194.99 (15% off)
Consumer Score: 90% of customers gave it 4 stars or more 
If your small wine collection leaves little in the budget for a fridge to store it, this Koolatron 20-bottle fridge is a steal for under $200. It looks more expensive than it is, with a tinted-black exterior that helps keep out UV rays. It has easy-to-use touch controls at the top that allow you to control the temperature and lights. Some customers complained that it ran a bit loud, but if you plan on putting it in a room that's out of the way of your living space, you can't go wrong with the price or performance.
This content is created and maintained by a third party, and imported onto this page to help users provide their email addresses. You may be able to find more information about this and similar content at piano.io
Most Related Links :
Business News
Governmental News
Finance News