News
These Sleek Electric Stoves Are the Kitchen Upgrade You've Been Dreaming Of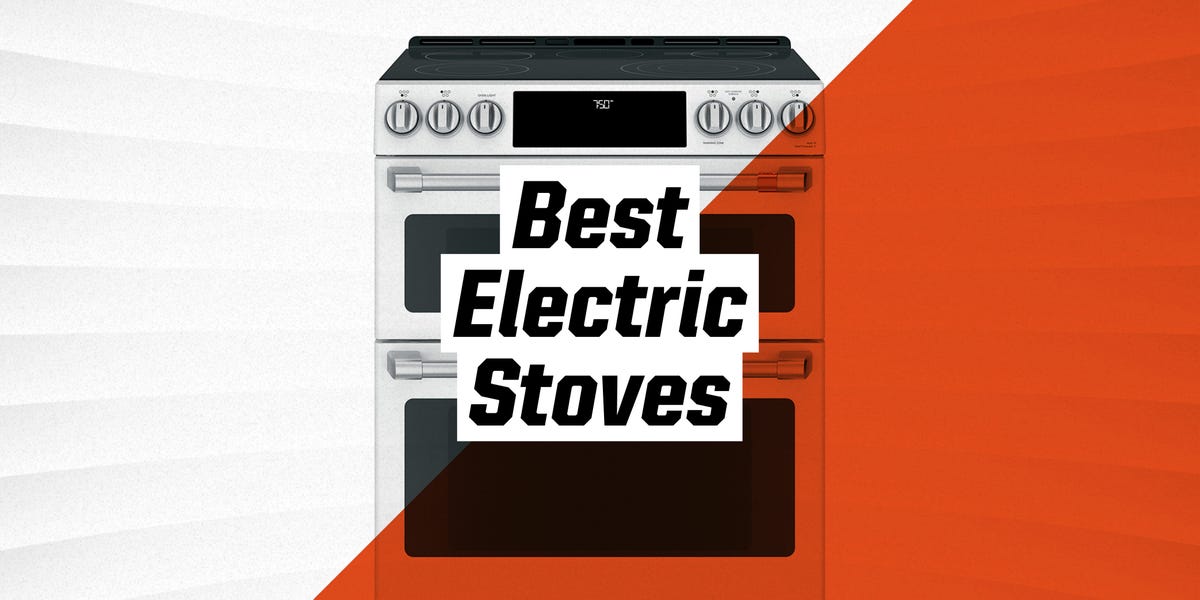 While some people prefer cooking with gas stoves, electric stoves have become the go-to for the majority of households, and it's easy to understand why. Electric ranges are more straightforward to install—no gas line needed—and often feature flat, easy-to-clean glass-ceramic cooktops. Plus, electric ovens preheat quickly and provide even and consistent heat, which is ideal for anyone who loves to bake. Today, electric stoves or ranges come in a wide range of sizes and styles, and many models even have high-tech features such as convection baking, air frying, and/or Wi-Fi connectivity. These stoves make a great addition to any kitchen, as they're versatile, reliable, and often quite affordable, too.
What to Consider
There are several key factors to think about as you shop for an electric stove. First, you'll need to decide on a size and style—the standard width for ranges is 30 inches, but there are larger and smaller models that might fit your space better. Additionally, there are several styles of electric ranges available, including freestanding options, which typically have finished sides and back guards; slide-in models, which are designed to sit between cabinets for a seamless appearance; and drop-in ranges, which require a custom cabinet base for installation.
Other choices you'll need to make include whether you prefer a glass-ceramic or coil cooktop (select models even offer induction cooktops) and if you want a single or double oven. There are also many additional features you may want to look for, including smart functionality, convection cooking, a warming drawer, and more.
How We Selected
While compiling this list of the best electric stoves, we looked for top-rated models in all the various categories listed above—freestanding, slide-in, smart, and so on. The appliances we chose are proven to be reliable and efficient, receiving praise from a large number of reviewers, and they're sold by manufacturers that back their products with substantial warranties and good customer service. Many of the stoves also feature the latest technology that makes cooking faster, easier, and more enjoyable. Finally, we looked for stoves at several price points, allowing you to find a model that fits your budget without compromising quality.
Advertisement – Continue Reading Below
1
Best Freestanding Range
30-Inch, 5.3-Cubic-Foot Freestanding Electric Convection Range
GE Appliances
wayfair.com
$953.10
This freestanding electric range from GE has a spacious oven, five burners on a glass-ceramic cooktop, and a modern appearance, all for a moderate price. It also comes in several different finishes, including fingerprint-resistant options, to match your other appliances. 
Despite its reasonable price tag, the oven boasts a number of high-end features, including a convection oven, fifth element-warming zone on the stovetop, rapid preheating, air-frying, and a steam-powered self-cleaning mode. The oven has three adjustable racks, and there's a storage drawer at the bottom of the unit where you can stash pots and pans.
Reasonable price
Numerous features
Five burners
Air-frying rack sold separately
2
Best Slide-In Range
30-Inch, 5.3-Cubic-Foot Slide-in Electric Range
GE Appliances
wayfair.com
$1,358.10
You'll be able to show off your kitchen backsplash with this slide-in electric range, which has controls on the front panel, eliminating the need for a backguard. The stove has a sleek modern design that comes in several popular metallic finishes, and it also has handy features such as dual baking elements and two Power Boil burners that boil water 25 percent faster. 
While it is a slide-in model, the stove has finished sides that give you more flexibility with installation. The ceramic-glass cooktop has four burners, and the oven includes two racks. Additionally, the oven has a proofing mode for bakers, a self-cleaning setting, and a full-width storage drawer at the bottom.
Finished sides
Multiple finishes
3
Best Narrow Range
24-Inch, 2.9-Cubic-Foot Freestanding Electric Range
Haier
wayfair.com
$1,169.10
This freestanding electric range from Haier has a narrow 24-inch width that makes it a top choice for smaller homes or apartments. Despite its compact form, it still offers many of the same conveniences as large stoves, including four smooth-top burners, convection cooking, a Quick Boil element, and a lower storage drawer.
It has a smaller 2.9-cubic-foot oven with two racks, and a hidden baking element makes the cavity easier to clean. While it is a freestanding model, the stove has front controls and a removable backguard, giving it the appearance of a slide-in model.
Compact design
Numerous features
4
Best Oversized Range
36-Inch Freestanding Electric Range
Verona
wayfair.com
$3,399.00
If you have a spacious kitchen or frequently cook large meals, the Verona N-Series Freestanding Electric Range has an oversized 36-inch design that boasts a double oven and five burners on its porcelain cooktop. The larger oven has a 2.4 cubic foot capacity and the smaller is 1.5 cubic feet, and both offer two racks, European convection, and broiling capabilities.
The Verona range has a central dual burner that's able to accommodate large stock pots, and it features a 2-inch blackguard with front controls. The appliance has a full-width storage drawer and adjustable stainless steel legs, as well.
Two convection ovens
Five burners
5
Best Drop-In Range
30-Inch, 4.4-Cubic-Foot Drop-In Electric Range
GE Appliances
wayfair.com
$1,574.10
If you have the cabinetry for a drop-in stove, this electric model from GE is highly regarded for its reliable performance. It comes in three finishes and has four burners that you control via a front control panel, and it even includes an optional backguard. 
The drop-in stove has a smoothtop cooking surface, and while its oven is a bit smaller than a traditional range, it still has two adjustable racks and a broiler. This appliance doesn't have too many fancy features, but it does include a rapid preheat option, a Power Boil element, and a self-cleaning setting.
6
Best Double Oven
30-Inch, 6.7-Cubic-Foot Smart Slide-in Electric Range
Café
wayfair.com
$3,288.10
This slide-in electric range from Café has a double oven with an extra-large 6.7-cubic-foot capacity, making it the most spacious option on this list. The two ovens can be operated simultaneously using independent settings, and they both have true European convection, as well.
The attractive range comes in a wide variety of finishes, and it has four burners on its edge-to-edge glass cooktop. This appliance is equipped with a large number of advanced features, including a temperature probe in the oven, Wi-Fi Connect for remote control, rapid preheating, steam cleaning, and more. 
Stylish design
Double ovens with convection
Many useful features
7
Best Budget Pick
30-Inch, 5-Cubic-Foot Freestanding Electric Range
GE Appliances
wayfair.com
$404.65
You can outfit your kitchen on a budget with this freestanding electric range from GE. The no-frills appliance has coil burners and limited features, but it still performs reliably, earning praise from reviewers. The stove has four burners and dual bake elements in the oven, providing more even cooking, as well as a full-width storage drawer at the bottom. 
Plus, the cooking elements have Sensi-Temp Technology, ensuring they meet safety standards for electric ranges while still delivering the power you want from a cooktop.
Simple design with few features
8
Best Smart Range
30-Inch, 6.3-Cubic-Foot Smart Slide-in Electric Range
Samsung
wayfair.com
$1,619.10
The Wi-Fi connectivity offered by this electric range allows you to control and monitor the appliance right from your smartphone, and it's also compatible with smart home hubs such as Amazon Alexa, Google Assistant, and Samsung SmartThings. The slide-in range has five burners on its glass-ceramic cooktop, as well as a spacious 6.3-cubic-foot convection oven with two racks. 
The range has a hidden bake element in the oven for easy cleaning, and the stovetop features two dual elements, a Quick Boil burner, and a warming burner. It also offers air frying, a proofing mode, keep-warm setting, rapid preheat, and more.
Wi-Fi-connected and smart hub-compatible
Wide range of features
Spacious oven with convection
This content is created and maintained by a third party, and imported onto this page to help users provide their email addresses. You may be able to find more information about this and similar content at piano.io
Advertisement – Continue Reading Below
Most Related Links :
Business News
Governmental News
Finance News