Sports
Fantasy football Week 1 review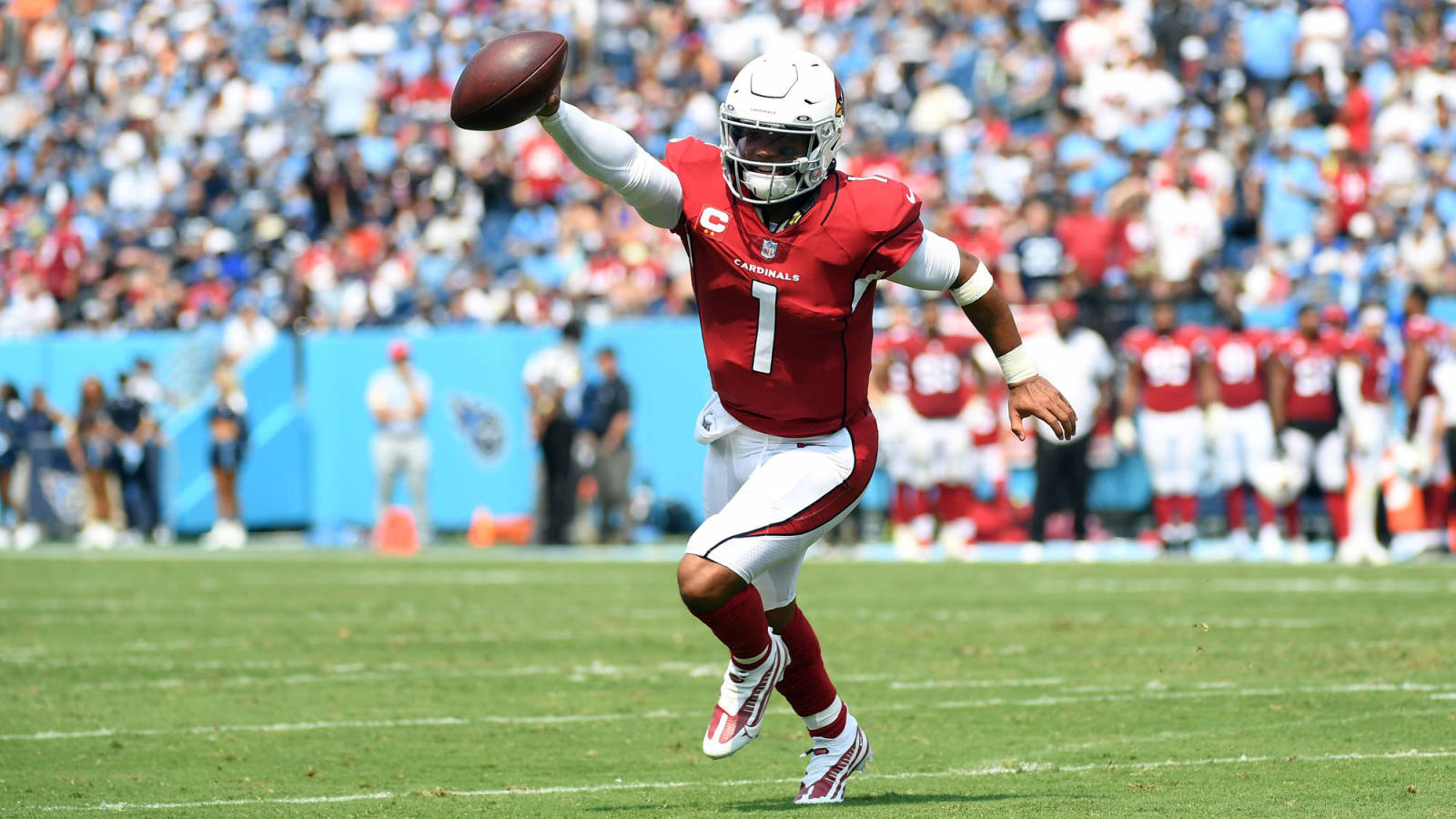 Stars of Week 1
QB: Kyler Murray, ARI: 21-32, 289 yards, 4 TDs, 1 INT (Plus 1 rushing TD)
RB: Joe Mixon, CIN: 29 carries, 127 yards, 1 TD
WR: Amari Cooper, DAL: 13 catches, 139 yards, 2 TDs            
TE: Rob Gronkowski, TB: 8 catches, 90 yards, 2 TDs
Arizona Cardinals QB Kyler Murray led all signal callers in Week 1, dicing up the Titans' secondary with four TD tosses, while adding another TD on the ground. Murray's comfortably a top-5 QB this year and a weekly must-start.
While much of the attention directed toward the Cincinnati Bengals rests with the passing game, don't forget about running back Joe Mixon. His talent has exceeded his production thus far in Mixon's career, but if he can stay healthy, this could be the year where he puts up top-5 numbers. 
The Dallas Cowboys–Tampa Bay Bucs league opener featured a smorgasbord of fantasy impact players, with Amari Cooper outdueling teammate CeeDee Lamb as the top performer at wide receiver. Cooper found the end zone twice while hauling in 13 passes from a better-than-ever looking QB Dak Prescott. Cooper remains a top 15 WR option and a weekly must start. 
We wrap up with tight end honors, with an old name – and likely GOAT at the position – leading the way. Gronk scored twice while catching eight balls for 90 yards, reminding us of how special of a connection he retains with the overall GOAT, QB Tom Brady. Despite his Week 1 performance, Gronk remains a high-end TE2 as opposed to a weekly starter. The Bucs are loaded with pass catchers, and Gronk is likely fourth in the pecking order. So he'll have great performances over the course of the season, but don't expect consistent TE1 performances with enough frequency to merit weekly starter status.
Week 1 Takeaways – A Closer Look
Each week we take a closer look at a handful of performances and sort out what such performances mean going forward.
Jameis Winston, QB – NO: 14-20, 148 yards, 5 TDs, 0 INTs    
Analysis: For the first time since 2005, the New Orleans Saints entered a season with a QB other than Drew Brees as its intended starter. Fantasy managers have familiarity with his successor, as Jameis Winston has long been a household name. Unfortunately Winston's notoriety comes more so from his YOLO approach and interception volume as opposed to his on-field success. Spring forward to fall 2021, following a year of attending Sean Payton QB college, and Winston looks like a new signal caller. In a shocking result, Winston outdueled counterpart Aaron Rodgers en route to five TD passes and a comfortable win. So, has Winston morphed into an improved QB? While it's still early, there's reason to believe so. Winston has been coached to take better care of the football, being okay with living for another play. Now here's the actual key question – has Winston improved as a fantasy QB, in comparison to his Buccaneers days? Too early to make a definitive call, but the thought here is no. Winston lacks the same caliber of weapons in the passing game that he had with the Bucs. Also as fantasy football remains a game of statistical volume, Winston's more cautious approach doesn't help here. So while Winston was a better fantasy QB than real-life QB with the Bucs, he's likely to be the opposite with the Saints. As for the 2021 fantasy season, Winston's a matchup based QB2, with potential for a bump upon WR Michael Thomas' return from the injury list in several weeks. The Saints face the Carolina Panthers, so he's usable if you're in a pinch, but he's not a weekly starter.
– Elijah Mitchell, RB – SF: 19 carries, 104 yards, 1 TD
Analysis: Before we dive in here, just want to say that I feel horrible for San Francisco 49ers RB Raheem Mostert. He has been terrific when healthy, but just can't catch a break from the injury bug. It sounds like Mostert will miss roughly half the season due to a knee injury, so the next man up in Kyle Shanahan's system is prized rookie …Trey Sermon Elijah Mitchell? Yep, Shanahan derives a sick type of joy from confusing the rest of us simpletons with his depth charts. It wasn't until hours before the opening game when we learned that 2021 third-round pick Trey Sermon would be a healthy scratch, while sixth-round pick Elijah Mitchell would be active. After Mostert went down early in the game, Mitchell stepped in and looked the part, crossing the 100-yard mark while finding the end zone once. Mitchell fits quite well in Shanahan's zone wide scheme, making decisive cuts while also serving as a capable pass catcher. Outside of Mostert and Mitchell, JaMycal Hasty was the only other RB to receive a carry – literally receiving one. As for what's next, one can only presume that Mitchell will be the lead ball carrier while Mostert recovers. Both Hasty and Sermon should be in the mix for carries, but this appears to be Mitchell's job for now. Note that RB Jeff Wilson also sits on the 49ers' injury list, and he's expected to be back at some point prior to Mostert. Nevertheless, Mitchell's the top waiver wire add for this week, across all positions.
– DeVonta Smith, WR – PHI: 6 catches, 71 yards, 1 TD
Analysis: The NFL has entered into an unprecedented era of wide receiver play, with bumper crops of WRs entering the league each of the last few years. The Philadelphia Eagles snagged one such talented rookie WR this past offseason, landing Alabama alum and Heisman Trophy winner DeVonta Smith. Known as a tactician route runner with smooth hands, football folks had concerns with Smith's perceived slight frame for a WR, six-foot ft and 170 lbs. Well, we're one game into Smith's NFL career, and what made scouts fall in love with him at Bama vividly appeared in the Eagles' game versus the Atlanta Falcons. Quarterback Jalen Hurts targeted Smith a team-leading eight times, hooking up for six catches and 71 yards, including one touchdown. Importantly, Hurts looked the part as well, raising confidence in the Eagles' passing game. It took Smith no time to secure WR1 status for the Eagles, and he should find his way into your fantasy lineups moving forward. Consider Smith a low end WR2 ceiling to a WR3 / flex option floor, depending upon matchups. He's the real deal.
– Brandon Aiyuk, WR – SF: 0 catches, 0 yards, 0 TDs, 0 Targets                                                                       
Analysis: As we circle back to the 49ers here, it's time to pass the torch of most frustrating NFL coach for fantasy managers from Bill Belichick to Kyle Shanahan. In the preseason, Shanahan perplexed the NFL world with his snap by snap rotation of QBs Jimmy Garappolo and Trey Lance. We covered Shanahan making prized rookie RB Trey Sermon a healthy scratch above. Now, we move to the wide receiver position. Rising second year WR Brandon Aiyuk led the 49ers last season across several receiving statistics, and was comfortably the top 49ers' WR off the board in fantasy drafts. Facing a juicy matchup against the Lions, Aiyuk's fantasy prospects looked dashing for Week 1. Instead, we got donuts across the board. Who the what??? And per Pro Football Focus, here's the snap count at WR for the 49ers against the Lions: 
Deebo Samuel 46 
Trent Sherfield 27 
Brandon Aiyuk 26 
Mohamed Sanu 20 
So what happened? Only Shanahan knows, but rumblings indicate that Aiyuk had a hamstring issue that wasn't fully healed, which contributed to his drop in the team's WR depth chart. Sounds like a half-answer rather than a full one. For those of you with Aiyuk on your roster, don't panic, but unfortunately he's unlikely to return his draft day value given Shanahan's mad scientist approach to his team. Instead, Deebo Samuel snared most of the targets, with Trent Sherfield also appearing to edge out Aiyuk in snaps. As a result, Aiyuk needs to find a seat on your bench for the time being, with the hope that he'll return to starting duties at some point in the near future. But adjust his value accordingly…more of a flex ceiling than a WR2 going forward. Please send all 49ers related complaints directly to Shanahan. 
– Tim Patrick, WR – DEN: 4 catches, 39 yards, 1 TD
Analysis: The Broncos have assembled quite a core of pass catchers, with Jerry Jeudy, Courtland Sutton and Ken Hamler at WR and Noah Fant at TE being the most discussed. Unfortunately, injuries were prevalent in Week 1, with Jerry Jeudy among those impacted. Jeudy suffered a high-ankle sprain and will be out for several weeks. Jeudy's injury opens up an opportunity for another solid Bronco WR, Tim Patrick, to carve out a larger role in the passing game. The fourth year Utah alumnus quietly scored six TDs last season to go along with 742 receiving yards in 2020 – he's been productive when given opportunities. Note that Patrick already had his four catches and TD reception (from four targets) in the bag prior to Jeudy's injury, so expect Patrick's targets to increase to the six-to-eight range per game. Also important, Patrick was second in WR snaps for the Broncos per PFF with 46, behind only Sutton's 53. Patrick stands to benefit the most from Jeudy's absence, so go pick up Patrick if you need a WR. The Broncos have a tasty matchup versus the Jaguars next week, and Patrick will be a viable flex option.
Rapid Fire Pickups 
Each week we'll throw out potential free-agent pickups from each position for deeper leagues, in each case 1) someone who has NOT been featured above, and 2) a player available in more than 50% of leagues.
QB:                  Ben Roethlisberger, PIT (vs LV)
RB:                  Tony Jones, NO (@ CAR)
RB:                  James White, NE (@ NYJ)
WR:                 Sterling Shepard, NYG (@ WAS) 
WR:                 Darnell Mooney, CHI (vs CIN)
TE:                  Cole Kmet, CHI (vs CIN)

Most Related Links :
Business News Governmental News Finance News