Sports
How much more can Joel Embiid possibly give to the Sixers?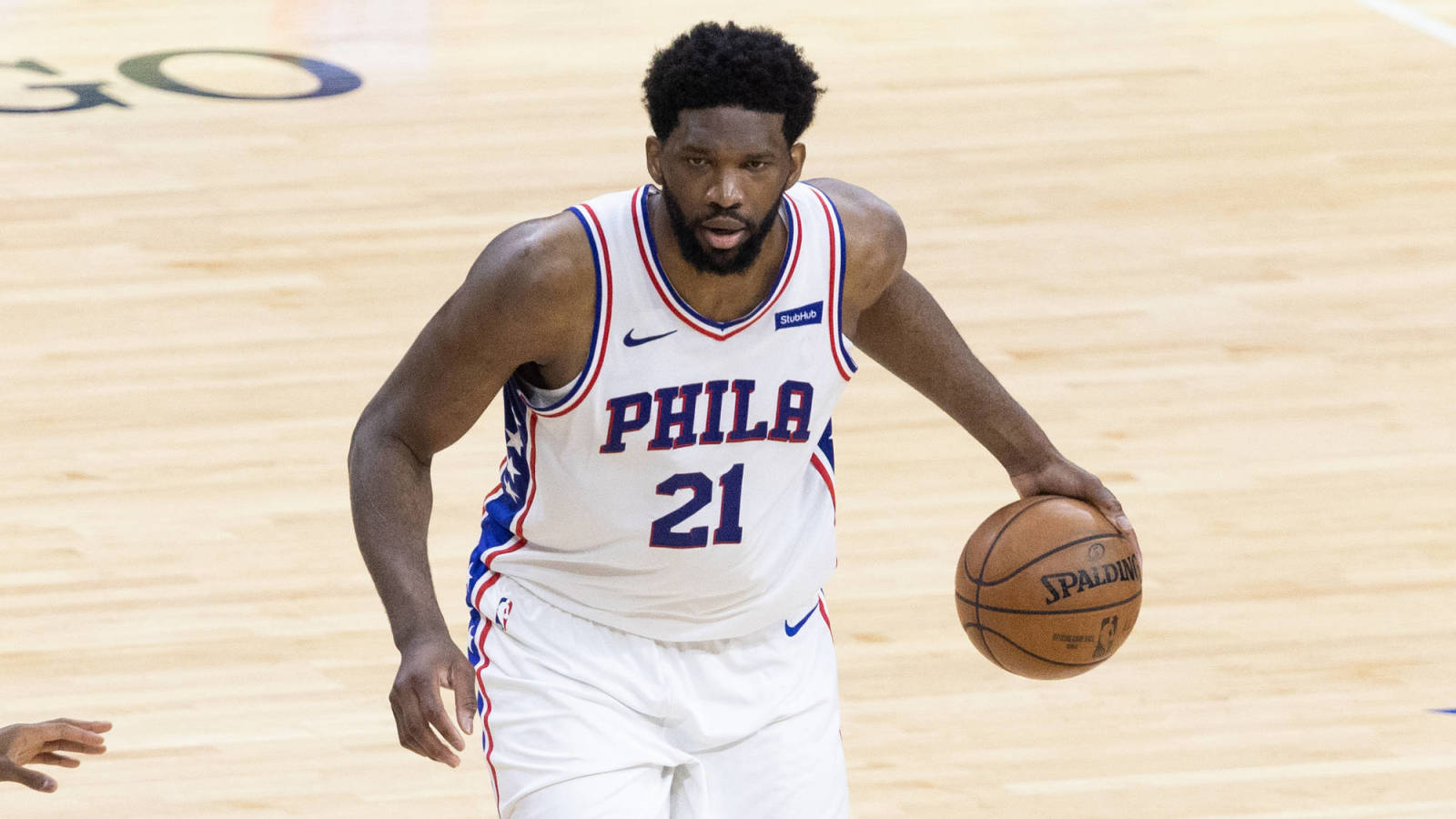 Big men often end up passengers. The great ones put the game where it stands with two minutes to play, but they often spend crunchtime at the periphery of the action, setting screens at the arc, skulking in the corner, calling from the packed post like a body subsumed by a wave, a bobbing arm that merely suggests the rest of the person. Meanwhile, the guards and wings decide the rest of the tilt.
Except in Philadelphia, they don't have any star guards, their wings range from skittish to downright useless in the closing possessions. So they dump the ball to Joel Embiid as close to the bucket as he can catch it, which is usually about 16 feet, and he tries to do the things that Kevin Durant and Giannis Antetokounmpo do, MVP- and title-winning versions of Dirk Nowitzki. He doesn't realize this ambition. He turns it over a lot, whirling into double-teams or exploding rimward and leaving the ball behind. He takes really tough jumpers — turnarounds, baseline faders — he cannot hit with the consistency, sorry, of a generational shooting talent. It doesn't seem like he should be able to make it work from 16 feet, and he kind of doesn't. Hardly anyone blames him for this. He's just describing the limits of what a fella his size can do, at that remove. You can't make seven feet and 280 pounds dance between the raindrops, that is one of the few things Joel Embiid can't do. And yet there he is, some pivotal Game 3, gassed in the spotlight, sharing the court with four ghosts and five defenders. Alright Joel, do the impossible. Clank.
You think Ben Simmons might have ticked him off? A potential late-game pick and roll partner, a slash-and-kicker, a rim-attacker, an off-the-dribble creator, a double team splitter, even just a spot-up option. He could be one or two of those things, so Joel wouldn't have to carry so much, or could do it in greater comfort, or wouldn't have to hope against hope that Tobias Harris or Seth Curry can do it, but Simmons is not the helpful type. Not when it counts, anyway. He's probably a better overall player than C.J. McCollum but McCollum will drain a couple shots at 1:33 and 0:21. If I'd spent the last few years getting whapped like Embiid does, playing on a shoddy meniscus like he did against the Hawks, I'd have gone to the front office and told them I don't care what Ben might be capable of. Get me some help that isn't highly theoretical.
Embiid has probably said something like that. In anger or in earnest or both. Big men are ornery types; it's not hard to see why Hakeem's elegance and Jokic's goofy exuberance are anomalous. When it's such a chore to carry your body up and down the floor, when you're getting leaned on by similarly sized men and mugged by smaller ones — who are strong in their own right — you tend to acquire a melancholic quality, a put-uponness that nobody else truly understands. I wonder if Embiid has ever rung up David Robinson. Admiral, I've got a quick question that only you and maybe nine other people on the planet could speak to… Of course, Sean Elliott shot with conviction. Tim Duncan entered the league without any affect or fear. There are certain aggravations Embiid and Robinson do not share. 
Athlete relationships are difficult to parse, and they're not. Did Bradley Beal and John Wall hate each other? It doesn't matter. They frustrated each other, each one wanted the other to leave town. Beal wanted Wall to work harder, and Wall wanted Beal to respect his eminence. When Embiid tweets that the rift between he and Simmons is a media fabrication — he would be an authority on that, but we do have eyes. The two of them are not personally close. Simmons' superior talent and passive demeanor make him a frustrating teammate. He seems to be opting out of Philadelphia every bit as much, if not more, than the Sixers are eager to move on from him. Embiid isn't oblivious or sentimental, though he might be imperious enough to think that he can just lie and say that reporters are making stuff up. Famous people do that all the time, they exploit public cynicism, assuming they'll be believed or otherwise not caring. If Embiid is committed to making his relationship with Simmons work, it's in the way that you commit to your own existence, its relative immalleability. He's making the best of a bad situation, with a positivity that reads surly. While privately hoping the situation will change. 
Because this is untenable; he can't do it himself. He can't just create offense, as often as the Sixers ask him to, and not consistently down the stretch. That's a use of his ability that makes it seem small and insufficient, which it's certainly not. You can win a title with Joel Embiid as your best player. There's no doubt about that, after the past few seasons he's put together. He'll score 26 and board 15 and lock down the paint and space the floor and switch on screens and set them himself and demolish the opposition down low. He'll do a ton for you; he'll be dominant. He also needs to be able to cede the wheel sometimes. A three-point game with 1:08 remaining, for instance. It's not in his nature to ask for that help, not in front of microphones or on Twitter, and not in a way that sells out Ben Simmons. Because the press does make a big deal out of that last thing. But that's because most criticism of Simmons is valid, and when Embiid forgets himself and complains about Simmons, it confirms what we already believe to be true. As hard as this summer has been on his shaken teammate, Embiid has surely been struggling, too. Struggling to keep his thoughts to himself, to put in the work knowing that his fate will be decided by forces beyond his own commitment. It's an existential bother, a fittingly big mannish problem: what are you to do when you've given everything, and now it's up to everyone else?

Most Related Links :
Business News Governmental News Finance News