Sports
The hellish purgatory of the Philadelphia 76ers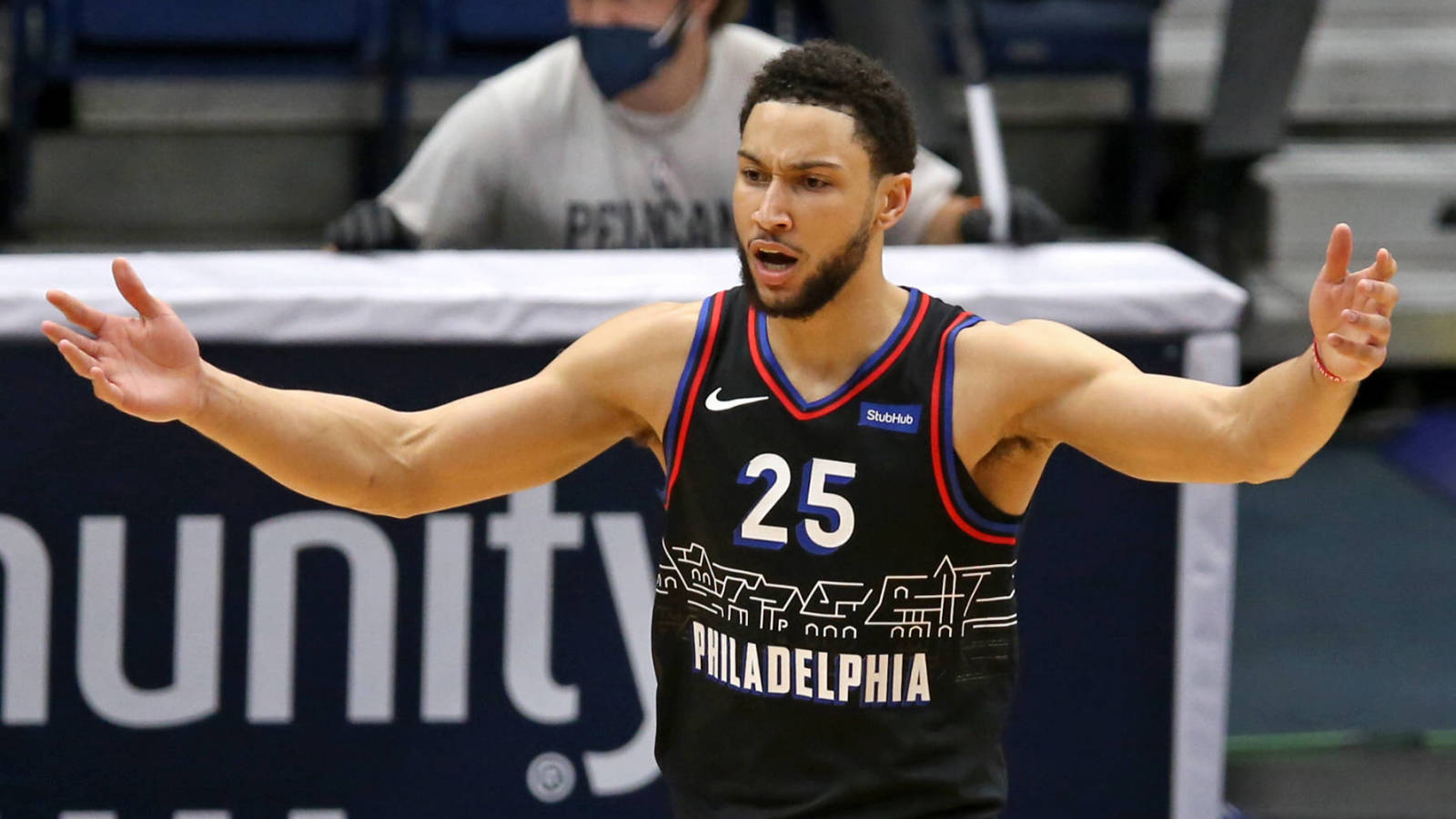 It is with tremendous, instantaneous regret—and even a real amount of nausea—that this pen again touches the page, to consider this topic. The state of the Philadelphia 76ers, discussed in progressively silly terms for nearly a decade now, has not gotten any easier to ignore. In fact, right now seems to be the very culmination of their odd, four-year "lose at historic levels" project, which then rolled right into five straight years of epic organizational turnover, bizarre ego clashes on the roster, and an overall mix of signifiers, results, and expectations that has led to a landscape of circumstance and opinion that is nearly impossible to speak upon with a scintilla of rationality.
Sadly, this won't be the end, and could in fact only be the beginning of a chapter that is not even the last, but merely in the back-half of this demonically goofy saga. Such is the moment between the Sixers and their estranged star guard-wing hybrid, Ben Simmons. Simmons' stance of a trade demand combines with his team's previous, richly unmistakable suggestions that they've lost faith in him to compose a situation in which it is probably not feasible that Philadelphia can ship him out without getting much worse from a raw talent perspective. There don't seem to be a ton of historical comparisons for what's happening here—one, with many differences, comes to mind: the relationship between Dennis Rodman and the San Antonio Spurs in 1995.
Rodman, because of how badly he clashed with David Robinson and the overall Spurs culture, was traded in a deal that produced one of the more conspicuous talent losses of all time when he was moved to the Chicago Bulls for Will Perdue, straight-up. The many differences to what Simmons is experiencing with his team, though, include '95 Rodman's being a deep-career veteran and fully known quantity, who was modestly paid and at the end of a contract to boot. So while Simmons' cultural incompatibility in Philadelphia is similar at a level of pure volume—a scenario in which he returns to the Sixers' homecourt, as a member of home team or away, and is not booed at unseen levels is out of the question—he is at a much different part of his career.
This is a 25-year-old who has made three All-Star teams, earned an All-NBA selection, finished second in Defensive Player of The Year voting, and is paid according to these accomplishments (a lot), with four years left on his contract. Many also feel that there is much more potential within him, untapped. Trading him for an improvement in vibes, at this specific point, is sort of like selling your house you bought four years ago at a loss, just to feel something. Sixers' general manager Daryl Morey is aware of this gap between emotion and basketball, and as such he is holding as firmly to his no-trade stance as Simmons and his agent Rich Paul (of the infamous Klutch Sports) are to their trade stance. Other teams interested in Simmons have reportedly made an offer here and there, but they are low-balling according to the lay of the land, and the reported responses they have gotten from Morey suggest he is not actually serious about moving the No. 2 man any time soon.
His No. 1 man, meanwhile, makes the stand-still all the more untenable every time he approaches a microphone. The chronically candid, passive-aggressive mastermind Joel Embiid manages to bury digs at Simmons within each of his performed wishes for him to report to Sixers training camp. One of his more memorable twists of the knife, to my mind, came on Media Day, when Embiid suggested that upon returning to the team, Simmons ought to learn to gather more offensive rebounds off Embiid's missed post-up shots. Embiid spoke at great and rambling length on Media Day, and could've been interpreted many different ways, but at this moment a passable translation of his words was "Love you buddy, please get back here to be my garbage man A.S.A.P."
This was a bit of analysis that conveniently elided Embiid's own flaws as a player. When he does post up—with last season being the most he ever has, as his team decided to build their halfcourt offense largely around that action—Simmons often camps along the baselines, hunting for those tip-in or putback dunk opportunities. Often, though, money is left on the table, as Simmons' defender will leave him to double-team Embiid, or pick him up after he gets by his primary defender. As of yet, the big man has not quite learned how to punish these defensive pile-ons and rotations, as he has averaged more turnovers than assists over the course of his career, with that discrepancy growing larger in every postseason he has played in.
But because Embiid has so persistently wrapped himself in the flag of Sixers fandom and general Philadelphia lore—and because, quite frankly, a majority of basketball fans do not watch the sport with anything that could rightly be called sophistication—this and other shortcomings are forgiven. Embiid seems to lurk on Twitter and study the verbiage of the most intense members of the Sixers community, echoing their greatest passions in interviews, and even adopting "The Process" as his nickname to reflect the mix of pain and glee that Philly fans felt as their organization willfully destroyed itself from 2013 to 2016. 
This is not to say Embiid's excellence is overly vaporous, or that he is not the man for his franchise to build around. His improvement as an efficient volume scorer has been tremendous, and he has long been one of the game's best defensive players at its most important position. But the romantic, almost shockingly popular version of Philly's leading man, in which he has significantly altered his game to accommodate Simmons, is laughably wrong. (Contrary to this way of thinking—and to things that Embiid has in fact said—Embiid's rate of three-point shooting has not moved meaningfully from where it was when he played his first season without Simmons, to create more spacing; it stands to greater reason that he actually likes to take those shots). 
The reality is much different—grosser, more brutal, and all-around more obvious: Embiid and Simmons had a turf battle, and Embiid won. This is because he has improved a bit more, and definitely in more immediately noticeable ways, as a player. It is also because where Simmons comes up short is visible to everyone: he is not good under pressure, when everyone is actually watching. But Embiid has also won so roundly because he has exerted more will on the situation. He has won over the people in power within the Sixers, as well as the fans and the media. And the Sixers, because of the lack of synthesis between the two players (which, we should be sure to note, neither of them ever visibly tried to form) are now stuck trying to force Simmons back into a situation in which he has clearly been sublimated, subjugated, minimized, nullified, shrunk. 
This has all played out about as badly as possible, despite the success the team has had. Simmons is hated in Philadelphia, where Embiid is beloved, but all reasonable people know that this disproportion will make the team worse both because of Simmons' refusal to play on it, and because of what they will probably inevitably have to accept as a trade return for him. And if you think about it long enough, you can't come up with a reason for Simmons to go back that isn't money. Embiid is, in a sense, the winner of the battle, but he has also clearly lost much of his way toward greater glory. Simmons may seem like a winner later, but right now he is eating perhaps as much crap as any NBA player ever has. It is all rather unpleasant, and does not seem at all close to ending. If it somehow does, this pen will be grateful.

Most Related Links :
Business News Governmental News Finance News