Sports
The incredible numbers of Khamzat Chimaev's star-making start in the UFC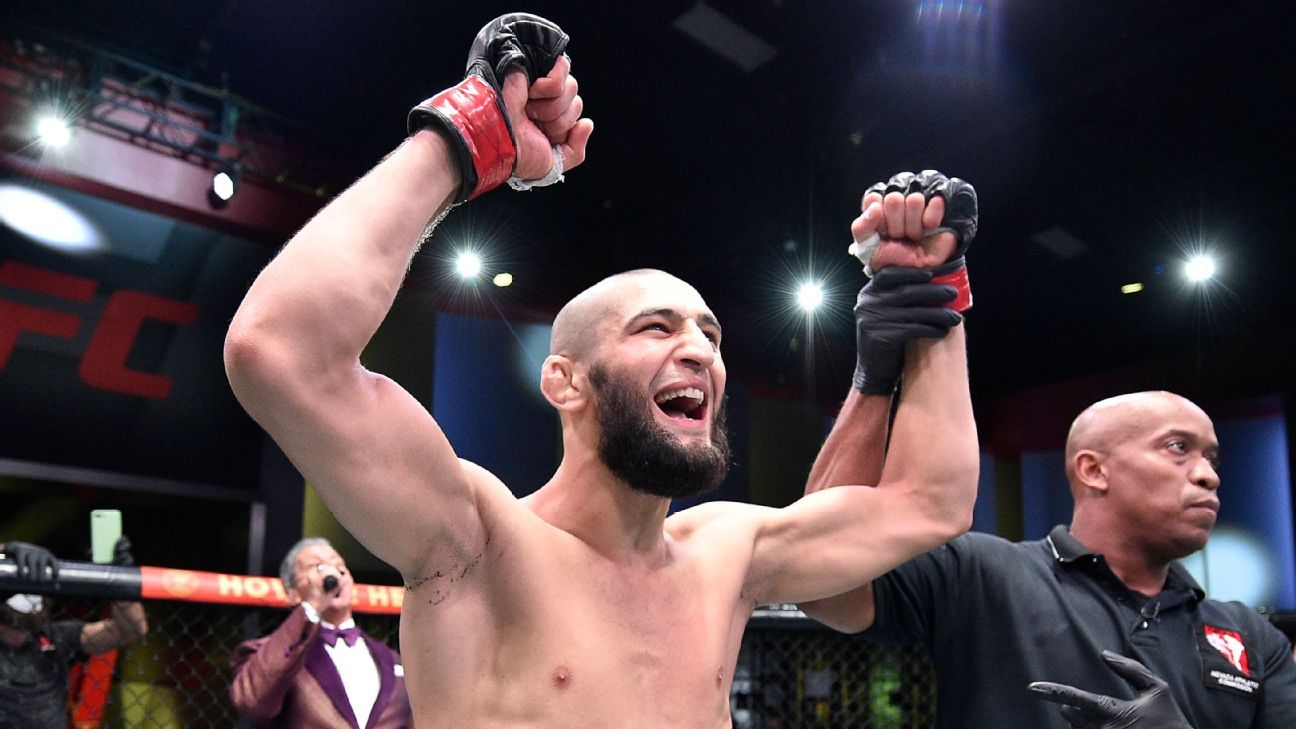 Khamzat Chimaev will compete in his fourth UFC fight on Saturday at UFC 267 (10:30 a.m. ET on ESPN+). He is 3-0 inside the Octagon, 9-0 overall in his MMA career. He has finished every opponent, six of them in the first round. He has never seen a Round 3.
But those are not the only numbers that have drawn attention to the 27-year-old Chechnya-born Swede.
Chimaev burst on the UFC scene with a vengeance in the summer of 2020, finishing three opponents in barely two months. But he has not fought in over a year, his career derailed by a difficult bout with COVID-19. Now he's healthy, and when Chimaev steps in with Li Jingliang this weekend for a middleweight fight on the main card in Abu Dhabi, United Arab Emirates, he will be looking to continue a historic run.
Here are some of Chimaev's astounding numbers (courtesy of ESPN Stats & Information research), beginning with his first UFC appearance:
Khamzat Chimaev dominates John Phillips on the mat in Round 2 to pull out a submission via D'Arce choke at UFC Fight Night.
Chimaev landed 118 strikes in the first round of his July 16, 2020, Octagon debut, a fight in which he went on to submit John Phillips by second-round D'Arce choke. That's a punch or kick every 2½ seconds, right out of the gate. Chimaev's strike total made him the first middleweight in the UFC's modern era to land at least 100 in a first round. His 118 strikes were the second most by a UFC 185-pounder in any round. If only he knew the number to beat was 120, a mark established by Ryan Janes in the second round of a 2017 bout against Andrew Sanchez, Chimaev might well have snuck in three more punches before the horn to get the record. He was that much in control.
Plus-122 strike differential
Over the full fight, Chimaev outstruck Phillips 124-2 in total strikes and 43-1 in significant strikes. Chimaev's plus-122 differential was the fifth-best debut by a middleweight in the UFC, behind only Phil Baroni, Ivan Salaverry, Logan Clark and Jon Fitch. No one has done better than Chimaev since 2006.
It took Chimaev just 10 days to become 2-0 in the UFC. The span of time between his July 16 debut and his July 26 first-round TKO of Rhys McKee in a welterweight bout is the fastest turnaround between victories in UFC history. It was the shortest turnaround time between fights, period, until just over a week ago, when strawweight Loopy Godinez competed seven days after scoring a quick submission over Silvana Gomez Juarez on Oct. 9. However, Godinez lost her Oct. 16 bout (unanimous decision to Luana Carolina), so Chimaev's record for a winning turnaround stands.
"Where is my belt? Soon. I smash everybody."@KChimaev makes it easy to believe him 😳 #UFCFightIsland3 pic.twitter.com/drcfAvJHn4

— ESPN MMA (@espnmma) July 26, 2020
68-0, a striking shutout
Chimaev piled up a 68-0 advantage over McKee in total strikes, and wasted no time in doing so. He raced across the Octagon at the start, got a hold of McKee in the first five seconds, carried him across the cage to where his own coaches were, deposited McKee on the canvas and went to work. McKee did not even attempt a strike — making Chimaev's 40 significant strikes the most in the UFC's modern era against an opponent who did not attempt a strike.
Wow, who in the world is khamzat Chimaev? This dude right here just smashing dudes. Two of em in a week. Wow

— Daniel Cormier (@dc_mma) July 26, 2020
83-1 and 192-2 through two fights
Chimaev's significant strikes advantage through two UFC fights was 83-1. That's the most strikes landed in the modern era by a fighter who absorbs one or fewer. His total strikes advantage of 192-2 made Chimaev just the second fighter in the modern UFC to land at least 100 and absorb two or fewer in his first two bouts, joining future heavyweight champion Cain Velasquez (141-2).
This will be interesting. Obviously the style of Khamzats last 2 opponents played into his style. Now he fights a grappler. Will be interesting to see what he can do and if the hype is real.

— michael (@bisping) September 20, 2020
Chimaev got his third UFC win on Sept. 19, 2020, knocking out Gerald Meerschaert in 17 seconds — with one punch. The KO is tied for the third fastest in UFC middleweight history. Mark Weir owns the record with a 10-second KO of Eugene Jackson in 2002. Terry Martin knocked out Jorge Rivera in 14 seconds in 2007. And John Phillips — the losing fighter in Chimaev's debut — shares third place with a 17-second KO of Alen Amedovski in 2019.
Khamzat Chimaev needs 17 seconds and one punch to knock out Gerald Meerschaert at UFC Fight Night.
66 days from debut to 3-0
The 66 days between Chimaev's July 16 debut and this smashing victory on Sept. 19 make him the quickest fighter to 3-0 in the UFC's modern era, surpassing Johnny Walker (105 days). Chimaev is also the fastest to score three wins at any point in a UFC career, bettering Bobby Green (84 days).
There is no doubt now. @KChimaev is THE TRUTH.

— Joe Rogan (@joerogan) September 20, 2020
196-2 makes 2020 historic
Over three fights in 2020, Chimaev landed 196 strikes and absorbed just two, the second-best ratio in UFC history for a fighter with at least three bouts in that year. The only fighter to turn in a more dominant year — by this standard, at least — was Royce Gracie, who landed 19 strikes and absorbed none at UFC 1. Gracie defeated three opponents (Art Jimmerson, Ken Shamrock and Gerard Gordeau) on Nov. 12, 1993, en route to becoming the UFC's first champion.
In the UFC's modern era, no one comes close to Chimaev. The next-best striking ratio for a year was the 280-20 advantage turned in by Phil Davis in 2010.
Three times $50,000 is … spectacular
Chimaev is one of 12 fighters to earn bonuses after each of his first three UFC bouts. He pocketed an extra $50,000 each time for performance of the night.

Most Related Links :
Business News Governmental News Finance News