Tech
The Best All-In-One Printers for Home Offices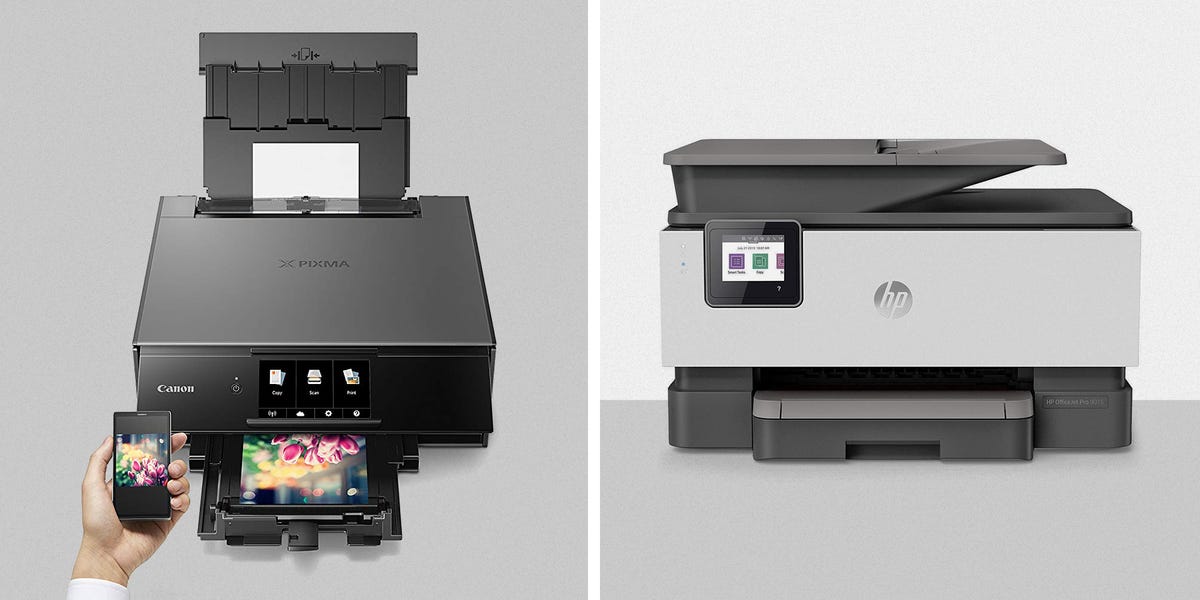 Everybody who's ever owned a printer has likely experienced a time when it jams, runs out of ink, or completely fails to turn on just when it's needed most. Especially when many are still working from home during the pandemic, reliability from your home printer is a must. So we found the most dependable and versatile printers so you can print, scan, and copy pages without feeling the urge to throw the machine out the window.
Check out quick info below on the best printers, then scroll deeper for more buying advice and full reviews of these models.
Why Ink Runs Out So Fast & How to Preserve It
If you've owned a printer, or several, in your life, you may have wondered with frustration why some seem to guzzle ink more when not used frequently. It's not all in your head, because inkjet printers not only use ink to print on the page, but also for maintenance. Consumer Reports found that intermittent use—a few pages a few times per week—used more ink for routine maintenance than printing in larger batches. Leaving the printer on between uses may reduce the ink used during this maintenance cycle, without using a ton of electricity to keep it running. You can also save significantly by purchasing XL ink cartridges in bundles. And if you print only a few times a year and seem to always have to buy new ink whenever you go to print, you'll probably be better off printing through your workplace, the library, or another service from stores like Staples or FedEx.
This issue occurs only with inkjet printers, so you may also want to consider laser printers that use toner instead of liquid ink, because toner won't dry up quickly between use. Below are some of the pros and cons of each variety that you should know before you decide.
Inkjet vs. Laser Printers
While each type of printer has its strengths and weaknesses, you'll also want to consider each individual printer's functions. Our recommendations are all-in-one devices that can print, copy, scan, and sometimes fax, but some are more suited to specific tasks. Printers with automatic document feeders are ideal for scanning and copying many pages at once; other printers with high page-per minute (ppm) numbers excel at fast printing of longer documents, and models with multiple paper inputs are crucial if you plan to print on using different types of paper.
How We Selected and Rated Them
We researched nine expert sources and 20,000 consumer reviews to select the top home printers of the year. To determine the Total Expert Score, we calculate the ratings from trusted publications such as PC Mag, CNET, and Tech Radar and convert them to a 100-point scale to make it easier for you to weigh the best options. Our Consumer Score represents the percentage of consumers who rated the product at least four out of five stars on retail and review sites like Amazon, Best Buy, and Office Depot.
---
—HIGHLY RATED—
HP OfficeJet Pro 9015
Total Expert Score: 78.5/100 | Consumer Score: 82% give it 4 stars or more

Easy to use, fast, and versatile, the OfficeJet Pro is the best all-in-one printer for most home offices.
Type: Inkjet | Functions: Print, scan, copy, fax | Print speed (ppm): 22 (black), 18 (color) | Paper capacity: 250 sheets | Display: 2.65-in. color touchscreen | Dimensions: 17 x 13 x 11 in. | Weight: 20 lb
It's hard to find a printer that can make the experience of printing actually enjoyable, but this OfficeJet comes close. Wirecutter named the 9015 the best all-in-one printer for most people because it "[hits] a sweet spot of speed, print quality, and reliability that other printers can't match." Compared to most inkjets, it's fast—with speeds up to 22 ppm in black and 18 ppm in color. HP refined this model to be more compact than previous iterations, though it's certainly not the smallest here. The color display is relatively small but functional, though some icons may be difficult to click.
HP also makes setting up its printers a breeze with its EasyStart installer and HP Smart app, and the company offers an Instant Ink subscription service with a variety of tiers (depending on how much you print each month) and will automatically mail you reasonably priced new cartridges when your ink supply runs low.
---
—FOR PHOTOS—
Canon Pixma TR8620
Total Expert Score: 80/100 | Consumer Score: 86% give it 4 stars or more

The Pixma TR8620 pulls double duty well, producing great black and color photo prints.
Type: Inkjet | Functions: Print, copy, scan | Print speed (ppm): 15 (black), 10 (color) | Paper capacity: 100 sheets | Display: 4.3-in. LCD touchscreen | Dimensions: 17 x 14 x 7.5 in. | Weight: 17 lb
This Canon isn't strictly for photos, but it's an excellent option if you need to print quality black-and-white documents and color pictures. Instead of tri-color cartridges, this printer uses a five-color ink system, including an extra Pigment Black ink that makes text and photos come out darker and richer. In addition to having two paper input trays, it also has a 20-page auto document feeder and auto duplex printing. The 4.3-inch color touchscreen is fairly large and user friendly, and this model can print wireless or through USB or an Ethernet connection. While the TR8620 can handle a large amount of printing, keep in mind that PCMag estimates its ink cost at seven cents per monochrome page, 12.3 cents for color pages, and 25 cents for 4 x 6-inch photos, which is more expensive than most for black-and-white printing.
---
—LASER PRINTER—
Brother HL-L2395DW
Total Expert Score: 77/100 | Consumer Score: 87% give it 4 stars or more
This monochrome laser printer and scanner is the best for everyday black-and-white jobs.
Type: Laser | Functions: Print, copy, scan | Print speed: 36 ppm | Paper capacity: 250 sheets | Display: 2.7-in. color touchscreen | Dimensions: 16 x 16 x 11 in. | Weight: 23 lb
CNET claims the Brother HL-L2395DW is the best all-in-one laser printer due to its painless Wi-Fi setup, speedy print times, and all-around reliability. With speeds up to 36 ppm, it's fast, though it could provide faster copies with an automatic document feeder. The small display is a touchscreen that's also aided by a few manual buttons, including a number pad, that make it a bit more user-friendly. Many Amazon reviews noted and appreciated that setup through Wi-Fi was easy and took just a few minutes. The HL-L2395DW may seem a bit expensive for just a black-and-white printer, but it's especially worth the investment if you can find it on sale for below the original $170 price tag. If you're looking for a similarly capable laser printer that also has color printing options, check out the Brother HL-3170CDW.
---
—COMPACT DESIGN—
HP Tango X
Total Expert Score: 78/100 | Consumer Score: 81% give it 4 stars or more
In contrast to most bulky printers, the Tango has a minimalist, almost Apple-like look.
Type: Inkjet | Functions: Print, copy and scan with app | Print speed (ppm): 11 (black), 8 (color) | Paper capacity: 50 sheets | No display | Dimensions: 8 x 15 x 4 in. | Weight: 6 lb
It seems that, as smartphones and laptops get sleeker every year, printers have stalled as blocky eyesores. That's not the case with the Tango X. It comes in a compact construction you may actually want to display, but it also has a fabric cover that folds the printer up into a book-like package that'll be fairly inconspicuous in your home office. For $200, the Tango X isn't the fastest or most feature-packed printer, but it's an excellent option for those who want a small machine that can be stored away and pulled out for convenient, if infrequent, printing.
While HP lists the Tango as an "all-in-one" model, keep in mind that it doesn't actually include a scanner bed. Rather, it wirelessly connects to the HP smart app, which allows you to scan and copy documents by taking photos on your smartphone. So long as you have a decent smartphone camera and don't need to copy large, multi-page documents often, this feature will work fine for most people's needs. This printer also doesn't include a display because everything is controlled via the HP Smart app. Unfortunately, there's no USB port to connect it manually if your Wi-Fi isn't working; however, we ultimately found it quick and easy to setup the printer by following the instructions on the app.
---
—GREAT VALUE—
HP Envy 6055
Total Expert Score: n/a | Consumer Score: 86% give it 4 stars or more
HP makes an affordable option for your standard text and photo printing needs.
Type: Inkjet | Functions: Print, copy, and scan | Print speed (ppm): 10 (black), 7 (color) | Paper capacity: 100 sheets | No display | Dimensions: 17 x 14 x 5 in. | Weight: 12 lb
For those looking for a relatively affordable all-in-one printer that can handle wireless printing as well as copying and scanning, HP's new Envy 6055 won't disappoint. Like with the Tango, you can use the HP Smart app to print wirelessly from anywhere. But in addition to dual-band Wi-Fi and Bluetooth 5.0, it can also connect via a USB port so you can print even if your internet connection isn't working. Its recommended monthly page volume is between 100 to 400, and its input tray can hold up to 100 pages. It's also impressive that a model of this size and price point has a flatbed scanner and can do auto two-sided printing. Not to mention, HP has been streamlining its printers into more compact designs—and this one is made with 20 percent recycled plastic.
Most Related Links :
Business News
Governmental News
Finance News