Tech
The Best Calculators for Students — and Everyone Else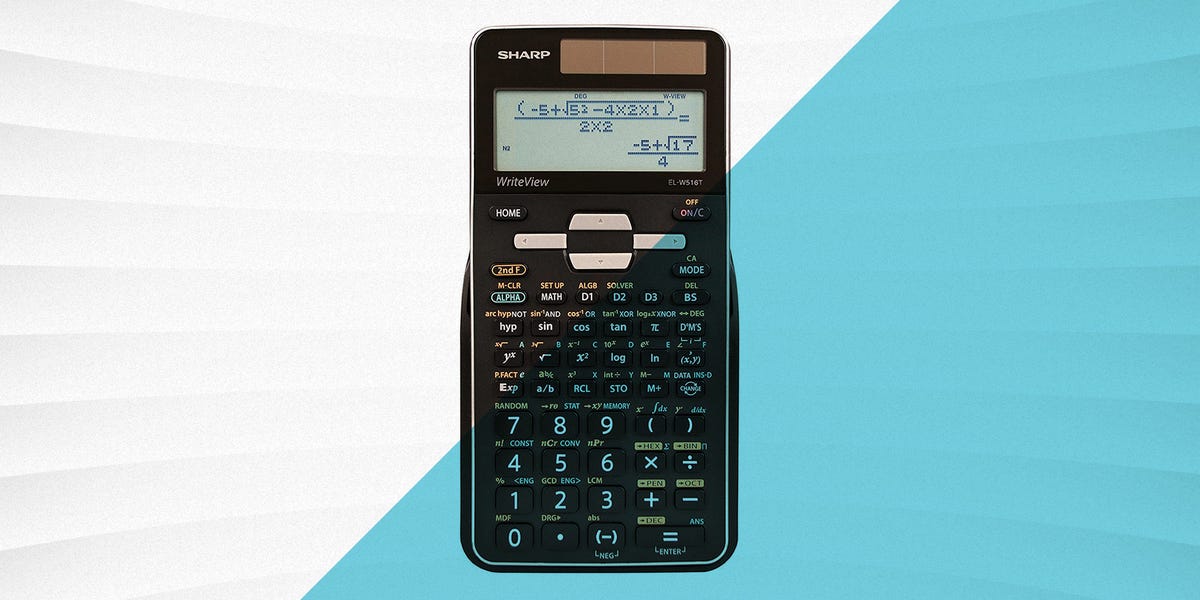 Although it's hard not to be smitten with all the new tech that comes down the line each year, there are few devices that have stood the test of time like the trusty calculator. Whether you are a student enrolled in mathematics courses or a professional accountant, a good calculator is an indispensable tool to have in your pocket. And of course, now calculators can do even the most complicated of calculus equations. No matter what your mathematic needs are, a calculator can help you work quickly and accurately.
What to Consider
While calculators have all sorts of bells and whistles these days, there are really only two things (aside from price) with which you need to be concerned when shopping for one.
Capabilities: From graphing to scientific to more basic models, there are different types of calculators with different capabilities. Be sure to find one that will do what you need it to do. Additionally, if you plan to use it for college entrance exams, make sure the model you are going to purchase is approved for use during testing.
Battery Life/Power Source: Speaking of college entrance exams, nothing could be worse than having your calculator run out of power on you before you finish. Calculators can be both battery- and solar-power or a hybrid of both. Whatever you choose, make sure you can rely on it staying charged for long stretches of time.
How We Selected
We read through a wide breadth of reviews to find consensus on the best calculators in a number of different categories. Below you will find a selection of calculators for different uses in a range of price points. As such, no matter your calculation needs, you should be able to find one that's right for you.
Advertisement – Continue Reading Below
1
Best Overall
Texas Instruments TI-84 Plus CE Graphing Calculator
Texas Instruments
amazon.com
$127.00
While the Texas Instrument TI-84 Plus is also available in a black-and-white version for slightly less money, we think the sharp backlit screen of its Color Edition is worth the expense. It's a great choice for high school students as it comes loaded with MathPrint, which enables textbook display, and is approved for use taking PSAT, SAT and ACT college entrance exams and AP exams that allow a graphing calculator. 
It comes loaded with a bunch of applications to expand the calculator's functionality, as well as lots of images on which to graph. Plus, it has a battery that is rechargeable using a USB cable. The TI-84 Plus is more expensive than most of the others on this list, but it's one of the best calculators money can buy.
Lightweight
Backlit color display
2
Best for Students
Sharp 16-Digit Scientific Calculator
Students needing a scientific calculator should look no further than the Sharp 16-Digit Scientific Calculator. Its most noticeable feature is a large, four-line screen that shows entered equations in condensed textbook form. 
Powered by both solar and battery, it offers seven different calculation modes (normal, stat, drill, complex, matrix, list, and equation), and it is capable of performing more than 600 functions and even algebra. It comes in a nice glossy black hard case—but even better, usually priced under $25, it will also meet most students' budgets as well.
Inexpensive
Four-line screen
3
Best Value
Casio FX-9750II Graphing Calculator
One of our favorite graphing calculators, the Casio FX-9750II offers a lot of machine for the money. It can handle the needs of most students, and has an interface that most should find very user-friendly. 
Meanwhile, its backlit, high-res LCD display is easy to read, and this calculator purportedly can go for 230 hours on four AAA batteries. It lacks some of the fancy features of higher-priced models, but will handle most students' needs. Plus, it's approved for use with most exams including PSAT, SAT, ACT, and AP tests.
Moderately priced
User-friendly
4
Best for Accounting
HP 12c Financial Calculator
With more than 120 different built-in functions, such as amortization, cash flow, and loan payments, the HP12c Financial Calculator will make quick work of your accounting—personal or business. It's also capable of data entry and calculations using the RPN system.
The HP12c is compact and portable, yet its buttons are placed strategically to allow for ease of use, while its large 10-digit LCD display is easy on the eyes. Plus, it's one of only two calculators allowed by the CFA (Chartered Financial Analyst) Institute for its exam.
5
Best Budget
Canon LS-82Z Handheld Calculator
For those whose calculating needs are minimal and spending a lot on a calculator doesn't add up (pun intended), the Canon LS-82Z is a great option. Frequently, priced under $10, it can handle square root functions and product dimensions, and also features a floating decimal point system. 
It's dual-powered by battery and solar, so you won't spend a lot of additional cash replacing batteries. It doesn't have the computing power of others on the list, but the Canon LS-82Z is a dependable basic calculator.
This content is created and maintained by a third party, and imported onto this page to help users provide their email addresses. You may be able to find more information about this and similar content at piano.io
Advertisement – Continue Reading Below
Most Related Links :
Business News
Governmental News
Finance News