Tech
The Best Electric Snow Shovels for Fast and Easy Snow Removal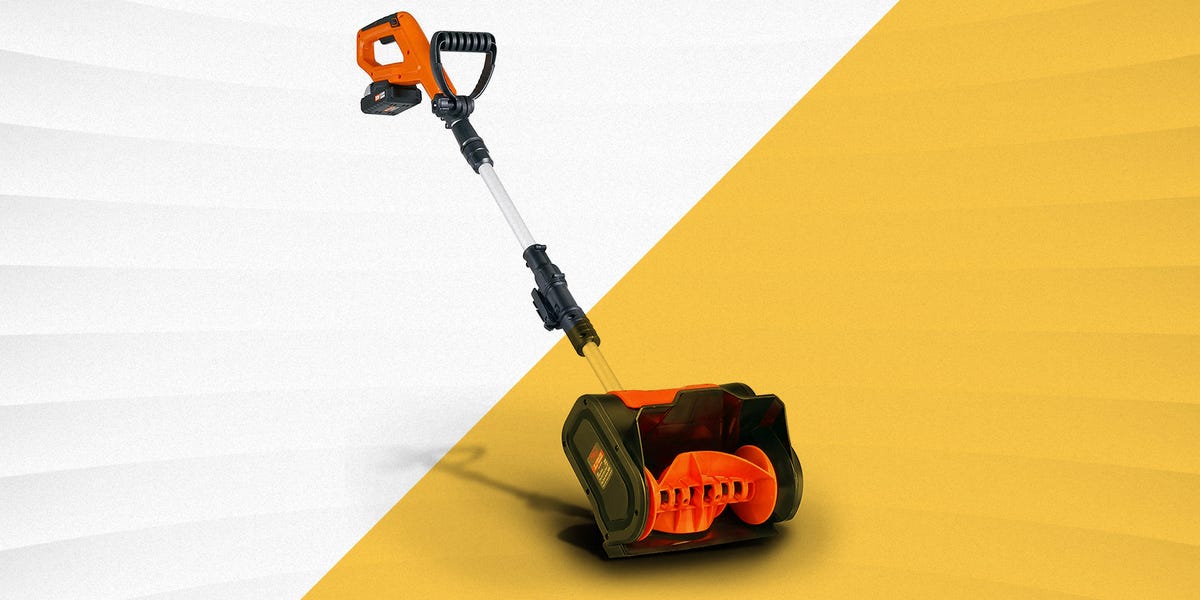 Staff, Courtesy of SuperHandy
Few people truly enjoy shoveling snow. An electric snow shovel can make this chore easier, and some might even say a little fun.
Electric snow shovels are much less labor-intensive than a manual snow shovel. They do a lot of the work for you but are generally not quite as powerful as a traditional, full-sized snowblower. Still, they can save your back after a snowstorm and help you drastically cut down the time it takes to clear all that powder.
Specs to Consider
Corded vs. Cordless
Electric snow shovels are available in either corded or cordless models. If you go with a corded model, you will likely have to deal with extension cords. Especially if you need to clear an area that's a long distance from your electrical outlet, that might not be convenient.
Just like other cordless yard tools, a cordless electric snow shovel runs off a rechargeable battery and boasts freedom of movement. However, if you have a lot of snow to clear, a single charge might not last long enough. Cordless models will also tend to cost more, so corded varieties will likely be the more affordable option.
Clearing Depth and Width
If you live in an area that gets large snow accumulations in a single storm, choose a shovel that can handle the highest possible maximum snow height. The typical clearing heights listed by manufacturers fall between 4 and 6 inches, which should be fine for the average user. Also consider a model's width. The wider its clearing capability, the quicker you will be able to clear a certain area. Many electric snow shovels measure between 10 and 13 inches wide, but some span wider at 16 inches. Note that electric snow shovels work best when clearing fresh, soft snow and are not really designed to break through ice or frozen snow.
How We Evaluated
I live in an area that gets lots of snow and don't particularly enjoy the task of clearing all that snow. In fact, I dread it—especially when I owned a maintenance business and was responsible for exponential amounts of snow removal. But it was an inevitable reality, so I've looked for every possible solution that could help me save time and energy. I relied on my experiences with many snow tools while evaluating electric snow shovels. After consulting reviews from hundreds of Amazon users and referring to manufacturer information for product specifications, I recommend the seven models below.
Advertisement – Continue Reading Below
Affordable Yet Effective
Snow Joe 323E
Snow Joe
amazon.com
$79.98
Key Specs
Type: Corded
Clearing Depth: 6 in.

Clearing Width: 13 in.
This snow shovel has an auger that uses a two-blade system for added muscle. Because of that, the manufacturer says it can move up to 400 pounds of snow per minute. It has an ergonomic handle that adjusts so you can configure it in a way that feels most comfortable and thwart back strain from the start.
Adjustable handle
Weighs less than 14 lbs
Affordable
Some Amazon users say it's prone to damage if it hits a stone
Great for Tight Spaces
Greenworks 2600802
Greenworks
amazon.com
$99.00
Key Specs
Type: Corded

Clearing Depth: 6 in.
Clearing Width: 12 in.
This snow shovel is designed to be compact to allow you to clear small or hard-to-reach spaces. At 14 pounds, it's also not too heavy to make moving it around feel like a chore.
Affordable
Adjustable auxiliary handle
Some Amazon users say it works best on light, fluffy snow and might struggle with heavier snow
Impressive Battery Performance
Powerworks SS60L2510
POWERWORKS
amazon.com
$349.95
Key Specs
Type: Cordless
Clearing Depth: 6 in.

Clearing Width: 12 in.
One common complaint with cordless snow shovels (and other yard gadgets) is the skimpy battery life, but you will be pleasantly surprised by this Powerworks electric snow shovel. The manufacturer claims the included 2.5-amp-hour battery can run up to 45 minutes on a full charge. The battery is also compatible with all other cordless Powerworks tools.
Includes battery and charger
Long battery life
Durable Reliability
Greenworks G-MAX 2600702
Greenworks
amazon.com
$483.52
$139.39 (71% off)
Key Specs
Type: Cordless
Clearing Depth: 6.3 in.

Clearing Width: 12 in.
This shovel is surprisingly powerful—Amazon users were impressed by how well it handled even in wet, heavy snow. They also gave it high marks for being easy to use and maneuver. It has plenty of muscle and easily throws snow distance of 20 to 25 feet. The included 4-Ah battery is compatible with other cordless Greenworks lawn and yard tools.
Includes battery
Strong and durable
Clears Snow Quickly
Snapper 1696871
Snapper
amazon.com
$178.95
Key Specs
Type: Cordless
Clearing Depth: 4 in.

Clearing Width: 12 in.
This electric shovel can get snow out of your way—far out of your way. It can throw snow up to 20 feet. Amazon users praised its heavy-duty motor and ability to clear a large amount of snow quickly. However, at almost 20 pounds, it's not as lightweight as some other models.
Long battery life
Powerful performance
Long-Distance Throwing Capability
SuperHandy Snow Thrower Shovel
Key Specs
Type: Cordless
Clearing Depth: 5 in.

Clearing Width: 10 in.
This cordless electric shovel has an impressive snow-throwing distance of 25 feet and a decent snow depth capacity. Together, these features allow you to clear the driveway in no time. Some Amazon users were disappointed at how quickly the battery died, though, and suggested this shovel works best for light, fluffy snow.
Ergonomic rubber handle
Throws snow up to 25 feet
Amazon users reported a short battery life
Not best for wet, heavy snow
Best Lightweight Model
Toro 38361
Key Specs
Type: Corded
Clearing Depth: 6 in.

Clearing Width: 12 in.
At just 12.5 pounds, this corded shovel is light enough to carry and push easily. Yet it's as powerful as a heavier model, thanks to the two curved blades that make quick work of snow piles. The adjustable telescoping handle lets you position the handle at a height that is most comfortable for you.
Lightweight
Powerful performance
Some Amazon users say the plastic construction might have a shorter lifespan with heavy usage in challenging conditions
This content is created and maintained by a third party, and imported onto this page to help users provide their email addresses. You may be able to find more information about this and similar content at piano.io
Advertisement – Continue Reading Below
Most Related Links :
Business News
Governmental News
Finance News