Tech
The Best Grease Guns to Keep Your Equipment Running Smoothly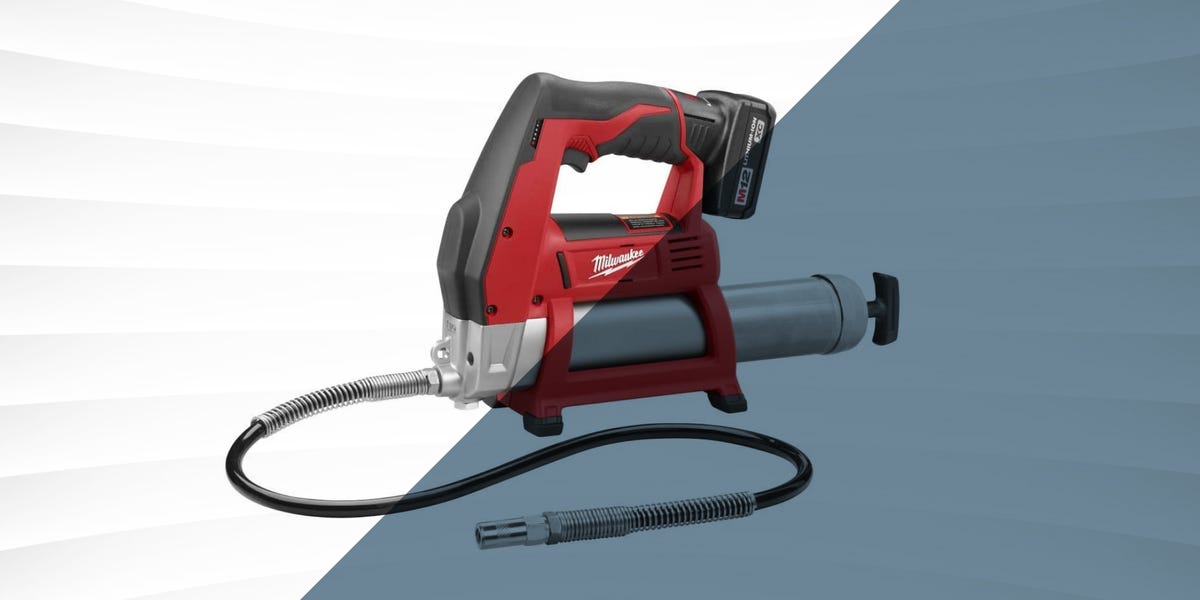 Staff, Courtesy of Milwaukee
A reliable grease gun is essential if you have any type of mechanical equipment that needs to be regularly lubricated. These handheld tools are designed to hold a standard grease canister, and inject its contents directly into the fittings of your machine using a special coupler. They can be manually powered—by pumping a hand lever—or automatic, using battery packs or compressed air to dispense their grease. Although some use a rigid pipe to direct their grease, most use a flexible hose, allowing users to maneuver the coupler onto the fittings with one hand while holding the canister with the other.
What to Consider
The most important question to ask yourself when purchasing a grease gun is what type of power source is going to be best for you. While manual models—which require you to pump a handle or lever to generate pressure—do require some elbow grease to use, they can also be more convenient than automatic guns, especially when you only have a few fittings to work on. That said, if you have a lot of lubricating to do, automatic guns that are powered by batteries or compressed air, could be a better fit. Battery-powered guns could be an especially convenient choice if you already own a few tools from that specific brand. This will allow you to use your existing battery packs, and purchase a cheaper version of the gun that doesn't include expensive batteries.
Similarly, you should think about the amount of grease you'll be going through. While most grease guns take standard size grease cartridges, others like the G. Gun Grease Gun, use bulk grease to fill their 2-gallon canister, which makes them much more useful for anyone who plans on going through a lot of grease. Or, if you know you'll only be using a small amount of grease, like when you're working on your bicycle or chainsaw, a smaller, compact gun would be a lot more convenient.
Another factor to think about is the length of the hose that comes with your grease gun. Take the time to think about what exactly you're going to be using it on, and if you can, go out and measure how long a hose would have to be to effectively access your fittings.
How We Selected
I've used a variety of grease guns during my time as part of a landscaping team at a large state park, and used them frequently for maintaining large mowers, tractors, and other heavy equipment. I used this hands-on experience, in addition to online research and customer feedback, to put together this list of the best grease guns you can buy. I did my best to include a range of prices, styles, and sizes, so whether you have multiple machines that need frequent lubrication, or a small mower that needs occasional maintenance, you should find an option here that works for you.
Advertisement – Continue Reading Below
1
Best Lightweight Battery-Powered Option
MILWAUKEE 2446-21XC M12
Milwaukee
amazon.com
$241.04
Key Specs
Hose length: 36 inches
Power Supply: Battery
Weight: 7.2 pounds
This cordless Milwaukee gun allows you to quickly and easily dispense grease, thanks to a 12-volt motor that creates 8,000 PSI operating pressure. The M12 battery pack is interchangeable with any other M12 tools, and is robust enough to process seven grease cartridges before it needs a recharge. 
Also, by designing the frame with a hose storage clip, this option is less likely to accidentally get grease on your clothes or anything else you'd prefer to keep clean. While this 7.2-pound weight is lightweight for a battery-powered model, it is a bit heavier than the manual options on our list, so keep that in mind.
Easy to use
Long-lasting battery
Expensive
Less convenient to store than manual guns
2
Best Lever Grip
LockNLube Lever Grip
LockNLube
amazon.com
$69.99
Key Specs

Hose length: 20 inches
Power Supply: Manual
Weight: 3.87 pounds
Our favorite feature of this LockNLube model is the fact that its coupler attaches to the unit itself, which keeps it clean and protected when not in use, and also allows you to use the hose as a convenient carrying handle. You can also rotate this coupler as you work, which is really handy for when you need to access hard-toreach fittings, instead of having to twist and maneuver the entire gun itself. 
This gun also comes with an extra seal kit, so that if the existing one ever wears out or has any issues, you can replace it right away. 
Sturdy construction
Convenient grease coupler
More expensive than most manual guns
3
Best for maximum capacity
G. Gun Grease Gun
Key Specs
Hose length: 10 feet
Power Supply: Manual 
Weight: 18.77 pounds
If you have multiple vehicles or machinery that need lubricating, or are just tired of refilling your grease gun with cartridges, this model might be just what you're looking for. Its 2-gallon canister is ideal for frequent use, and the foot-activated lever allows you to deliver up to 10,000 PSI without expensive battery packs. 
Its 10-foot grease hose also allows you to keep the canister on the ground while you position the coupler however you like. This large canister means that you can cut down on costs by purchasing bulk grease, instead of single-use cartridges.
2-gallon capacity
Requires less effort than hand-pump options
Bulky size might be overkill for infrequent use
4
Best Compact Option
Lumax LX-1172
Key Specs

Hose length: 4-inch rigid pipe
Power Supply: Manual
Weight: 1.55 pounds
This compact model would be a great choice for those who don't want or require the bulk of larger capacity models, and are just looking for a small gun to have on hand in your RV, or in your truck as a backup. It includes a 3-ounce cartridge to get you started, and thanks to its pistol-grip design, is comfortable to use one-handed. 
The non-drip cap is a nice perk as well, and should prevent any unwanted grease smears or stains when you're not using it. The lack of hose does make it a bit less convenient for hard-to-reach fittings, so just keep that in mind.
Easy to store
Comes with a grease cartridge
Does not have a hose
Low capacity wouldn't be practical for frequent use
5
Best Pneumatic Model
Lincoln 1162 Fully Automatic
Lincoln
homedepot.com
$76.56
Key Specs

Hose length: 30 inches
Power Supply: Pneumatic air
Weight: 5.55 pounds
Instead of a hand pump or battery pack, this Lincoln gun is powered by pneumatic air, and features a variable speed trigger so you can precisely control the grease flow. The pistol-style handle also provides a comfortable and secure grip, and the 5.5 pound weight should reduce hand and shoulder fatigue while you work. 
The 30-inch hose is ideal for getting into tight spots, and a handy coupler storage clip on the unit itself keeps it out of the way for easy storage. An easy-to-access check valve also allows you to easily clean out or remove any hardened grease.
Variable speed trigger
30-inch hose
1-year warranty
Requires a separate air compressor
6
Best Manual Pistol-Grip
Alemite 555-E
Alemite
amazon.com
$56.60
Key Specs

Hose length: 18 inches 
Power Supply: Manual
Weight: 3.5 pounds
The pistol-grip design of this Alemite gun allows the user to deliver 1oz of grease for every 30 strokes, and the ergonomic handle ensures you have a nice tight grip during use. It can be set to either volume or pressure mode, depending on the fitting you're using it on, and a handy air bleeder valve lets you release any trapped air with the push of a button. Plus, the swiveling hose connector makes it much easier to snake your way into awkward areas without having to invert the entire unit. It also features a one-year warranty, so you'll be covered if any issues arise.
Comfortable to use
Hose swivel
1-year warranty
7
Best for Precision Jobs
Astro Tool 101 Mini
Astro Pneumatic Tool
amazon.com
$11.31
Key Specs

Hose length: N/A
Power Supply: Manual
Weight: 1 pound
The limited 3-oz capacity of this tiny gun is definitely lower than the other options on our list, but if you're only working on smaller fittings and components, this shouldn't be a dealbreaker. Plus, its small canister makes it significantly more convenient for precise applications like air tools or chainsaw use, where a bulkier unit would just get in the way. 
The needle nozzle also makes it easy to apply just the right amount of product too, unlike couplings that are designed for higher volume tasks. Plus, it can actually be used with one hand, so you can use the other to rotate or manipulate the piece you're working on.
Compact size is convenient to store and transport
Affordable price
Low capacity isn't practical for use on large machinery
8
Most Powerful Battery-Operated Option
Lincoln 1884
Lincoln
amazon.com
$293.67
Key Specs

Hose length: 36 inches
Power Supply: Battery
Weight: 12 pounds
This 20-volt tool from Lincoln would be a great choice for anyone who wants a powerful grease gun while still maintaining the low-effort operation of a battery-powered model. 
Its LCD screen keeps you updated on your current grease output as well as how much juice is left in your battery pack, so you'll know exactly how much time is left until you need a recharge. Plus, a digital selector also allows you to choose between low or high volume dispensing, so you can customize its speed to your specific application. An integrated LED also helps to illuminate your workspace.
LED readout
Hard-sided storage case
Expensive
Relatively heavy 12-pound weight
This content is created and maintained by a third party, and imported onto this page to help users provide their email addresses. You may be able to find more information about this and similar content at piano.io
Advertisement – Continue Reading Below
Most Related Links :
Business News
Governmental News
Finance News