Tech
Upgrade Your Home's IQ With These Beautiful Bookshelves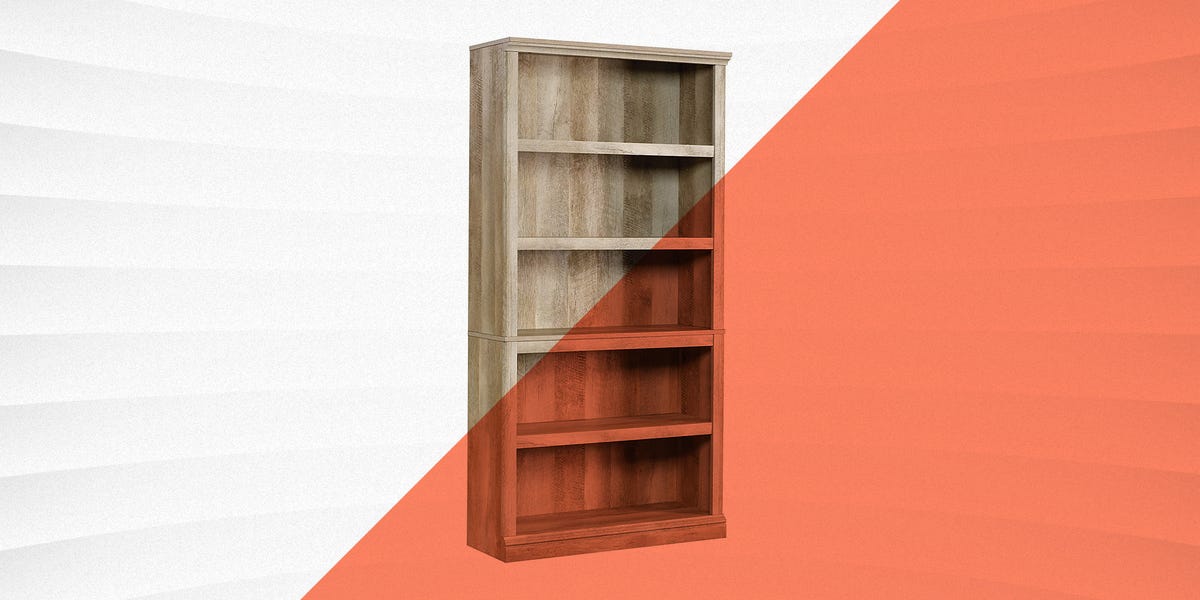 Staff, Courtesy of Sauder
Whether you plan on loading up a bookshelf with a treasure trove of books, magazines, knick knacks or pictures, this piece of furniture can serve as an anchor for your room. Some bookshelves are even eye candy in and of themselves. No matter what you're using the bookshelves for, or your budget, there is something for everyone out there. And yes, it can blend beautifully with your home's design and style.
What to Consider
A bookshelf doesn't have to just store books: it can become a crib-sheet for your style. It can also be used to keep chaos at bay in offices, shared spaces and playrooms. Choose wisely depending on your needs, and keep the following in mind:
Size: Realistically, how much space do you need? Keep the height and width of your books in mind before placing an order, as some units have shallow shelves, or shelves that cannot be adjusted for height.
Type: Some shelving units offer multiple cubbies, others are more traditional, some have a variety of options. Think about what type suits your display needs best.
Style and Use: Ideal bookcases for offices, playrooms and living rooms are completely different. And depending on the style of your space, you may choose a contemporary, modern or traditional style.
How We Selected
We reviewed hundreds of bookshelves in our quest for the best range of styles and budgets. We also read several experts' recommendations and sifted through thousands of user reviews. We've included the best of the best below. Happy browsing!
Advertisement – Continue Reading Below
1
Best Small Budget
Furinno Jaya 3-Tier Adjustable Shelf Bookcase
Furinno
amazon.com
$39.90
This super-budget pick is great for anyone who wants a small bookshelf with an unobtrusive, contemporary style. The three-tier bookshelf is small enough to tuck in a corner, but roomy enough to fit plenty of books. It also features two adjustable shelves, which is great for tall books. 
At this price though, the shelves are not made from "real" wood; they are made from particle board, which means that really big books should be placed on the bottom shelf. The shelves are also shallow, so books may stick out. 
Reviewers love the "sturdy" shelves, and say it is "easy to put together." 
Dimensions: 9.5 x 24.5 x 40.3 inches.
2
Best Ladder-Style
Amazon Basics Modern Ladder Bookshelf
Amazon Basics
amazon.com
$63.43
This five-tier ladder bookcase is great if you're looking for a blended display case where you can place books, keepsakes and small knick knacks. 
The descending design means the shelves are narrowest at the top, and widest at the bottom. The straight-backed, modernist design allows you to nestle it against a wall, and make it a good style fit in a variety of homes. 
Reviewers say this shelf offers "great value for money," but is "hard to assemble." 
Dimensions: 14 x 24.8 x 70.1 inches.
3
Best Classic Bookshelf
Sauder Collections 5-Shelf Bookcase
Sauder
amazon.com
$299.90
This traditional bookshelf comes in a variety of finishes, from chalk to black to cherry. It is made from engineered wood and features three adjustable shelves for flexible storage options, and five shelves in total. 
You need to assemble it, but the package includes patented slide-on moldings, which give it a finished look not typically found in assembled furniture at this price. This bookshelf would look at home in a traditional or farmhouse-style setting. 
Reviewers say the shelves are "precisely cut and drilled" and "fit perfectly." Some add wood braces at the back so they can add weighty tomes. 
Dimensions: 35 x 13 x 70 inches.
4
Best Micro Bookshelf
ClosetMaid Decorative Storage Shelf
ClosetMaid
wayfair.com
$145.99
It doesn't get much smaller than this cube bookshelf from ClosetMaid. The compact size makes it great for teeny spaces, but it should be noted that the shelves are not adjustable. The manufactured wood comes with a back panel, making it sturdy. It can be oriented vertically or horizontally, which means it will work in a variety of spaces. 
The bookshelf does have to be assembled, and it comes in four colors: white, gray, black walnut and chestnut. Reviewers love this shelf for use in small kitchens, offices and even bathrooms. 
Dimensions: 16 x 13.5 x 44 inches.
5
Best Etagere
Everly Quinn Metal Etagere Bookcase
Everly Quinn
wayfair.com
$206.99
Classic bookshelves typically have three enclosed sides, but etageres have open shelves all around, which allow you to see and grab books from any angle. 
The contemporary style is elegant, pared-down, and airy. This one features a simple golden frame and arched top, which adds a shot of glam. The unique shape and beautiful frame make the shelf an eye-catcher on its own, and may be best if you are more interested in displaying photos, plants and knickknacks than storing books. 
Dimensions: 32.7 x 11.9 x 72.2 inches.
6
Best Industrial Style
Coavas Industrial-Style Folding Bookshelf
This four-tier metal bookshelf is great for offices, kitchens and other spaces where an industrial-style display would look at home. 
It's also a great choice if you hate to assemble furniture; it comes folded-up and sets up easily once the fame is opened. The four shelves snap into place, no tools necessary. The bookshelves are roomy and suitable for large books and display items. 
Reviewers "love" the "sturdy" shelves, and say it's "deep enough to hold a big printer!" 
Dimensions: 24 x 12 x 49 inches.
7
Best Room Divider
Yusong 5-Tier Wooden Bookcase
This backless, wooden geometric S-shaped bookcase does double duty as a bookshelf and a room divider. 
This type of unit works well in large working and living spaces, and for roommates who want privacy. The style is simple and modern, and will work with a variety of design schemes. The unit needs to be assembled, but the directions are straightforward. 
Reviewers love this "perfect" shelf, but note that for maximum sturdiness, it should be secured to the wall. It comes with hardware to attach it to the wall. 
Dimensions: 28 x 9.5 x 62 inches.
8
Best Tree-Style Bookcase
Topfurny Tree Bookshelf
Topfurny
amazon.com
$39.99
This bookcase is made from manufactured wood and has nine open shelves that can host a range of books and magazines, without taking up a lot of space. 
The wide support area and strong load base ensures the unit is stable and balanced. This modern, open design shelving style will look great in living rooms, offices and kids' rooms. The shelves must be assembled, but the directions are easy to follow. Reviewers love the "unique" look, and say it is "easy" to put together. 
Dimensions: 16 x 8 x 51 inches.
9
Best Cubby-Style
Sauder Barrister Lane Bookcase
Sauder
amazon.com
$289.10
This cubbyhole-style storage will look beautiful in an office or home setting, including playrooms. It features eight small cubbies plus two larger cubbies; the unit also comes with ID label tags for easy organization. The top shelf can be used to display décor or electronics. 
Minimal assembly is required. Reviewers rave that the unit is "exactly what I was hoping for and I absolutely love it!" Others say the "instructions are well-written and the pictorials are helpful." 
Dimensions: 53 x 12 x 48 inches.
10
Best Adjustable
Angotrade DIY Adjustable Bookcase
Angotrade
amazon.com
$39.99
This shelving unit is cute, bright and extremely wallet-friendly. Made from durable ABS connectors and high-quality plastic panels, the eco-friendly unit is stable and extremely practical. 
While it works well as a bookshelf, many people use it store décor, shoes, and crafts. This type of unit looks right at home in kids' rooms, playrooms and offices. It comes with nine cubes that can be configured in a number of ways to suit your needs. Reviewers say the set-up is "frustrating," but when it's set up, it is "perfect and just what we needed." 
Dimensions of each cube: 15 x 11 x 12 inches.
This content is created and maintained by a third party, and imported onto this page to help users provide their email addresses. You may be able to find more information about this and similar content at piano.io
Advertisement – Continue Reading Below
Most Related Links :
Business News
Governmental News
Finance News